Miami Dolphins vs. Buffalo Bills: Live Score, Video and Analysis
Rick Stewart/Getty Images
For the first time since December 30, 2007, Tony Sparano wasn't leading the Miami Dolphins onto the field as their head coach.
Todd Bowles made his head coaching debut, and the Dolphins rewarded him with a 30-23 victory in Buffalo.
For Miami it would be the first time since 2008 that they swept the Bills. The Dolphins beat Buffalo primarily thanks to Reggie Bush, who rushed the ball 25 times for a career-high of 203 yards and one touchdown on a 76 yard run in the fourth quarter.
Matt Moore went 10 of 20 for 217 yards and two touchdowns, including a 65-yard touchdown pass to Brandon Marshall in the third quarter.
Cameron Wake had six and a half tackles and a sack on the defensive end, while Vontae Davis had two interceptions and Reshad Jones had one of his own.
Ryan Fitzpatrick went 31 of 47 for 316 yards two touchdowns and the three interceptions already mentioned. Both touchdowns were scored in the final five minutes of the fourth quarter.
CJ Spiller had a good day on the ground rushing the ball 12 times for 91 yards and a touchdown.
Miami now moves to 5-9 and is in third place in the AFC East as they hold the tie-breaker over Buffalo via their two victories against them this season. The Bills are also 5-9.
However due to victories by Carolina and Washington, the Dolphins didn't drop too much in the draft order. Miami would've been seventh prior to today's game, they drop down to ninth.
Kansas City's victory over Green Bay also helps the Dolphins draft order.
Here's a look at how Miami defeated the Bills.
Updated score: Miami 30, Buffalo 23 FINAL.

Missed RB Reggie Bush's 79-yard TD scramper earlier?

Watch it here!
Touchback to the 20, 16 seconds left for the Bills.
It looks impossible, but anything can still happen. Who knows what's to come.
If you want RG3 or Matt Barkley (I do), then you want a miracle.
If you're the type that wants to win every game no matter how far out of the playoffs the Dolphins are, then you want what just happened.
Dolphins win 30-23.
They attempt the onside, Dolphins fall on it. But I don't think the game is over as the Bills have two timeouts left meaning they have to run the ball.
Yes, I could see a botched handoff here.
Buffalo is threatening again, now has the ball at the six.
But they shoot themselves in the foot with a false start penalty: Buffalo's 10th penalty of the game.
Now the Bills have gone 0fer on this drive from the six, and will go for the field goal since it is a 10 point game and they still have all their time and timeouts.
Wait, another false start penalty? Good job Bills, now you have to make a longer field goal.
Rayner's kick is up and good. So what does Buffalo do here? Another onside, or do they kick it off and hope their defense holds?
Miami leads 30-23.
Fitzpatrick throws a touchdown pass to former Dolphins bust Derrick Hagan.
This touchdown pass matters to whom exactly? Because if you bet on this game, you might have a gambling problem.
It's a 10-point game with 2:27 to play in the game. Either way, it doesn't matter as much as these results I'll breeze through right now.
Carolina defeated Houston 28-13, which helps the Dolphins as far as draft order goes.
Washington defeated the Giants 23-10, which does the same thing as far as draft order for the 'Phins.
And Kansas City is right now leading Green Bay 19-14 with 27 seconds left. The Chiefs have the ball, and the 1972 Champagne is being popped.
Meanwhile Buffalo goes for the onside kick and recovers. It's only a two possession game, Buffalo has two time outs, anything can happen now as the Bills will have the ball at their own 45 yard line.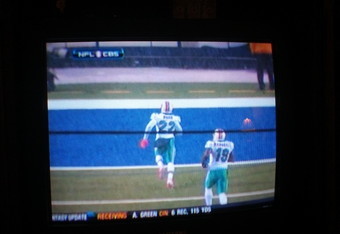 Well, game over.
Reggie Bush with a 76-yard run for a touchdown.
That's Miami's longest play from scrimmage all season.
Dolphins now lead 30-13 with 5:41 left in the game.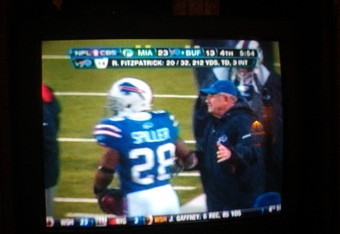 It is now 19-7 Chiefs.
Note: I don't genuflect to the 1972 Dolphins like most Dolphins fans do. The only time I want an undefeated team to lose is if it helps the Dolphins or they're the Dolphins' opponents. Since with the Packers its neither, I don't care and would rather see them go undefeated because I have respect for their organization and Aaron Rodgers. I only post that update for the Dolphins fans who do care so much about the '72 team remaining the only undefeated team and were about a week away from getting an Aaron Rodgers voodoo doll.
Meanwhile back in Buffalo, CJ Spiller catches a three yard pass from Ryan Fitzpatrick to make it a 10-point game. However Fitzpatrick's pass on the two-point conversion attempt is picked off by Kevin Burnett, so this game remains 23-13 with 5:54 left.
This game is a snoozer.
Meanwhile in Kansas City, the Chiefs have the ball at the Packers 21 with 7:35 left.
Might be time for the 72 Dolphins to get the champagne ready?
Meanwhile back in Buffalo, it looks like the Bills are primed to attempt to climb back into the game as they are threatening from the Miami 13 with 8:38 left in the game.
This snoozer of a game might get interesting soon.
You'll never believe this but a Dolphins drive has stalled in the redzone!
Carpenter kicked the 26 yard field goal to put Miami up 23-7 with 11:46 left in the game as Todd Bowles does his golf clap, which is nothing compared to the Sparano fist pump.
In fact: Sparano Fistpump>Bowles golf clap.
Bowles didn't challenge that play.
I know it would've clearly been Buffalo ball, but that's an iffy enough play that you have to challenge it.
I don't know if I can trust a coach that scared. Sorry. Todd Bowles will NOT get my endorsement when I write up my head coach endorsement article in a few days.
Ruling on the field with that play is a catch, followed by a Buffalo strip.
Now it's an iffy play, but, Sparano has to challenge that pla-
Wait, Sparano isn't the coach anymore, how quickly I forget.
Bowles has to challenge that play. And I don't mean in the half-assed Nick Saban challenge, I mean he has to aim that red flag right at an official.
Let's see what he does, but if he doesn't challenge this play, I can't endorse him for next season.
One play in for the Bills offense, one play out.
Vontae Davis with another interception!
This one is straight up. By the way, Stevie Johnson totally gave up on that play.
I wonder if he's going to blame God for that too.
That was one of those weird plays.
Fitzpatrick passes it to Jones, but the ball bounces up in the air off of Nolan Carroll's knee and into the awaiting hands of Reshad Jones.
WOW!
Brandon Marshall's case of the dropsies seemed to disappear on that 65 yard touchdown catch from Matt Moore.
This game is just about out of hand. Buffalo is only two scores away, but with the way their offense is playing, two scores feels like a lot and even the 12:06 left in the game feels like an instant.
Buffalo looks like they're attempting to charge down the field as fast as humanly possible in order to get some other points on the board.
Miami isn't exactly attempting to stop them, well they are, but they're doing it all wrong thanks to a pass interference penalty on Will Allen.
I don't think the pass was what you would call catchable, but Allen did bring him down.
Bills then get down to the Miami seven to set up a 25 yard field goal that Rayner misses.
Miami will go into halftime leading 13-7.
Ruling on the field confirmed, fumble.
A promising end of the half drive by Miami winds up being fumbled away.
Although actually that looks like a pass. This will definitely be reviewed.
Omar Kelly clears up why there are no field goal fistpumps:
<blockquote class="twitter-tweet tw-align-center">
The DEAD ZONE has returned. For the record, Todd Bowles does claps. Not fish pump at field goals. Dolphins lead 13-7.
— Omar Kelly (@OmarKelly) December 18, 2011
Thanks Omar.
Miami goes three and out and will have to settle for a field goal.
They were lucky, Aaron Williams had a sure interception but dropped it.
Carpenter's kick is up and good, and I just did a fist-pump in honor of former coach Sparano since Todd Bowles apparently won't.
Dolphins have scored 13 unanswered and now lead 13-7 with 6:09 left in the second quarter.
Miami gets another gift from the Bills thanks to a pass interference penalty.
This makes it first and goal from the nine yard line.
However, it should've been a touchdown. Marshall should've caught that ball.
Vontae Davis with a key interception.
Miami will now have the ball at the Buffalo 25.
Great second quarter so far from the 'Phins, its like last week's second quarter, only the opposite.
Dolphins with a good drive that, like many of their drives that go into the redzone, comes up short.
Dan Carpenter on to attempt his first Sparano-less field goal: it's good.
Dolphins lead 10-7 with 8:34 left in the second quarter.
Sad to see no fist-pump there.
First play of the second quarter and a beautiful pass to a wide open Anthony Fasano ties the game for Miami.
Davone Bess giving Miami some good news, returning the punt to midfield.
That's followed by a play where Matt Moore had enough time to not only scan the field but also read War and Peace.
Moore finds H-Back Charles Clay for 30 yards and Miami is now at the Buffalo 22.
That ends the first quarter. Can Miami capitalize at the start of the second quarter?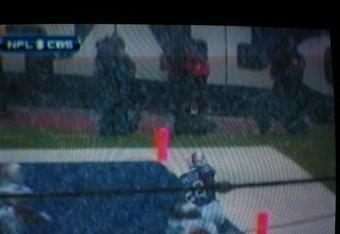 Wow, C.J. Spiller finally showed why the Bills drafted him so high.
Taking advantage of the fumble by Reggie Bush, the Bills went to Spiller twice up the middle.
The first time Spiller ran it for 18 yards, the second time he ran it for 24 and a touchdown.
Buffalo now leads 7-0 with 4:53 left in the first quarter.
This article is
What is the duplicate article?
Why is this article offensive?
Where is this article plagiarized from?
Why is this article poorly edited?

Miami Dolphins: Like this team?