Liberty Bowl Preview: Vanderbilt versus Cincinnati in SEC-Big East Matchup
December 17, 2011
Grant Halverson/Getty Images
The Liberty Bowl has a storied tradition of producing can't miss bowl games and this year's contest is no exception. On December 31, Memphis, Tennessee, will host an up-and-coming 6-6 Vanderbilt team against a powerful 9-3 Cincinnati squad in a SEC versus Big East showdown.
Both teams feature head coaches looking to establish themselves at their new schools.
In his first year at Vanderbilt, James Franklin has brought an excitement to the Commodore program not seen since the mid 1970s when Steve Sloan and Fred Pancoast were roaming the sidelines as the head coach. No coincidence that was the last time Vandy had back-to-back winning seasons.
Franklin managed to surpass the Commodores' total wins from 2009 (2) and 2010 (2) while changing the mentality of an overlooked program to one opposing team's fear.
Vandy had an opportunity to beat Georgia, Arkansas, Florida, and Tennessee this year. As with many young teams the Commodores are still learning how to win and appear to be only a year away from being a SEC East contender.
After three seasons at Central Michigan (2007-2009), Butch Jones followed his predecessor Brian Kelly from CMU to Cincinnati when Kelly departed for the Notre Dame job opening.
Jones had a tall order to fill in 2010. The Bearcats were 12-1 in 2009 coming off an undefeated regular season and a Big East Championship with their lone loss coming in the Sugar Bowl to No. 5 Florida. Cincinnati struggled to a 4-8 record, but Jones instilled in his players a blueprint for what would be a great 2011 campaign.
The Bearcats' hard work paid off in 2011 with tough wins over Louisville, South Florida, and Pittsburgh. A heartbreaking three-point loss to West Virginia November 12 led to a let down loss to Rutgers the following weekend that cost the school a BCS bowl game and the outright Big East Championship.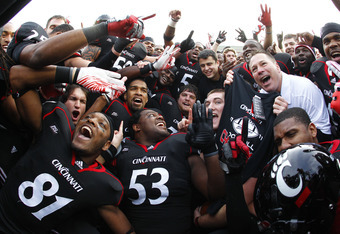 Tyler Barrick/Getty Images
It is no coincidence that Cincinnati struggled after the injury to senior quarterback Zack Collaros in the WVU game. Despite missing the final three games of the season due to a fractured ankle, Collaros finished the season ranked No. 7 in the Big East in total passing yards (1,854) and second in quarterback rating (139.9).
Scouting the Offenses
Call it overcoming adversity or plug and play, Vanderbilt and Cincinnati both went through quarterback changes during the season on their way to the Liberty Bowl matchup.
Senior quarterback Larry Smith started the season for Vandy before giving way to Jordan Rodgers October 22, against Army. Rodgers looked uncomfortable in the pocket at first, but has grown into a dual-threat quarterback. He has 10 or more rushing attempts and 10 or more passing attempts in every game he has started this season.
Rodgers finished the season with a quarterback rating of 119.6 and was sixth in the SEC with 1,498 total passing yards. His touchdown-to-interception ration (9 to 9) leaves room for improvement.
The top receiving target for the Commodores is Jordan Matthews. Matthews finished the season fourth in the SEC in total receiving yards (722) and first in average yards per catch (19.5). He had three 100 yards games with Jordan under center—Arkansas, Florida, and Kentucky.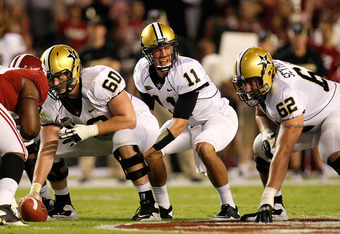 Kevin C. Cox/Getty Images
Chris Boyd is the big-play possession receiver for the Commodores. Of his 29 catches on the season, seven were for touchdowns. He had 404 total receiving yards during the regular season.
The down-field threat of Jordan Matthews and Chris Boyd coupled with the improved offensive line play has allowed junior running back Zac Stacy the opportunity to break the single season rushing record for Vanderbilt (1,136).
Stacy had five 100-yards rushing games (Ole Miss, Army, Arkansas, Kentucky, and Wake Forest) and added 13 rushing touchdowns. He finished third in the SEC in total rushing yards and second in rushing touchdowns.
Stacy is not a receiving threat out of the backfield. His best performance is three catches for 51 yards against Arkansas.
Isaiah Pead is the focal point for the Bearcats offense. He finished second in the Big East in total rushing yards (1,110) and first in rushing touchdowns (11).
Pead played his best against Cincinnati's better opponents. He had 155 yards rushing against Tennessee's defense, 167 against North Carolina State, 151 against Louisville, 118 against Pitt and 113 against WVU.
Pead is a threat to move the chains as a receiver. He had a season high nine catches for 112 yards against Syracuse with one touchdown. He broke loose for a 69-yard receiving score in that same game.
Cincinnati is not deep at tailback. Even though he has missed the last three games of the season, Collaros is second on the team in total rushing yards (242) with eight touchdowns. Backup running back George Winn is fourth on the team in total rushing yards.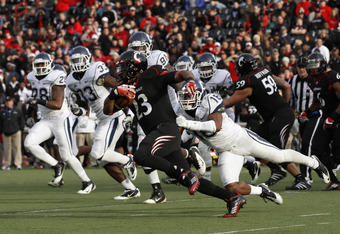 Tyler Barrick/Getty Images
Sophomore quarterback Munchie Legaux filled in for the Bearcats under center after the injury to Callaros. The big 6'5" quarterback did not play well in his first two games with extended playing time. He struggled with his accuracy and opted to run for yardage instead of checking down his progressions.
In the last two games of the season against Syracuse and Connecticut, Legaux found his footing passing for 169 and 217, respectively. He had a season-high three touchdown passes against Connecticut.
Through the quarterback changes wide receivers Anthony McClung, Kenbrell Thompkins, and D.J. Woods made the most of their opportunities.
McClung finished the season sixth in the Big East in receiving yards (675) and tied for sixth with five receiving touchdowns. McClung had a season-best eight catches for 142 yards with two touchdowns against Connecticut.
Scouting the Defenses
Defensively, both teams get after their opponents, especially with their pass defense.
Cincinnati's Derek Wolfe ranked No. 10 nationally in sacks (9.5) for a total of 63 yards lost. As a group, the Bearcats sacked the opposition 44 times and forced 14 interceptions.
Senior defensive tackle Tim Fugger leads the Commodores with 6.5 sacks, 47 yards lost. As a team in a run-first conference Vandy has 24 total sacks.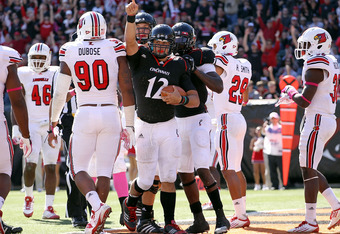 Andy Lyons/Getty Images
Another similarity between the two defenses is their heart and soul senior linebackers, Chris Marve for Vanderbilt and J.K. Schaffer for the Bearcats.
Schaffer is the active leading tackler in the Big East. His 105 total tackles in 2011 ranks No. 48 in college football. He is tied with teammate Devan Drane for most interceptions on the team with three. Marve has 47 solo tackles and a total of 84 on the year.
Casey Hayward is the shut-down cornerback for Vandy. He has a team-high five picks on the year for a unit that came up with 17 total interceptions.
Vanderbilt may have the sixth best total defense (324.58) in the SEC, but do not let that fool you. That translates to a No. 19 ranking in college football.
Cincinnati has the No. 47 ranked total defense allowing 362.58 total yards per game.
The special teams nod goes to the Bearcats. Freshman kicker Tony Millano has made 16 of his 22 attempts and 43 of 46 extra point attempts.
Field-goal kicking is not a strong suit for Vanderbilt, having only converted seven out of 13 attempts.
The Analysis
Will he or won't he play?
That is the question centered on Zach Collaros. According to the Cincinnati Enquirer, Collaros returned to full participation in practice on Friday. Even if his ankle was at full strength would he be sharp enough against Vanderbilt's defense after missing so much time?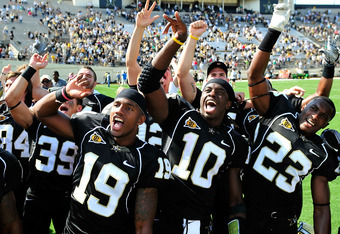 Grant Halverson/Getty Images
Having Collaros in the lineup gives the Bearcats a presence and leadership not provided by Legaux. Much of Callaros' game is the ability to pick up yards with his running. If he is slowed by his ankle, Vanderbilt could have a field day with him sitting in the pocket.
The Schaffer versus Stacy and Marve versus Pead matchups should be worth watching the Liberty Bowl alone. If one of these backs can break a long score, that could be all either team needs to win.
Should Jones stick with Legaux, Vanderbilt should do a good job of containing Legaux and forcing fourth-down plays.
College football fans are well aware of the great matchups The Liberty Bowl provides. In the past seven years, the average margin of victory has been 5.6 points. Look for this one to follow suit.
Common 2011 Opponents
Vanderbilt 21 – Tennessee 27
Cincinnati 23 – Tennessee 45
Vanderbilt 24 – Connecticut 21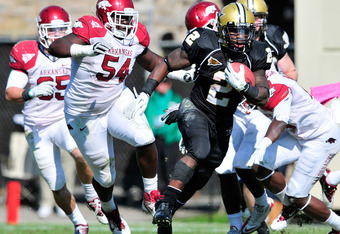 Grant Halverson/Getty Images
Cincinnati 35 – Connecticut 27
All-Time Bowl Records
Cincinnati is 6-6 having lost their last two bowl games – Virginia Tech 2009, Florida 2010.
Vanderbilt is 2-1-1 in bowl games having won their last bowl game – Boston College 2008.
The Prediction
If Collaros does not play against Vanderbilt, the Vandy defense should be able to keep the Bearcats offense in check.
Cincinnati should keep the Commodore offense in the zone, but Rodgers has a way of breaking a run off here and there to keep drives alive.
The Bearcats secondary can be exploited if the defense front is not getting enough pressure.
Both teams have something to play for, but James Franklin has his players believing they can win every game.
Final Score
Vanderbilt 24 – Cincinnati 13
Kickoff for the Liberty Bowl is set for 3:30 p.m. EST December 31.