Ravens vs. Chargers Sunday Night Football: Live Reaction, News and Analysis
Jeff Gross/Getty Images
This week's Sunday Night Football matchup features the 10-3 Baltimore Ravens traveling to Qualcomm Stadium to take on the 6-7 San Diego Chargers (NCB, 8:20 P.M. EST).
The Ravens have been rolling all season, clicking on both offense and defense to become nearly unstoppable.
The team has the look and feel of a well-oiled machine, carried by offensive leader Ray Rice and defensive leader Ray Lewis.
Rice has officially attained his third consecutive 1,000-yard rushing season and has accounted for 12 offensive touchdowns thus far this year. Lewis has been a disruptive force all over the field and has helped to keep his team in the top three in the league for overall defense.
The AFC has proved to be the more competitive of the two conferences this season with four teams currently locked up in a tie with 10-3 records. Of those teams, only the Houston Texans have clinched an actual playoff berth; with a win on Sunday, however, the Ravens will lock up a playoff spot of their very own.
Meanwhile, the San Diego Chargers have not had the season that fans were hoping to see. After dropping six games in a row between Week 7 and Week 12, it seems that the Chargers are following their traditional path of heating up late in the season.Philip Rivers has continued to facilitate a high-octane offensive show each week, but injury and poor defensive play have hamstrung the team when it mattered the most.
The Chargers seem to be back on the same page as a team, but given that there are just three games left in the season, this might be a case of too little effort too late in the season. In the competitive AFC, there is little hope that San Diego will be able to sneak into the playoffs, even if they win out.
Stay tuned for live analysis on these topics and more as the Ravens and Chargers battle it out on Sunday Night Football.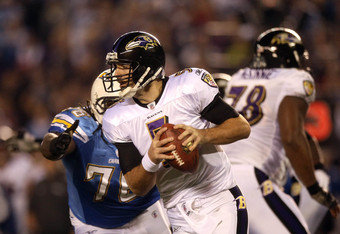 The Baltimore Ravens lost to the San Diego Chargers by a 34-14 margin. There's no way to beat about the bush here: This loss is a killer for the Ravens.
In addition to losing their grip on their own playoff destiny, the Ravens are going to have to face some serious facts about their performance on the road.
They're perfect when they play at home, but when it comes to the road it's a totally different story. The Ravens are just 3-4 so far away from M&T Bank Stadium this season with one more away game to go in Cincinnati.
There's no real rhyme or reason to it. On some nights the Ravens are on, and on some nights they're really off.
The losses don't seem to be linked to injury to a particular player, nor do they seem to have anything to do with the record of the team they face. It's like there are two different Ravens teams out there and on the road no one knows which one will show up.
Given the very real possibility that the Ravens might finish the season as the fifth- or sixth-seeded team in the AFC, they're going to need to sort out their road woes quickly if they want to find success in the playoffs.
This article is
What is the duplicate article?
Why is this article offensive?
Where is this article plagiarized from?
Why is this article poorly edited?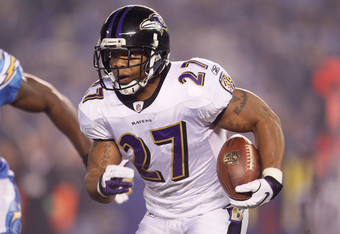 It's been a buy year for big-name free agency. On one side of the spectrum you have the free agents who want the world to know that they're looking for a big paycheck—Jermichael Finley and DeSean Jackson come to mind.
On the other side of the spectrum, there are free agents who just want to carry on with business as usual. Drew Brees is one of those free agents. So is Ray Rice.
Ray Rice may not be making a big deal about it, but he's in for a really big payday whenever he signs a new contract.
It's probably no coincidence that the Baltimore Ravens are testing the waters to see whether they can become a pass-first team with their current quarterback.
With a playoff spot and jockeying for position on the line, offensive coordinator Cam Cameron cannot have any other excuse for moving away from the tried and true formula that has evolved since Rice emerged as a difference-maker on the field.
If the last few weeks have been any indication, Rice might not find as warm of a welcome for his services next season in Baltimore as he might have hoped.
There's been very little talk from the Baltimore head office regarding extending Rice's contract. Although Rice has said all the right things about wanting to stay in Baltimore he certainly won't stay for less than he's worth.
In that case, Rice might be looking for a new home during the offseason.
It is certain that there would be plenty of teams interested in Ray Rice, but it seems almost unthinkable that the Baltimore Ravens would let the star of their offense go simply for the sake of conserving some space under the salary cap.
This article is
What is the duplicate article?
Why is this article offensive?
Where is this article plagiarized from?
Why is this article poorly edited?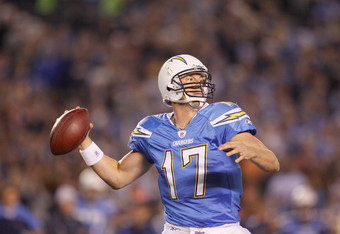 Although the Baltimore Ravens are using Joe Flacco to test the waters of becoming a pass-first team, the fact remains that their offense currently revolves around Ray Rice.
On the other side of the ball, the San Diego Chargers will unashamedly run the ball only as much as they must to keep the opposing defense honest against the pass.
The very foundation of these two teams' offensive philosophies is on opposite ends of the football spectrum.
The difference was obvious as these two teams squared off against one another. The Chargers were able to march their way up and down the field behind Philip Rivers and his passing attack. Their passing game was augmented at key times by the running game, but there was rarely any doubt about where San Diego preferred to go with the ball.
Meanwhile, the Ravens tried for a third week in a row to put their faith in their flaky quarterback instead of their proven running back. It didn't work.
Joe Flacco was ineffective through the air, throwing poorly throughout the game. Although Ray Rice was much more successful on the ground, the Ravens continued to shove the ball into Flacco's hands. In fact, the Ravens matched the Chargers nearly play for play in terms of the run-pass breakdown, which ultimately wound up disastrous for Baltimore.
Flacco is a quarterback who thrives on complimenting his running back instead of the more traditional relationship where the running back acts as a compliment.
When the Ravens hand the ball off more than they throw it they find a lot of success in putting points on the board. On the other hand, the more they throw the ball the less effective they seem to be.
It is a shame that the Ravens chose to continue trying to become more of a passing team when they faced the Chargers. This game could have become a great data point in the ongoing case between which setup is more effective. Instead, it turned into a lopsided blowout thanks to poor coaching strategy by John Harbaugh
This article is
What is the duplicate article?
Why is this article offensive?
Where is this article plagiarized from?
Why is this article poorly edited?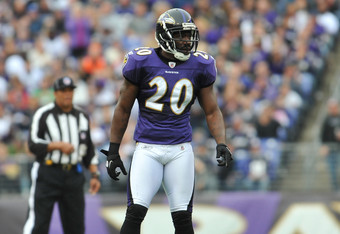 In the second quarter of the game, Cory Redding of the Baltimore Ravens sacked Philip Rivers on first down for an eight yard loss.
The big defensive move was wiped out by a 15-yard personal foul for unnecessary roughness by Terrell Suggs.
This is not an unfamiliar scenario in Baltimore, where defensive personal fouls are becoming all too common. The Ravens have made a name for themselves as a hard-hitting, tough defense. They don't care about the rules regulating the way they're supposed to tackle, and they've showed this season that sometimes nasty hits are just a fact of life.
Cue the 15-yard penalties.
The problem with the way that Baltimore and other hard-hitting defenses around the league play is that every big play they accomplish runs the risk of being overturned with a big gain for the opposition.
The NFL has implemented increasingly strict rules and regulations regarding the way defenders are allowed to hit offensive players, particularly for quarterbacks and receivers who are considered defenseless ball carriers.
These new rules come with big penalties and big fines.
The players who continue to commit these penalties see themselves as carrying forward in the spirit of the way that football is meant to be played. To that end, many of the biggest culprits don't care about the resulting penalties and fines when they make these hits.
They continue to allow hyper-aggressive play to hurt the team in the interest of making a point that will ultimately fall on deaf ears.
This article is
What is the duplicate article?
Why is this article offensive?
Where is this article plagiarized from?
Why is this article poorly edited?
In the first seven years of his career, Philip Rivers threw just three interceptions when his team was in the end zone.
This season, he has thrown four—and counting.
In this case, we're not going to consider the other interceptions (of which there have been many) that Rivers has thrown in the 2011 season. What matters is that the San Diego Chargers have had more trouble in the red zone than they have in years past.
There hasn't really been a lot of turnover on the Chargers offensive line between 2010 and 2011, so it's hard to blame less effective play by that crew.
On the other end of the ball, however, there has been a more notable shakeup in the roster.
Perennial favorite targets like Malcom and tight end Antonio Gates have missed games due to injury, taking away comfortable throws that Rivers traditionally likes to make.
They have been replaced by backups as necessary, of course, but the red zone is a totally different game than the other 80 yards on the field. It's a whole different level of play. The speed is faster, and the defense is flattened out in a way that makes passes more difficult to complete.
Typically some of the pressure could have been eased by handing the ball off to running backs, but here too the Chargers have suffered from injury. After letting Darren Sproles go to the New Orleans Saints in free agency, the Chargers have found themselves coming up short at running back.
With limited relief on the ground and targets he's not as comfortable throwing to, it's no wonder that Philip Rivers has had difficulty in the red zone this season.
Fortunately for Rivers, his offense is slowly recovering from injury and coming back to the field as the team faces do-or-die time. It will be interesting to see whether Rivers throws any more red zone interceptions this season or if his worst days are behind him.
This article is
What is the duplicate article?
Why is this article offensive?
Where is this article plagiarized from?
Why is this article poorly edited?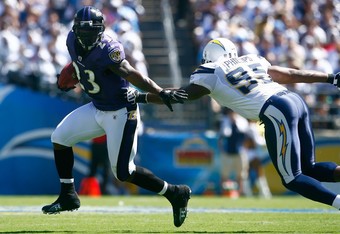 Thanks to an unexpected by the Tennessee Titans to the Indianapolis Colts, the Baltimore Ravens have locked in a playoff berth.
There's still a lot left for them to play for, though.
In addition to the joy of playing spoiler to a resurgent Chargers team whose playoff hopes are still alive, the Ravens also need to take this opportunity to jockey for positioning within the AFC playoff seeding.
They control their own destiny from this point forward. Winning out will give the Ravens a guaranteed first-round bye during the Wild Card round.
Their schedule after this matchup is in their favor: a probable cakewalk through the reeling Cleveland Browns and a Week 17 showdown with the Cincinnati Bengals.
Riding a two-game winning streak and hoping to make it three, the Chargers still have a glimmer of hope that they will see the postseason. They've been hot in this last part of the season, but it will all be for naught if they don't win out and get some help around the league.
Whereas the schedule for the Ravens is relatively manageable, the Chargers will face a pair of teams who are equally desperate for wins in their last two games: The Detroit Lions and the Oakland Raiders. Each of these games will certainly be hard-fought battles regardless of the eventual outcome.
This article is
What is the duplicate article?
Why is this article offensive?
Where is this article plagiarized from?
Why is this article poorly edited?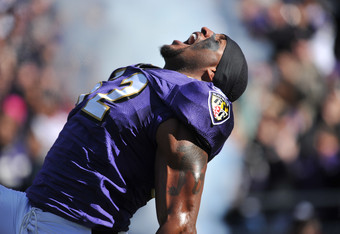 After missing four games with a turf toe injury, All-Pro linebacker Ray Lewis will take the field again against the San Diego Chargers.
Lewis is well known around the league for his hard-hitting ways. He's also a solid tackler who has a knack for forcing chaos on the field. He is one of those special players who can cause offenses trouble simply by being on the field and acting as a disruptive influence.
Lewis has been on the sidelines for a long time, and he has made it clear that he cannot wait to get back into the game. Expect him to be a monster force against a Chargers offense that has been running hot and cold all season.
The Ravens leading tackler, cornerback Ladarius Webb, is also due to take the field despite a turf toe injury of his own.
Webb's specialty on the Baltimore defense is all about the pass rush. He has a knack for getting in the path of the opposing quarterback's intended pass to keep it out of the hands of the receiver through any means necessary.
Having this pair on the field is a huge boost to a Baltimore Ravens defense that is already monstrous on defense. The Chargers are going to have their hands full when it comes to containing the Ravens pass rush and keeping the ball secure on offense.
This article is
What is the duplicate article?
Why is this article offensive?
Where is this article plagiarized from?
Why is this article poorly edited?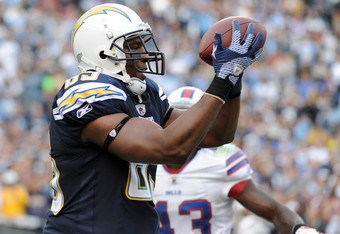 For many fans, there are some big fantasy football implications in the Sunday Night Football matchup between the Baltimore Ravens and the San Diego Chargers. Both teams field big names in the fantasy world, making this an exciting matchup for those who are in the midst of their fantasy playoffs.
In that sense, it is truly beneficial that neither team has locked up anything for the postseason yet. This game could turn into a shootout, which will be a huge plus for those with fantasy players on the field.
So who should you hope to have on the field?
For the Chargers, the obvious answer might be Philip Rivers. Be careful playing Rivers if there's any other high-powered option available, though; the Ravens defense loves to play take away and Rivers seems to turn into an interception machine at inopportune times.
Running back Ryan Matthews is always a good option for your roster as he continues to ride a streak of 100+ yard rushing games. Vincent Jackson remains a potent weapon on wide receiver, and tight end Antonio Gates has recaptured his position as one of Rivers' favorite targets. Keep all three of these guys in mind when you're making last-minute changes to your fantasy roster.
On the Ravens, quarterback Joe Flacco probably shouldn't be your first choice if you have other options left. He's been unreliable this season, posting great numbers one week and terrible numbers the next.
Running back Ray Rice is always a must play in any league, and wide receiver Anquan Boldin should be a good secondary receiver option.
If you're looking for a fantasy sleeper, consider bringing in wide receiver Torrey Smith. He hasn't seen as many looks as other receivers from Joe Flacco, but he makes the most of his opportunities with an average of 18.5 yards per catch.
This article is
What is the duplicate article?
Why is this article offensive?
Where is this article plagiarized from?
Why is this article poorly edited?

Baltimore Ravens: Like this team?