Top 20 Barcelona Goals of 2011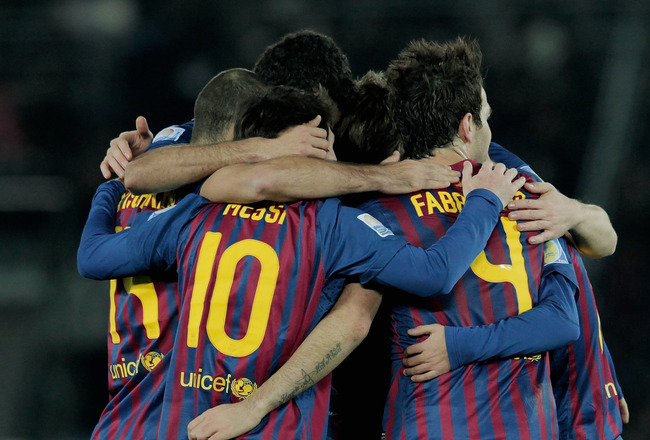 Lintao Zhang/Getty Images
FC Barcelona have enjoyed a historic 2011 campaign, with their recent triumph in the 2011 FIFA Club World Cup final over Santos serving as the icing on the cake.
The Catalans have won five trophies in the calendar year, including the FIFA Club World Cup, La Liga, the Supercopa de España, the UEFA Champions League and the UEFA Super Cup.
In fact, the only competition that Barca failed to win was the Copa del Rey, which the Catalans had to settle for runners-up to bitter rival Real Madrid.
Nonetheless, it was a near perfect 2011 for L'equip blaugrana.
Now it's time to sit back and relive Barca's top 20 goals of 2011. Enjoy.
The Goal That Won the Super Copa
Tremendous play from Fabregas and Adriano leads to a peach of a goal from Leo.
Ibrahim Afellay Scores Against Malaga
It's a shame Afellay doesn't get the chance to play every week because he is undoubtedly one of the most underrated wingers in Europe.
Messi Sinks Santos
It's safe to say that the 2011 Club World Cup got a little Messi for Santos.
Dani Alves Stuns Mallorca
This was a cracking goal from the world's best attacking full-back since Roberto Carlos' days with Real Madrid.
Alves on the Volley
Good hit? I would say so.
Vote for Pedro
The goalkeeper's reaction says it all. Simply unstoppable.
David Villas Curls It in
David Villa's strike was sheer class, but Ray Hudson stole the spotlight with his trademark emphatic goal call.
David Villa Strikes Versus AC Milan
It's hard enough to beat Barcelona when they are on average form, but if they're scoring goals like this it's nearly impossible.
Cheeky Back-Heel, Cool Finish
When your center-back can provide a moment of brilliance like this, you know you have the most technically gifted club in the world.
Alexis Sanchez's El Clasico Debut
Messi and Sanchez are a potent combination. Expect them to link up on countless occasions in the future.
Possession Is Nine-Tenths of the Law
Since the arrival of Pep Guardiola, Barca have proved that possession is 9/10 of the law. This scenario was no different.
One, Two, Thank You Very Much
Arsenal fans around the globe can only shake their heads after seeing this one-two.
Fabregas Finishes Madrid
A typical Barcelona counter, a fantastic Dani Alves cross and the ball ends up in the back of the net.
Bend It Like Xavi
The Catalan vice-captain punishes Jaime Romero for his clumsy challenge with a bending free kick.
Iniesta's Champions League Golazo
What an entrance into the top 20 from Iniesta. This goal is probably the best of the bunch.
Thiago Joins the Party
Clinical weak foot finish from Thiago. Just think, Arsenal could have had him and 25 million euros for Fabregas. Can you say howler?
Name That Catalan: Isaac Cuenca
When you have B team players of Cuenca's quality you know you've got a deep and talented squad.
Alexis Sanchez's Curler Versus Rayo Vallecano
I don't know what is more impressive, the way Alexis created the space for the shot or his inch-perfect finish.
Pique's Glancing Header
Might as well Pique some recognition. Surely Manchester United are regretting giving up on the Spaniard so soon.
Keep Reading

FC Barcelona: Like this team?