7 Players the New York Rangers Should Pursue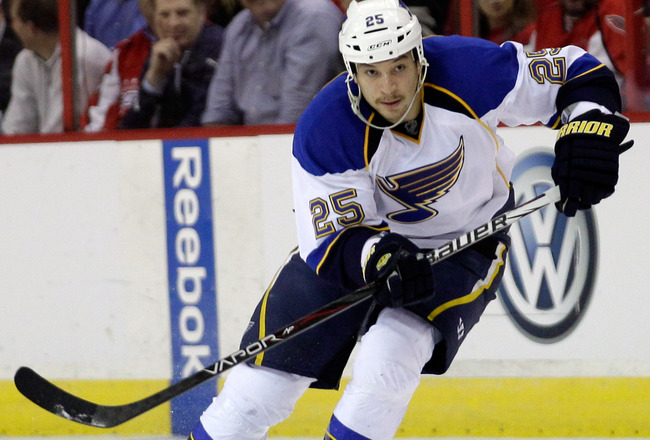 Rob Carr/Getty Images
The Rangers don't need to change much. They have a young group on defense that is surprisingly reliable. Without Marc Staal for the whole season, the Rangers have only allowed 2.14 goals per game, which puts them fourth in the league. The team also boasts a top-ten offense with an average of 2.86 goals per game.
Next season, the Rangers have four skaters (Del Zotto, Fedotenko, Prust and Eminger) and one goalie (Biron) they need to re-sign. Del Zotto will become an RFA and should have a larger contract at the beginning of the of the summer. Other than him, all other players can be signed on the cheap.
The Rangers will be looking for additional offense and a veteran defenseman who can boost the team into the verified elite.
Ryan Suter D, 26, Nashville Predators
2011-2012 Stats: 21 points (five goals, 16 assists), 21 hits, 39 BkS, 31 games
Let's start with the hopeful. The Rangers' oldest defensive players are Jeff Woywitka, a fill-in during Staal's absence, and Steve Eminger who are at the ripe age of 28. Because the corps are so young (an average age of 24), a good addition to the team would be a rock-solid veteran.
There has been speculation about acquiring Ryan Suter since the summer when Shea Webber only signed a one-year deal with Nashville. At the end of this season, Nashville captain and Norris Trophy nominee Shea Webber, Ryan Suter and Vezina nominee Pekka Rinne are all set to become free agents.
Other than divine intervention, Nashville will not be able to sign all three of their most valuable players—at least one must go, and Suter looks like he'll be the odd man out.
Because of his relatively young age and defensive and offensive skills, the Rangers will trade for him. If Rangers GM Glen Sather thinks his team can make a deep playoff run, he will make a move for him at the deadline or wait patiently for him to be let go during the offseason—if he thinks the team needs another season of incubation.
The wise move would be for the team to wait another season and get Suter without sacrificing any of the team.
Probability: Medium
Zach Parise LW, 27, New Jersey Devils
2011-2012 Stats: 27 points (11 goals, 16 assists), 26 hits, 17 BkS, 31 games
The Rangers have a good offense—but not a great one. Richards and Gaborik are the team's leading scorers with 25 points in 29 games. While they don't play on the same line, they do produce at a consistent pace.
Adding Parise would be icing on the cake. On paper, the Rangers' offense would be one of the best in the entire league.
Parise is set to become a free agent this coming offseason; he was not able to sign a long-term deal with the Devils because of Ilya Kovalchuk's insane contract. This leaves the Rangers in place to scoop him up.
If they were to chase Parise, they would be tight on cap space and would not be able to sign Suter. In all likelihood, they would have to trade away a contract or two (Watch out, Dubinsky. If you don't start scoring, you could see yourself out of New York).
Probability: Low
Jason Garrison D, 27, Florida Panthers
2011-2012 Stats: 14 points (nine goals, five assists), 45 hits, 54 BkS, 32 games
Jason Garrison is not a big name in the league. He is currently a defenseman for the Florida Panthers (who are playing far beyond expectations). In his second full season in the NHL, Garrison is finally starting to gain recognition with his stellar play. He has nine goals in 32 games, leading defense in goal scoring, and is a plus 10.
This offseason, Garrison will become an UFA, and you can bet that Panthers GM Dale Tallon will re-sign this rising star. His current cap hit is $670,000, making him easily moved.
If the Rangers wanted to trade for Garrison, Sather should consider moving Zuccarello or Brian Boyle, who have both greatly underperformed this season.
Probability: Medium
Vinny Prospal LW, 36, Columbus Blue Jackets
2011-2012 Stats: 24 points (seven goals, 17 assists), 15 hits, 14 BkS, 31 games
Despite being 36 years old and playing on the worst team in the league, the former Ranger has put together a nice season.
Having played on Tortorella's Rangers before, he knows the system and would fit in well. His veteran presence and great energy could mean a lot for this young group of players.
Prospal's contract puts him at $2.5 million for this year and a UFA this coming offseason. With how the Jackets are playing right now, it's unlikely that he would re-sign with them when the up-and-coming Rangers are an option. If Sather is afraid his age could be a problem, he could sign him to a low-risk, one-year contract.
Probability: High
Bobby Ryan RW, 24, Anaheim Ducks
2011-2012 Stats: 17 points (10 goals, seven assists), 49 hits, 11 BkS, 31 games
Bobby Ryan is having a poor season; his 17 points are the lowest he's put up since his unofficial rookie season in 2007-2008. Ryan, however, can put up great numbers. Last year he had 71 points in 82 games. He's an established power forward in the league, and he's only 24 years old.
Anaheim has been playing so poorly this season (29th place), they have been shopping Ryan. If the Rangers were to snatch him up, it would have to be in a trade because he doesn't become a free agent again until the 2015-2016 season.
Ryan's $5.1 million would be hard to bring over without trading some of the core. Brandon Dubinsky's 13 points (one goal) in all 29 games this season and $4.2 million cap hit make him expendable. If Sather threw in Dubi, a first-round pick and a cheap line-filler, Anaheim may have to listen.
The Ducks have continued their poor play even with Boudreau behind the bench, making Ryan a viable option.
Probability: Medium
Cal Clutterbuck RW, 24, Minnesotta Wild
2011-2012 Stats: 14 points (eight goals, six assists), 116 hits, 12 BkS 30 games
Cal Clutterbuck is a grind-it-out, hard-nosed player who would fit excellently into the Rangers' style of play.
Clutterbuck is second in the league in hits (he has lead the league for the past three seasons), but can also chip in a goal here and there. With Brian Boyle not having found his stride yet this season, and Fedotenko playing below expectations, Clutterbuck could fill the role with aplomb.
The only problem with Clutterbuck is that Minnesota simply won't trade him right now. The Wild are leading the entire NHL and are the perfect example of a great team—scoring and defending by committee—so they wont be looking to shake things up unless they start slipping quickly.
If the Blue Shirts were to acquire him, they would have to give up a lot, so Sather would have to be sure of its worth.
Clutterbuck is a player Tortorella would love to get his hands on, but sadly, it is unlikely he would be able to do so.
Probability: Low
Chris Stewart RW, 24, St. Louis Blues
2011-2012 Stats: 11 points (four goals, seven assists), 29 hits, 11 BkS, 27 games
Blues forward Chris Stewart put up 53 points in 59 games last year, including 28 goals. This year has not been good to him, though. Stewart is playing his way out of St. Louis. His 28 goals in 59 games last year put him on pace for 39 had be played all 82 games, but four goals in 27 games this season puts him on pace for 12.
He no longer sounds like one of the best power forwards in the league. But maybe a trade to New York could boost his numbers.
Stewart is a low-risk, potentially high-payoff player. His $2.875 million contract is terminated at the end of this season, so if the Rangers trade for him, his exodus from New York would be easy if he doesn't live up to his contract.
Probability: High
Feedback and Critique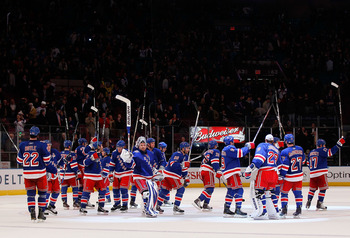 Mike Stobe/Getty Images
Thanks for the read!
If there is anything you would like to add, I implore you to leave a comment below or email me at berg.alexc@gmail.com.
Keep Reading

New York Rangers: Like this team?