Cowboys vs. Buccaneers: Live Score, Video and Analysis for Saturday Night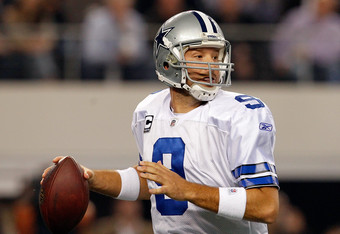 Tom Pennington/Getty Images
Live Score
31-15 Cowboys FINAL
Dallas improves to 8-6 and sends Tampa Bay to its 8th straight loss. Dallas dominated the first half and jumped out to a 28-0 halftime lead. Tampa showed some life in the third quarter scoring twice to cut the lead to 31-15 but there were no scores in the 4th quarter so the game ended 31-15.
Tony Romo threw 3 touchdown passes and ran for a touchdown. Felix Jones had over 100 yards rushing and Sammy Morris was effective.
Tampa did not quit down 28, so I guess they get some credit for that but this Bucs team seems to be totally inept. Raheem Morris may not have a job at the end of this season.
Dallas controls its playoff destiny and has two games left vs. Philadelphia and the Giants.
The Giants play the Redskins tomorrow and a Giants win will tie them with Dallas at 8-6.
That's all and thanks for reading. Goodnight and again, Dallas beats Tampa 31-15.
Another 3 yard pass from Freeman to Winslow and now it's 4th down and about 12. They have thrown 3 passes a total of about 7 yards.
There is no urgency from Tampa here, they don't even appear to be trying.
Finally on 4th down they throw it deeper and Spurlock gets absolutely NAILED. There probably should have been a flag but there isn't one and Tampa turns it over on downs.
GAME is over for sure now. Dallas may have to get one more first down to make it official but it's over.
Dallas will improve to 8-6 with the win and controls its own destiny.
A Giants win tomorrow vs. Washington will eliminate Philadelphia from playoff contention.
Tampa throws a 4 yard pass with 3 minutes left, that was productive. I don't think Freeman understands that he can't do that in this situation. Terrible decision, Lumpkin should of just dropped the ball.
Tampa runs the worst two minute drill I have ever seen it takes them about 30 seconds to run a play. Lumpkin drops the ball on 2nd down which was smart because it was another 3 yard pass.
THROW THE BALL DOWN THE FIELD.
As I am blogging this game, I am watching a live play by play feed of the UL Lafayette-SD State Bowl game. I find it hilarious that the UL-Lafayette kicker has missed two extra points. Pathetic. UL is beating SD State though 19-3 despite that right now in the third quarter in a game that seems even less exciting than this one.
It's about 3rd and 2. Tampa has two timeouts left plus the 2 minute warning, if they stop them here, they will get the ball back and have a chance to score. Tampa is not a big play offense though so it is hard to believe they will get back in the game. Tampa does stop him about half a yard short so Dallas will punt and Tampa will start over with just about 3 minutes left.
5:41 and counting Dallas is running the ball and Tampa isn't stopping them. I doubt Tampa will get the ball back.
Tampa turns it over on downs as Freeman's throw is high intended for Preston Parker. Parker got his hands on it and could have caught it but it wasn't a great throw. That pretty much will end the game.
Freeman's pass is batted down at the line and it's 4th and about 12 or 13 and they will go for it again, Tampa hasn't thrown a pass farther than 10 yards the whole game.
Freeman gets called for intentional grounding so now it's 2nd and 21, Tampa is shooting itself in the foot and now they are back to throwing 8 yard passes. It will be about 3rd and 12 from the Dallas 45.
4th and 9 Tampa does a terrible play, they throw about a 2 yard pass to Lumpkin but somehow they get the first down as Lumpkin breaks about 3 tackles, including one from Sean Lee and it ends up being a 14 yard play and a first down. Tampa is still alive.
A killer false start coming off a timeout, totally unacceptable and now it's 3rd and 9. The wide receiver was 8 yards offside, as Briscoe was not even close to being onside, what was he thinking?
Freeman is chased and throws it away and now it's 4th down, and Tampa is going for it.
4th and 9 Tampa goes for it.
With 7:32 left Freeman wastes a timeout on 3rd and 4 from midfield. While Tampa needs to score, it was kind of silly to waste a timeout in this situation considering they will need timeouts later I am sure. I still think this game is over, but as an Eagles fan, I would love Tampa to prove me wrong. I just don't think Tampa's defense can get off the field again even if Tampa gets a touchdown here.
Plus Tampa needs a TD and 2 points twice in order to tie the game, something that is unlikely. Being down 28-0 at one point, Tampa is lucky to even be in that good a position though. If they get a first down here, they have to start throwing down the field.
While Tampa is moving the ball, most of the passes were less than 10 yards which is not helping them with the call as the clock is down at 7:32 now. They have to score with about 4-5 minutes left to have a chance.
Freeman looks like a different quarterback in the 2nd half and Tampa is running a hurry up offense. They are already at midfield, but Sean Lee made a great tackle on a screen pass so Tampa has a huge 3rd and 4 from midflield with about 8 minutes left.
Tampa gets a big sack on 2nd down and then on 3rd down Romo makes a poor throw and Tampa actually gets a stop. McBriar punts it away and it goes into the end zone so with 10 minutes left in the game, Tampa gets the ball back down 16. A quick scoring drive here would make things very exciting. The 2nd half has been much more exciting than the first half as it has actually looked like 2 NFL teams playing instead of an NFL team and a JV team.
Felix Jones just went over 100 yards for the day as Dallas is moving again. The Bucs defense is absolutely pathetic, they can not stop Dallas and mostly it is due to awful tackling.
If Tampa could get a quick stop, this game could get interesting but Jason Witten makes his 4th catch of the day and then makes a Buc defender miss for a 17 yard play for a first down. Dallas is moving again and Tampa's defense has no answer. As long as that continues it doesn't matter what the Tampa offense does because they can't catch up if they can't get the ball back.
The two point conversion is good as Freeman hooks up with Kellen Winslow Jr who makes a nice catch in the back of the end zone. With just 25 seconds left in the third quarter, it's now 31-15.
Touchdown Tampa Bay, Freeman to Briscoe who gets nailed right at the end zone but gets in capping off Tampa's first nice drive of the day. 31-13.
Tampa is going for 2
Warren Little/Getty Images
Josh Freeman completes another pass and all of a sudden Tampa is at the Dallas 30, threatening to make this a 31-14 game. If Tampa can score before the end of the quarter, they would have an outside chance of getting back in the game. Of course, their defense has to get stops, something they have been unable to do.
Tampa really has no wide receivers, all of them are terrible. Preston Parker, Briscoe, Mike Williams, even Benn who is hurt, combined they are still worthless.
Lumpkin has two catches on this drive, the 3rd year back out of Georgia is hurting Dallas right now and helping Freeman move the ball into the red zone, their first trip there today.
Wow, it's amazing, it's a miracle....Tampa Bay got a 1st down, their first one since 13 minutes remaining in the 1st quarter or their first drive of the game. The crowd gives them a sarcastic cheer but it really was well deserved. Tampa follows it with a 6 yard run and wait, they could get 2 consecutive first downs here.
Jason Witten made his third catch of the day to bring Dallas closer but they settle for a Dan Bailey field goal. 31-7 midway through third quarter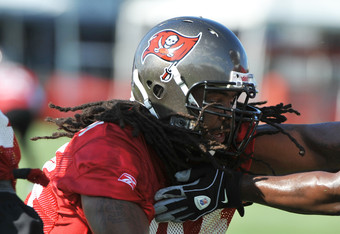 If there is anything positive for Tampa, it is the play of youngster Adrian Clayborn. Clayborn did nothing in the 1st half but in the second half, Clayborn has a sack and a forced fumble on the Bucs touchdown.
He just made a nice tackle for a loss on Felix Jones as well, so that's two tackles for losses in the third quarter for Clayborn.
It all goes for naught though as Dallas converts a 3rd and 8 and they are now at the Tampa 34 after a couple nice runs by Sammy Morris.
Al Messerschmidt/Getty Images
Dez Bryant just made an acrobatic catch and the refs ruled it incomplete. Dallas has challenged and this should be overturned as a catch. The pass was broken up by the Bucs and popped out of Bryant's hand, but the ball never hit the ground. It bounced off Bryant's hands, chest, knees, and then he grabs it.
The call is overturned and Dallas wins their first challenge of the night, and they get a gain of 5 instead of 2nd and 10, it is 2nd and 5.
TOUCHDOWN TAMPA BAY
28-7
On 3rd and long Tony Romo is hit and fumbles. The Bucs defense picks it up and brings it in for the Bucs first touchdown of the game.
A quick score was just what Tampa needed.
The 2nd half has started and Dallas gets a penalty on first down which is probably Tampa's best play of the game. They just had an Albert Haynesworth sighting, the Bucs defensive lineman. Wow, the game is so bad the announcers are talking about Haynesworth's backside and how big it is.
You know the game is bad when that is a topic of conversation. Meanwhile, a huge breaking news story is developing but Tampa Bay's defense might actually get a 3 and out here. 3rd and long
Let's look at some halftime stats of this terribly boring first half that saw Dallas basically look like they are playing a scrimmage game.
The Bucs really have no stats to list, as Blount only has 8 carries for 20 yards and Freeman is 2 for 4 for 14 yards.
Dallas has a lot of big numbers. Tony Romo 18/22 189 yards 3 TD plus a rushing TD.
Felix Jones 12 carries 67 yards.
Jason Witten is the leading Cowboys receiver, 2 catches for 50 yards. Robinson, Bryant, and Miles all have touchdowns.
This article is
What is the duplicate article?
Why is this article offensive?
Where is this article plagiarized from?
Why is this article poorly edited?

Dallas Cowboys: Like this team?