2011-12 NBA Preseason All-Conference Teams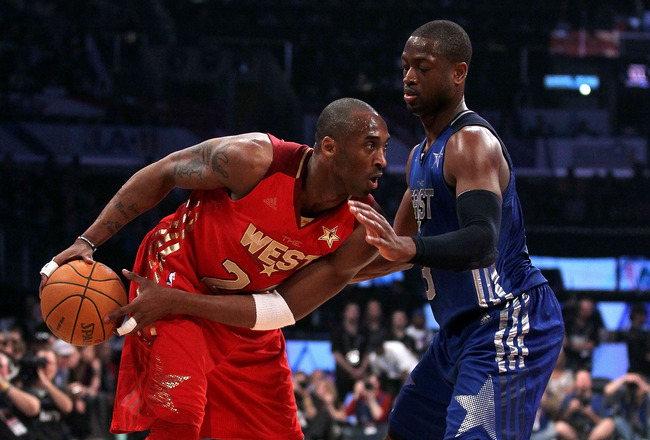 Jeff Gross/Getty Images
The NBA's opening day (otherwise known as Christmas to non-NBA diehards) will soon be upon us. Before the season gets underway, here are the top five players by position in each conference.
First, a note about these rankings. Unlike the All-NBA teams, a player's position matters for my All-Conference teams. For example, there is one spot in each conference for a small forward and one spot for a power forward. Ditto for point guards and shooting guards.
Eastern Conference PG: Derrick Rose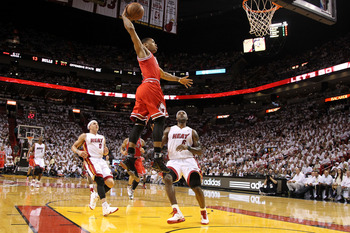 Mike Ehrmann/Getty Images
Expect the defending MVP to continue to improve. While he may not repeat as MVP, he should easily be the class of the Eastern Conference point guards.
The signing of Richard Hamilton gives Rose much-needed help on the wing. A healthy season from Carlos Boozer should also take some of the pressure off of Rose.
With a better team around him, expect Rose's points per game to decline and his assists to increase. For the Chicago Bulls, that would be a good thing.
Second Team: Deron Williams
Williams is an incredible talent, but his team will prevent him from challenging Rose for title of best point guard. If the Nets somehow land Dwight Howard, the debate would be interesting.
(For the record, I can't imagine Otis Smith shipping Howard off for Brook Lopez and draft picks.)
Third Team: Rajon Rondo
Rondo is a brilliant passer and driver, but until his jumper improves, he won't be in contention for best point guard. He should have a strong year, though, as the offense will depend more on him in order to give the big three adequate rest over the grueling schedule.

Western Conference PG: Chris Paul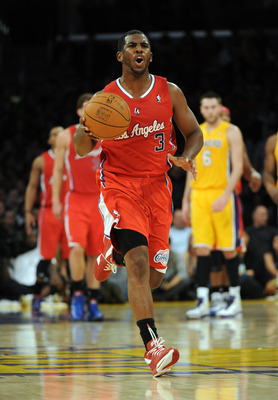 Harry How/Getty Images
I would have Paul as the best point guard in the Western Conference if played in New Orleans. Now that he's in Los Angeles with better offensive talent, it's a no-brainer. Lob City will be entertaining, but it should also lead to plenty of assists for Paul.
The Clippers back court is one of the more interesting combinations in the league. If Chauncey Billups can adjust to playing off the ball, the little brother in Los Angeles should score easily and threaten the Lakers supremacy.
Second Team: Russell Westbrook
Westbrook has proven himself as an elite talent in the NBA. He can get to the rim as easily as anyone. Scoring will not be problem. The key for him to take another step forward (and that of Oklahoma City) is his skills as a distributor. If Westbrook plays a more traditional point guard game, the Thunder could be the best team in the Western Conference.
Third Team: Steve Nash
Yes, Nash is old. However, he has taken phenomenal care of himself and still sees the court as well as anyone. He is also one of the best shooters to step foot on the court. While the Suns will most likely underwhelm, Nash should have a solid season.

Eastern Conference SG: Dwyane Wade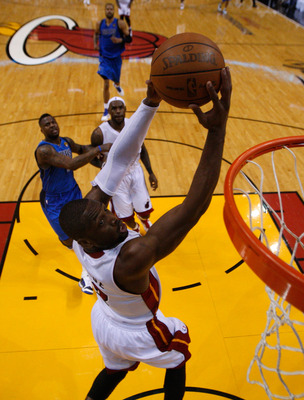 Pool/Getty Images
Wade is still in his prime. He can get to the rim, has tendency to catch fire from outside in big moments and has a killer instinct.
He has a great all-around game, which people tend to forget. Perhaps playing alongside the most complete player in basketball contributes to this. Let the record show that Wade is an above average passer, rebounder and defender. There isn't a shooting guard close to his level in the Eastern Conference.
Second Team: Joe Johnson
Woefully overpaid? Yes. Still a good player? Absolutely. Johnson earns a max contract but is not a superstar. He is a great talent, but probably will never be the best guy a championship team. He played below his averages last year. Expect an improvement.
Third Team: Ray Allen
The NBA is in a shooting-guard famine. Rule changes restricting how players can be defended on the wing (the banning of hand checking for example) have made potential shooting guards point guards (think Russell Westbrook or Stephen Curry). Allen may be well past his prime, but he can still knock down shots with the best of them. With Rondo feeding him the ball, he should enjoy another solid year.

Western Conference SG: Kobe Bryant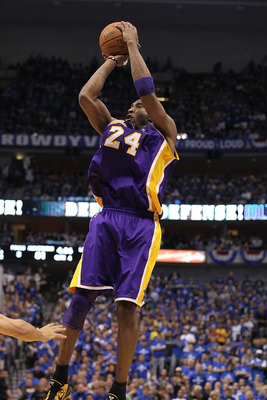 Ronald Martinez/Getty Images
Unlike Wade, Kobe is past his prime. His tireless work effort has kept him among the game's elite. As his athleticism has declined, he added a solid mid-range jumper and great post game to his repertoire.
With the departure of Lamar Odom, except Kobe to have to shoulder a larger share of the Lakers scoring. This might be fine during the regular season, but excessive minutes could hurt his performance in the playoffs.
Second Team: Eric Gordon
He seems to be the heir apparent to Kobe's Western Conference shooting guard throne. He will be 23 once the season begins and continues to improve. He is easily the best player on the Hornets roster. Look for him to carry New Orleans to a few surprise victories this season.
Third Team: James Harden
It might seem surprising to put Harden above Manu Ginobili and Monta Ellis, but I expect a big year out of Harden. He thrived after the Jeff Green trade freed up more minutes for him last season. He should carry the Thunder's second team and be on the floor during crunch time (even if he doesn't start). Harden appears primed to be the Thunder's version of Ginobili (an elite offensive player off the bench). While Ginobili gets older, Harden is still getting better.
As for placing him above Ellis, Monta is a great scorer and that's about it. Also, Ellis' scoring numbers could take a dip considering new coach Mark Jackson wants to turn the Warriors into a defensive-first team.
Eastern Conference SF: LeBron James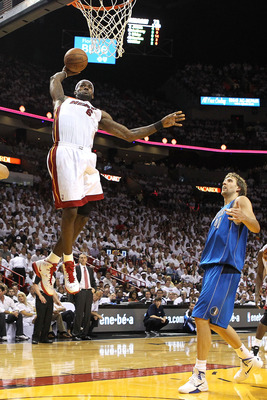 Ronald Martinez/Getty Images
LeBron is the easiest selection on this list. Whether you love him or hate him, he is the best and most complete player in the NBA. Remember, this list is determined by the regular season. Heat haters will have to wait until the playoffs to poke further holes in the James legacy (Barring catastrophic injury, the Heat will easily make the playoffs.).
Second Team: Carmelo Anthony
'Melo may be LeBron's equal as a scorer, but he isn't close when it comes to all-around game. That is not a knock on Anthony. He is an incredible player and can put up 30 as effortlessly as anyone playing. He will play a big role in Knicks getting a home court advantage in the first round (The Knicks will get a top-four seed. Name four teams better.).
Third Team: Danny Granger
The Pacers will be a very good team this year. I wouldn't call them a serious contender, but they should make some noise. Granger is undoubtedly their leader, and now he has help. David West will take some of the offensive pressure off of Grander and allow him more room to control the offense.

Western Conference SF: Kevin Durant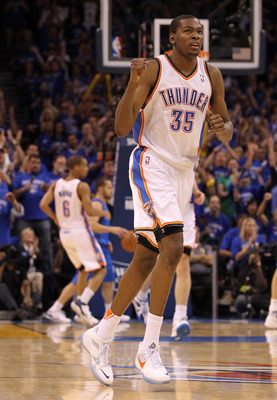 Ronald Martinez/Getty Images
Two-time scoring champion Kevin Durant keeps getting better. Over the lockout-extended summer, he copied Dirk Nowitzki's leg kick jumper. That's bad news for opponents.
Durant keeps adding to his game. He may already be the best pure scorer in the NBA. By the time he retires, he could be the best pure scorer of all-time.
Second Team: Rudy Gay
He was injured all of last season, but he could be the scoring punch the Grizzlies need to get over the top. Memphis proved they were a threat in the playoffs without him. With Gay, they could be legitimate contenders.
Third Team: Gerald Wallace
Wallace will most likely spend time at both the three and the four spots. He is a versatile player who will benefit from playing for a deep Blazers team with plenty of options.

Eastern Conference PF: Amare Stoudemire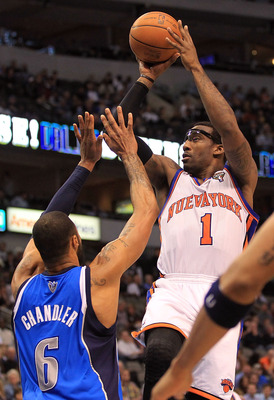 Ronald Martinez/Getty Images
Before the Knicks landed Carmelo Anthony, Stoudemire was having an MVP-caliber season. While the addition of 'Melo might hurt his MVP chances, it should make the Knicks a better team. Amare is a great scoring power forward and should continue to put up exceptional numbers in New York.
Second Team: Chris Bosh
Bosh is the third wheel on a Miami team loaded with talent. Regardless, playing with LeBron and Wade should give Bosh plenty of open jumpers. Reports that Bosh has bulked up in attempt to play a more physical role bode well for the Heat.
Third Team: Josh Smith
Smith isn't a great team player, and the Hawks aren't a great team. Smith is, however, a great scoring power forward. He is also a good rebounder. In the Eastern Conference, that is good enough for third team.

Western Conference PF: Blake Griffin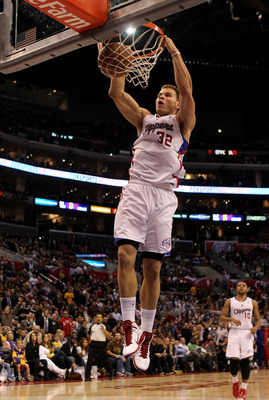 Stephen Dunn/Getty Images
Griffin had a great year last year. It is easy to forget that it was his rookie season. Obviously, he will continue to lead Sports Center with his dunks. He earns this spot, however, not based on highlights, but rather, his progression as a complete player. As his jump shot improves, he will become more and more unguardable.
Oh, by the way, has anyone mentioned that he is playing with the league's best point guard?
Second Team: Dirk Nowitzki
The Western Conference is deep in in power forwards. Dirk is coming off a championship. He excels at creating space and consistently making shots that seem low percentage (and they are for anyone else but him...well, unless Durant masters Dirk's leg kick fadeaway). Nowitzki will have another great season; I just prefer Griffin's upside to the sure thing.
Third Team: Pau Gasol
Did I mention that the West is loaded at power forward? It hurts not to put Zach Randolph, LaMarcus Aldrige or Kevin Love on this list. The fact is that Pau's combination of post moves and soft touch is so good that he has to be All-Conference. He disappointed last postseason; don't expect this regular season to follow suit.

Eastern Conference C: Dwight Howard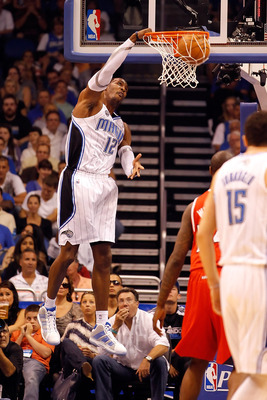 J. Meric/Getty Images
If the NBA is a shooting guard famine, the center position is extinct by starvation. Howard is the only unquestionably elite center in the league. It isn't even close.
This isn't to say that Howard is anything less than a great player. He dominates the game defensively and has a superb offensive game. While NBA analysts dream about him scoring 30 points per game (because, you know, there isn't another great center in the NBA), Howard is still a force to be reckoned with.
Howard is to defense what LeBron is to offense: a player who can change the game by his mere presence. He grabs rebounds and records blocks with ease, but his true value is sitting in the paint. When Howard is down low, opposing offenses take notice and change their strategy. There aren't many players in the history of the NBA who can say the change the game by just playing.
Second Team: Tyson Chandler
Chandler won't put up eye-popping stats in New York; however, he will make the Knicks a substantially better team. Like Howard, he effects the game by his presence, albeit to a lesser extent. He proved in the Finals to be a LeBron stopper. He manners the center position with respect to opposing players. I don't think the Knicks are a better team than Heat, but I do think if they met in the playoffs, it would be a close series.
Third Team: Al Horford
Horford may not be the offensive player that Brook Lopez and Andrea Bargnani are. However, considering Lopez and Bargnani each averaged less six or less rebounds per game last season, I'll take Horford (9.3 rpg, it turns out that rebounding is an important part of the center position).

Western Conference C: Nene Hilario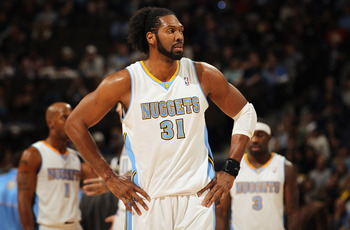 Doug Pensinger/Getty Images
The East has one center who rise above the rest. The West, on the other hand, has a good amount of good centers, but not a single great one.
Nene does everything a team needs a big man to do. He scores efficiently, rebounds well and blocks shots. He may not be a transcendent talent, but the Nuggets did themselves a favor by re-signing him.
Second Team: Andrew Bynum
Bynum has the talent to be the best center in the West, but his inconsistent health has prevented him from doing so. If he can make through the season, he could rise to the number one spot, as his responsibilities will increase with the absence of Odom.
Third Team: Marc Gasol
He isn't his brother, Pau, but as the second best player in the Grizzlies front court, he is more than effective. He played well in the playoffs, and Memphis should be a consistent contender with he and Zach Randolph manning the paint.

Keep Reading