20 Hottest Hockey WAGs of 2011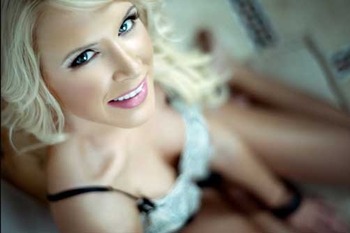 Image Source: http://www.wagrankings.com/images/wives/nhl/amanda_vanderpool.jpg
Ah, hockey girls.
Being in the NHL carries some excellent amenities, including millions of dollars in salary, celebrity status, the ability to play a game for a living...and the wonderful fact that beautiful women have an understandable attraction to hockey players.
Who are the NHL's hottest wives and girlfriends?
20. Paulina Gretzky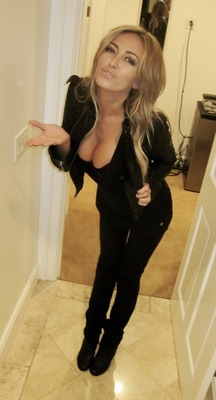 Image Source: http://yfrog.com/nttnrjxj
No, Wayne Gretzky's daughter isn't actually dating anyone in the NHL.
But leaving Paulina out of this countdown would seem wrong; she's a beautiful woman who has a connection to hockey.
19. Piritta Hagman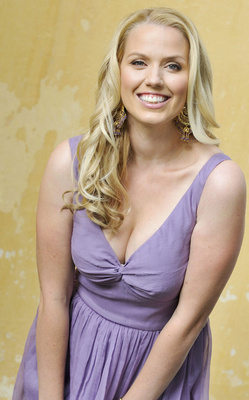 Image Source: http://static.iltalehti.fi/jaakiekko/kvpirittahagman081111LM_jk.jpg
Niklas Hagman has been married to Piritta since 2005.
The runner-up in the 2003 Miss Finland contest now has two children with the Anaheim Ducks winger.
18. Becky Seidenberg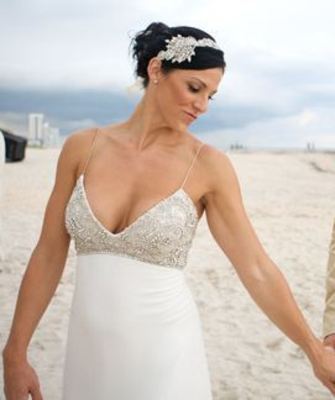 Image Source: http://www.miamiweddingplannerblog.com/luxe-fete-wedding-featured-in-weddings-illustrated-magazine/
The wedding of Dennis Seidenberg to wife Rebecca was featured in a magazine titled Weddings Illustrated.
The couple now has two daughters, one of whom was baptized in the Stanley Cup.
17. Lucie Vondrackova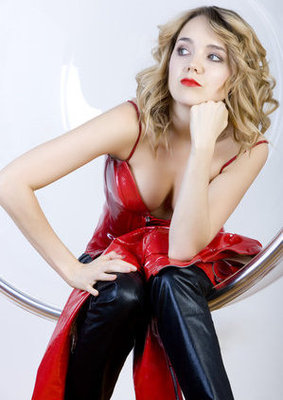 Image Source: http://img.blesk.cz/img/1/gallery/454184_lucie-vondrackova.jpg
Czech singer and actress Lucie Vondrackova married Tomas Plekanec of the Montreal Canadiens this past summer.
16. Noureen DeWulf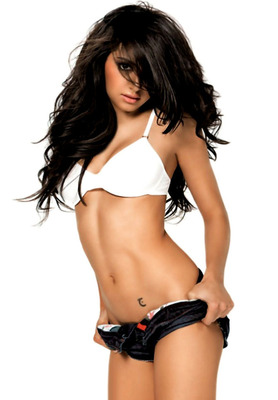 Image Source: http://gallery.telugutouch.com/sizzlers/noureen-dewulf-.jpg
Ranked No. 100 in Maxim's 2007 Hot 100, this actress married Ryan Miller in September 2011.
15. Brandy Ladd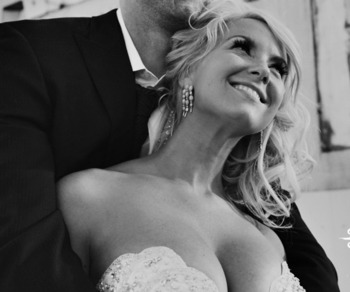 Image Source: http://fulleredgeblog.com/post-609/Brandy-Andrew-Ladd-Wedding-Sneak-Peek
Winnipeg Jets captain Andrew Ladd married his wife Brandy prior to this season.
As great as an honor it is to be the Jets' first captain, Brandy gives Andrew plenty to be proud of.
14. Keshia Chante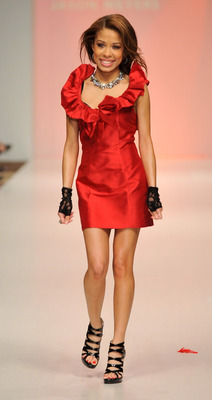 Image Source: http://www.mediummag.com/wp-content/uploads/2011/03/keshia_chante.jpg
Canadian singer Keshia Chante is dating goalie Ray Emery of the Chicago Blackhawks.
13. Elisha Cuthbert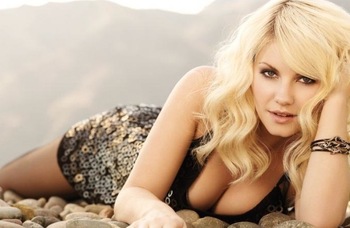 Image Source: http://www.thehollywoodgossip.com/gallery/complex-elisha-cuthbert/
Elisha might not look as great as she did when she was ranked No. 6 in Maxim's Hot 100 list in 2008, but the girlfriend of Toronto Maple Leafs captain Dion Phaneuf still has it.
12. Abby Malone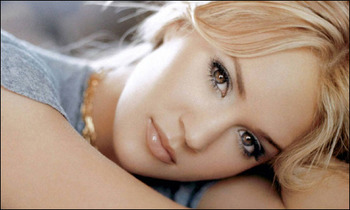 Image Source: http://www.edge.ca/Pics/Blogs/Dean/nhl%20wife%204.jpg
Ryan Malone of the Tampa Bay Lightning has two children with his wife Abby.
Ryan represented the United States at the 2010 Olympics.
11. Carrie Underwood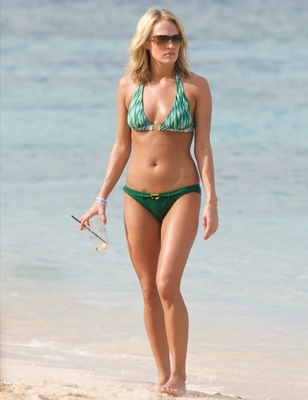 Image Source: http://rumorsandrants.com/wp-content/uploads/2009/12/carrie-underwood.jpg
This is one of the few instances in which the hockey player's wife might is more famous than the hockey player.
Mike Fisher of the Nashville Predators is married to American Idol star and country singer Carrie Underwood.
The two recently celebrated their one-year anniversary.
10. Emma Andersson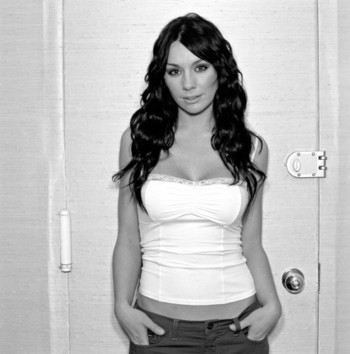 Image Source: http://lyricsdog.eu/lyrics/393246
Henrik Zetterberg's career thus far:
1. Get drafted by one of hockey's most prestigious teams
2. Score several hundred points
3. Be the best player in the 2008 playoffs
4. Win a Stanley Cup
5. Marry a smokeshow
Life is good for the 31-year-old Swede.
9. Melanie Collins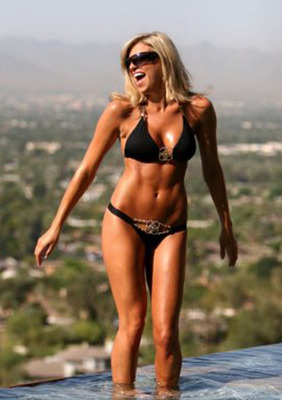 Image Source: http://miasportsguy.com/wp-content/uploads/2010/09/mel-collins.jpg
8. Petra Volakova
Image Source: http://www.ahaonline.cz/clanek/zhave-drby/29125/petra-elias-volakova-zmenila-uces.html
Patrik Elias still has a few years left in the NHL at the age of 35.
With a wife who looks as good as Petra Volakova, early retirement might be a better option.
7. Maria Kirilenko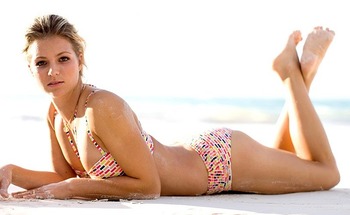 Image Source: http://3.bp.blogspot.com/-Hdol2BssQQQ/TaE_HhfxwPI/AAAAAAAAI0A/-fKsuX0BX-k/s1600/mm6.jpg
Alex Ovechkin is not scoring much on the ice this season; he is on pace for 58 points (goals plus assists) despite having a career high of 65 goals.
At least he is happy off the ice. Regarding his new relationship with tennis player Maria Kirilenko, Ovechkin said, "She is my queen!!!!"
6. Hillary Duff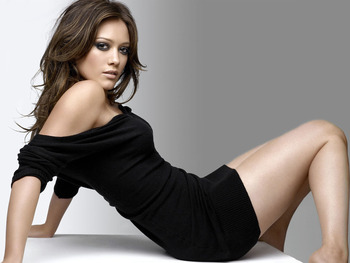 Image Source: http://the-best-top-desktop-wallpapers.blogspot.com/2011/02/hilary-duff-wallpapers.html
Hillary Duff has come a long way from being the star of the Disney Channel's series Lizzie McGuire.
Now aged 24 and hotter than ever, she is married to Mike Comrie, who last played for the Pittsburgh Penguins in the 2010-11 season.
Duff is pregnant with their first child.
5. Gabrielle Velasquez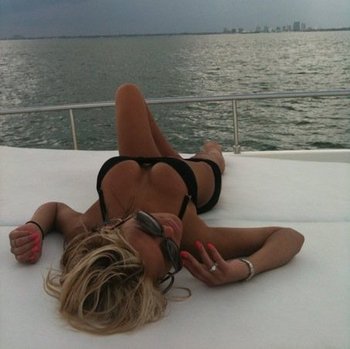 Image Source: http://2.bp.blogspot.com/-TugRPOX0nd8/Ti7RMmEjEOI/AAAAAAAAHTs/2zsQ0X6RErc/s1600/gabrielle%2Bvelasquez%2Bjonathan%2Btoews.jpg
Gabrielle Velasquez is Chicago Blackhawks captain Jonathan Toews' girlfriend.
If you look long enough, you may actually notice the boat in this picture.
4. Inna Puhajkova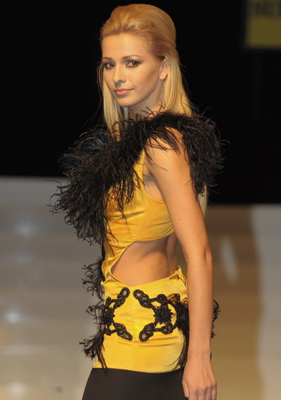 Image Source: http://bleskove.centrum.cz/fotogalerie/2009/12/16/supermiss-2009-soutezici-povzbudila-i-jagrova-mile/foto/285563/
Here's what we know about Jaromir Jagr's girlfriend Inna Puhajkova:
1. You can like her on Facebook.
2. She is very good looking.
3. BiBi Jones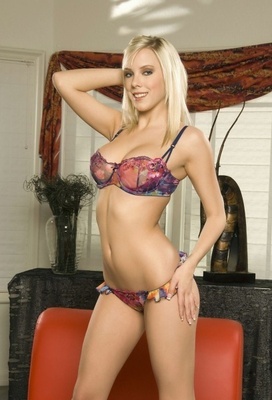 Image Source: http://img003.lazygirls.info/people/bibi_jones/bibi_jones_bibi_jones_cl_01_Irr2fGK.sized.jpg
Okay, so adult film star BiBi Jones is not actually a hockey player's wife or girlfriend, but she's just too good looking to leave off this countdown.
The 20-year-old claims to have slept with Phoenix Coyotes forward Paul Bissonnette.
He denies the claim, but it's a good enough excuse to show you this picture.
2. Kelly Kelly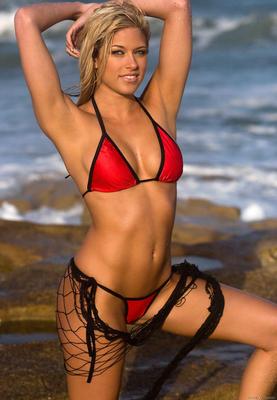 Image Source: http://www.celebs101.com/gallery/Kelly_Kelly/234739/Kelly_Kelly_Picture.jpg
Kelly Kelly is a WWE diva who performs on Monday Night Raw. She is dating Sheldon Souray of the Dallas Stars.
Souray made a public appearance when he kissed Kelly after her Summerslam match against Beth Phoenix.
1. Amanda Vanderpool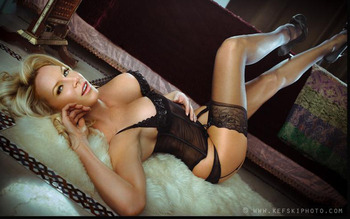 Image Source: http://macenstein.com/default/wp-content/uploads/2011/06/mcotm_Amanda_Vanderpool_11.jpg
Ladislav Smid has four career NHL goals, and the most popular YouTube video of him shows Sean Avery dropping him with a suckerpunch.
Don't feel too bad for him. His ex-girlfriend Amanda Vanderpool is unbelievably attractive.
Editors Note: While Smid once dated Vanderpool, they are no longer together and he is currently engaged to a woman named Ashley.
B/R Featured Columnist Jason Sapunka is available on Twitter.
Keep Reading