Breaking Down New Air Jordan 14 Low Retro 'Last Shot' Shoes
December 17, 2011
Jordan had the perfect opportunity to drop the perfect Christmas gift just before the holiday hit and they fell short.
The new Air Jordan 14 Low Retro 'Last Shot' shoes aren't an eyesore, but they certainly aren't the best Jordan has to offer.
Let's take a closer look to see how these shoes grade out.
"WOW" Factor: 5 out of 10
These shoes aren't as boring as the Air Jordan 1 KO Premiums that dropped in November, but they don't even come close to measuring up to the "WOW" factor the Air Jordan 4 Retro"Doernbecher" was bringing last month.
These aren't a flashy pair of all-black "J's", and some will say that adds to their flavor. Even so, they aren't going to garner the attention of everyone surrounding you.
Design: 7 out of 10
The design isn't terrible in this shoe. The top of the shoe looks a bit awkward and the yellow jumpman looks out of place, but the design is well done for the most part.
The jumpman 23 on the back is by far the best part of the design and while some are going to be deterred by it, others will be inclined to purchase them just because of it.
Overall Swag Grade: 7 out of 10
It's hard to believe that anyone would turn these shoes down. They certainly aren't unwearable like Kobe's heinous Christmas shoes.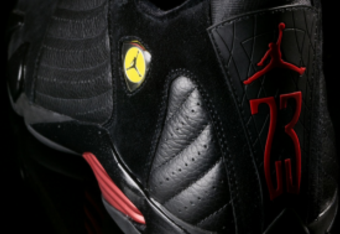 Then again, they aren't going to make anyone's swagger go through the roof. These shoes are versatile and target a large audience, but there are better black "J's" out there and to give them anything better than a 7 out of 10 would be far too generous.