Auburn Football: DE Corey Lemonier Could Be Tigers' MVP in 2012
December 17, 2011
Kevin C. Cox/Getty Images
I am a firm believer that building a defense must start up front.  The defensive line must be tough, and it doesn't get much tougher than Auburn's Corey Lemonier.  He may prove to be more important to the team than anybody else.
More often than not a defensive lineman's stats don't tell the whole story.  The NCAA doesn't track how many blockers a lineman occupies, how many holes he plugged, or how nervous he made the quarterback on a play without even getting close to him.
Lemonier's stats don't tell the whole story either, but wow does he have some eye-popping stats anyway.
He leads the Tigers in sacks (9.5), tackles for losses (13.5), quarterback hurries (15), and fumbles forced (5).  Yes, five forced fumbles.  That's only one less than LSU's Heisman finalist, Tyrann Mathieu, and good enough to be tied for 4th in the nation in forced fumbles.
Among his conference, Lemonier looks just as good.  He's second in the SEC in sacks, and has one more than Alabama's premier pass-rushing linebacker—and possible first round NFL Draft pick—Courtney Upshaw.  Lemonier doesn't lead the SEC in tackles for losses, but tied for 4th isn't bad for a sophomore and first year starter.
He places 10th in the nation in sacks.
Another player in his conference that Lemonier can be compared to is Jadeveon Clowney.  They have only two noticeable differences: Lemonier is a sophomore while Clowney is a freshman, and Clowney is two inches and 20 lbs. bigger, but that is where the differences end.  
I won't get into a stat argument (Lemonier's numbers are better), but Lemoniernand Clowney look a lot alike when they are on the field. Clowney was the No. 1 recruit in the 2011 class and was supposed to be the next best thing since jelly-filled doughnuts.  So far, he's look the part.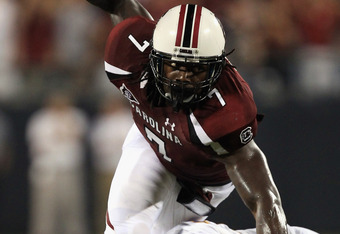 Streeter Lecka/Getty Images
Clowney is still getting a lot of attention about his "potential" and his decent numbers, but Lemonier just isn't talked about enough.
Lemonier's importance to the team is going to increase as time goes by.  He's going to get bigger, faster, and more experienced.  He is 6'4" and only 234 lbs.  He's the definition of a quick, elusive pass-rusher, but he can do more than just charge the quarterback.  
Lemonier's play in the opponents backfield displays his superior sense of the game.  He sniffs out the ball-carrier better than most, beats his blocker, and makes the tackle.  He leads all the Auburn defensive linemen with 44 tackles, 25 of those solo.  
Lemonier's size isn't an issue, but he could easily add another 15-20 lbs. without hindering his agility, and I'm certain he will pack on that muscle.
Lemonier has proven his worth with his numbers, and he will likely become Auburn's MVP with the stress he takes off of the rest of the defense.
When Lemonier is on the field, the quarterback has less time to throw.  Wide receivers eventually find separation from their coverage and make a play, but Lemonier severely limits that window.  This makes the secondary's job a lot easier, and keeps them fresh.
As stated before, Lemonier attacks not just the quarterback, but the line of scrimmage as well.  This can cause teams to overcompensate on keeping him at bay, freeing up his fellow linemen.  His play on the line also keeps the linebackers from having to do too much.  
Auburn's depth chart holds some relatively small linebackers.  No linebacker breaks the 250 lb. mark, and some of them barely crack 200 lbs, including Auburn's top tackler, Daren Bates (5'11", 205 lbs.). This may limit their ability to battle with opposing offensive linemen on blitzes, but their size lets them engage in pass coverage as well as a safety.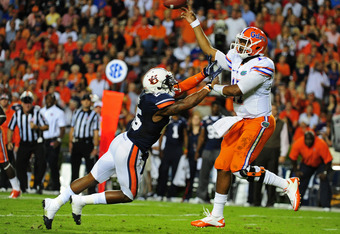 Scott Cunningham/Getty Images
When an opposing offense focuses too much on a dangerous lineman is when linebackers are the most potent. Lemonier makes this happen.
In addition, you know the opposing quarterbacks will be thinking about "little" No. 55.  Most quarterbacks are right-handed, and Lemonier will be coming from their blindside, and that's where the nasty hits come from. 
Lemonier's best game arguably came on the biggest stage when the Tigers hosted their arch rival, the Alabama Crimson Tide.  With the Tide pinned in their own redzone, Lemonier beat Alabama's Outland Trophy winning left tackle, Barrett Jones, and plowed quarterback A.J. McCarron. The ball popped loose and Auburn pounced on it. Touchdown.  
In a down year with a porous defense, Corey Lemonier has been one of the few stars shining brightly on the field.
In 2012, the Auburn defense will be one of the most seasoned in the nation as they are only losing two senior starters on defense, and no juniors are likely to declare for the NFL early.
With his play allowing the rest of the defense to be much more flexible and his scary numbers, Corey Lemonier may prove to be Auburn's most valuable player.