Philadelphia Eagles: Fans Would Love a Guy Like Rex Ryan
December 17, 2011
Chris Trotman/Getty Images
I believe Andy Reid should be back for a 14th season.  My opinion on that topic will not change.
However, if the Eagles do decide to get rid of Reid, I hope they hire a guy just like Rex Ryan.  Ryan is the type of guy Philadelphia fans would love.  First, he is the son of Buddy Ryan, one of the most beloved Eagles coaches of all time.  It is amazing how much Philly loves Buddy, who never won a playoff game, yet many fans dislike Reid, who has been to a Super Bowl and five NFC Championship games.
Rex Ryan is brash and bold.  He is interesting and funny.  He says exactly what is on his mind.  These are all qualities in athletes or coaches that Philadelphia fans genuinely relate to and like.
Just like his father, Rex lives and breathes defense.  Philadelphia fans always seem happier when the Eagles are a smash-mouth defensive team.  When the offense is struggling, the fans say at least we have defense.  Hence, the love for Buddy Ryan.
Rex Ryan is the type of coach that Philadelphia fans would adore.  He is also the complete opposite of Andy Reid.  Reid has mastered the art of saying nothing while Ryan is never at a loss for words.  Reid will never blame the players on the field for mistakes while Ryan will chew them out.
Don't get me wrong, Rex Ryan will not be coaching here as I doubt the Jets will get rid of him.  My point is, if the Eagles do part ways with Reid (which in my opinion would be a mistake), I hope they hire a guy like Rex Ryan.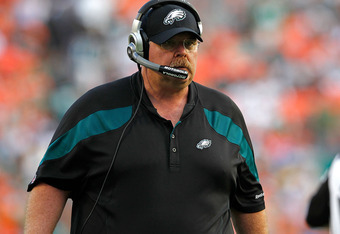 Mike Ehrmann/Getty Images
More than anything else, Rex Ryan is fun.  He is fun to listen to and interesting to watch.  Win or lose, it's always great to hear Rex after the game.  Rex is confident to the point that he comes off as cocky, but as he says, it's just confidence in his team and his coaching.
Now the question becomes this: Who is available that is like Rex Ryan?  Well, he does have another brother, Rob Ryan, but I doubt the Eagles would go after him.
Actually, the funny part of this whole article is that the Eagles would never hire Rex Ryan.  Rex Ryan is a walking pipe bomb, and the Eagles' front office would not want to deal with him. They like guys who say the right thing all the time and never rock the boat, like Andy Reid.  Reid is a Lurie/Banner guy, which is why he will most likely be back next year for season 14.
Ryan is the complete opposite of what the Eagles would like for a coach, yet he is exactly what the fans want.  Perhaps that is a bigger issue in Philadelphia and why this year's Eagles seem to be the most unlikeable Eagles team I can remember.  The Eagles' front office is building a team they like, but it is not the same kind of team the fans will fall in love with.  The Eagles' front office is disconnected with the Eagles' fans.
The Eagles' front office likes plain and vanilla, but Eagles fans crave exciting and chocolate.  The front office wants a guy who will give the company line while the fans want a guy who just once will rip on a player or an official or anyone.
The fans would love a coach like Rex Ryan but the front office would hate him, which is why it will never happen. These points are why Reid should be back.  If the Eagles get rid of Reid, they are going to replace him with another vanilla, company guy who probably won't win as much.  Sorry, but I'll take Andy—at least he has a good track record.
And of course, he has to do a better job...