Cristiano Ronaldo: 15 Sickest Goals of His Brilliant Career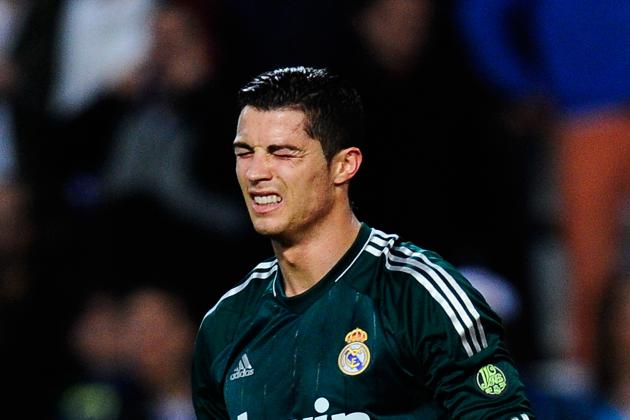 David Ramos/Getty Images

There's many a word been said about Cristiano Ronaldo over the years.
He's arrogant, he dives, he complains too much, he doesn't defend, and he can't tackle are just but a few of his critics' choice of put downs.
No matter what your nationality or where your club support lies, you can't deny that he is one of the best attacking players in the modern game, perhaps second only to Lionel Messi.
For some people he's better than Messi, but that's one of those great debates that will continue for years and years long after they have both retired.
This slide show takes a look at 15 of Ronaldo's goals that were that little bit special for one reason or another.
I'll try to explain my decision making process along the way.
I hope you enjoy the content.
Follow me on twitter @petercwebster
Begin Slideshow

»
You could argue that the oppostion is weak, or that it was only a friendly, but this strike in a 2011 preseason game against LA Galaxy was a great one.
The angle alone is what makes the goal so impressive because the margin for error is finite.
Everyone knows that Ronaldo is one of the most tricky players that has ever graced a football pitch and that is emphasized at 0.40 seconds on the video when his faked shot makes three LA Galaxy players look like they are performing a dance routine.
One word to describe this goal? Typical.
One thing about goals is that they become more important in big matches.
This towering header by Ronaldo in the Copa Del Rey final in 2011 against Barcelona was one of those goals. The leap alone is impressive, but when you see the placement of the header, it's even more impressive.
This was the game's only goal, which won Real Madrid the cup.
One word to describe this goal? Soaring.
If you leave Cristiano Ronaldo unmarked in the six-yard box, you're asking for trouble.
Malaga could be forgiven for thinking there's no way Ronaldo could score from the pass he receives, but somehow me manages to contort his body and make a karate kick style attempt that flies into the back of the net.
One word to describe this goal? Ninja!
Ok so this goal was actually ruled out for an offside by Nani, but if it had counted, people would have been talking about it for years.
Nani had no need to get involved with this ingenius finish, and the frustration is clear from Ronaldo's reaction when he realises what has happened.
Ronaldo can produce in the tightest of situations and has an array of tricks up his sleeve.
One word to describe this goal? Outstanding.
Who are the opposition I hear you cry?
They are a team from China named Guangzhou Evergrande, but that's not important.
What is important is to see how Cristiano Ronaldo manages to get the ball past their goalkeeper in the most creative of ways.
One word to describe this goal? Creative.
This goal back when he was playing for Manchester United gave Ronaldo his 26th league goal in 26 league starts for the club that season.
What makes it so impressive is the reaction of Ronaldo with such a short amount of time to consider his options.
The placement on the flick is such that it might be the only place he could have put the ball in order to get the goal.
One word to describe this goal? Cheeky.
Another free kick from a similar distance, but this one has even more dip on it.
Check out the view of the football from the replay shown at 0.49 seconds, which gives a slow motion up close replay.
This particular strike was against former England goalkeeper David James, who is not easy to beat from that kind of distance.
I suppose Ronaldo might disagree with that last sentence!
One word to describe this goal? Unstoppable.
Ronaldo has scored some impressive free kicks during his career, and this one is no exception.
The sheer distance from which he hits this is incredible.
With modern day footballs getting lighter and lighter, players are able to get more swerve and movement on the ball than ever before.
Unfortunately that's bad news for goalkeepers.
One word to describe this goal? Thunderbolt.
There are few people that can score a goal with a strike as far out as this one with the ball in stationary position.
Now take that skill and apply it to a moving ball whilst you're being chased down by FC Porto players and you have the circumstances Ronaldo found himself in for this clip.
Nine times out of 10 this would end up in the stands, and really Ronaldo has no right to be shooting from this kind of distance.
Perhaps one of his greatest ever strikes that will be difficult to replicate in his lifetime.
One word to describe this goal? Unrepeatable.
Not content with scoring incredible goals for his club, Ronaldo also occasionally saves the party tricks for international games.
The victims of this incredible piece of athleticism were Azerbaijan.
Bicycle kicks are never easy because it's very rare you have that much time and space in the box to set yourself for such an effort.
To even have the audacity to try a bicycle kick shows a lot of confidence.
One word to describe this goal? Athletic.
When you're in form, everything seems to go your way.
This was Ronaldo's 40th goal in all competitions in the 2008/09 season for Manchester United.
As the commentator rightly points out, it's probably the scruffiest he's scored, but that's what makes it sick for the opposition.
At the end of the day, a lot of goal scoring opportunities are about your positioning as much as anything else.
One word to describe this goal? Fortunate.
Ronaldo starts this move against Arsenal with a deft flick and then sprints almost the entire length of the football pitch in order to finish the move off.
The sheer determination and athleticism it requires to do that in the 60th minute is testament to the player.
One he arrived in the opponents box, he still had the concentration to finish well.
One word to describe this goal? Determined.
Southampton were the victim of a Cristiano Ronaldo goal on more than one occasion, and this is one of them.
Following an outside of the boot cross that evades the Southampton defence, the ball is crossed back in, at which point Ronaldo makes a volley strike that nestles in the bottom corner.
One word to describe this goal? Technical.
Oh you wanted to see the other goal against Southampton?
Well here it is.
A bustling and driving run by Rooney finds the ball spilling to Ruud Van Nistelrooy. His square pass allows Ronaldo to tee himself up and dispatch another impressive volley.
What makes this strike so impressive is that it is scored by Ronaldo on his "weaker" foot.
One word to describe this goal? Ambidextrous.
I've said it before and I'll say it again, big games are for big players.
Ronaldo made himself a hero with a goal in the 2004 FA Cup final against Millwall.
United eventually ran out 3-0 winners, but what stands out for this goal is that Ronaldo is constantly in motion.
One word to describe this goal? Movement
So there you have it, Ronaldo is your typical soaring Ninja who is outstandingly creative and cheeky. He hits unstoppable thunderbolt shots that are unrepeatable, and he is fortunate and determined. His is technically ambidextrous with great movement.
You heard it here first.
Due to his amazing performances throughout his career, there are many goals that I have intentionally ignored or even failed to notice, so don't dismay if there is one stuck in your mind that I haven't included.
This goals I selected are all a little different in their own way, and there was multiple free kick goals that I could have chosen from.
As Ronaldo progresses his career at Real Madrid, it's plain to see how he has evolved as a footballer.
The fancy step-overs and misplaced passes during his time in the Premier League have become game changing turns and defence splitting assists in La Liga, and he is a lot more direct when faced with a solitary defender.
Ronaldo is already one of the most legendary players that will ever grace the sport and I can only see his status increasing from here on out.
Thanks for reading and Merry Christmas
Follow me on twitter@petercwebster