Atlanta Hawks: Season Preview for Each Player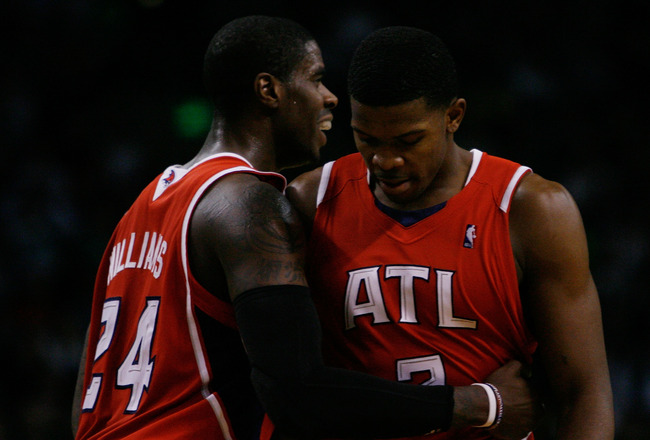 Elsa/Getty Images
The Atlanta Hawks will throw out the same core group of players they have for the last four seasons, and many aren't expecting much change. In fact, many are expecting this season to be the downfall of this Hawks group, but in fact it may be their last hoorah.
Virtually no real pieces were added to the core, but with a few things that went their way in the offseason, this is now a rejuvenated Hawks team that is ready to make a splash.
While the Larry O'Brien trophy is always the ultimate goal, Hawks fans should take things one step at a time. The Hawks have never made it to an Eastern Conference Finals series in Atlanta, and this is the first time since the late 1980s that optimism has flooded the on-and-off fan base in the preseason.

But it's important for all Hawks followers—and even players—to note this: Help isn't coming. The ownership isn't going to make a league-altering move, and you can certainly bet that GM Rick Sund won't. Management is going to stand pat, and while any member of the core could be shipped off for a piece that better fits this team, it isn't going to happen.
This team shouldn't be able to surpass the Eastern Conference Semifinals this year, but they are good enough to do so.
This team has been poorly assembled. The pieces don't necessarily mesh well on the court, but this team can still get over the hump.
Almost all of what this team can accomplish, however, depends on Head Coach Larry Drew.
Head Coach: Larry Drew
Kevin C. Cox/Getty Images
Larry Drew is entering his second season as Head Coach for the Atlanta Hawks. This year, the pressure will be higher as the team goes for its first ever Eastern Conference Finals appearance in Atlanta.
Drew has some strategies up his sleeve for this season that he couldn't employ last season, however. For one, Drew wants the team to run more, especially with Jeff Teague at the helm. It's night and day between him and Mike Bibby, or even Kirk Hinrich. Teague just plays at a different pace, and although he's been at Drew's disposal all along, he'll be forced to give Teague the keys to the car to start the season.
The Hawks should have been running more ever since this core was assembled, but slower point guards and a lack of rebounding has stymied those attempts. While the rebounding issue isn't entirely solved, a speedy point guard in Teague and a slimmer Josh Smith will hopefully truly ignite this offense.
Drew seems to have the team headed in the right direction, but his tendency to keep young guns on the bench will have to be put aside with some injury issues to start the season.
Training Camp Hopefuls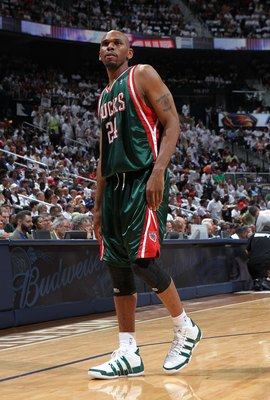 Mike Zarrilli/Getty Images
Donald Sloan
Donald Sloan, the Texas A&M product, is fighting for one of the final roster spots in Atlanta. With Kirk Hinrich injured to start the season, there is a need for a bench point guard, and Sloan could be just that. He's an explosive 6'3" guard who averaged 24.8 points per game in the NBA Developmental League last season, along with 8.4 assists and 5.2 rebounds per contest. Sloan, along with Brad Wannamaker, are vying to fill a final roster spot, and with the Hawks being thin at point guard to start the season either one could see some decent minutes.
Brad Wannamaker
The Pittsburgh product is looking to backup Teague and Pape Sy to start the season, but he'll have to beat out some competitors. He's less explosive than the aforementioned Sloan, but he's more crafty and is a little bigger at 6'4" and 210 pounds. There is a chance that neither Wannamaker nor Sloan will make the roster, as the Hawks just recently signed Jannero Pargo. Call me crazy, but I think Sloan or Wannamaker might be a more effective backup than the aging Pargo.
Jerry Stackhouse
Jerry Stackhouse probably won't make the roster. He's older than every other member fighting for a roster spot, and although his leadership is a valuable asset, talent might just prevail at the end of the bench. Still, you can never overstate the potential impact of a leader, so it would be foolish to completely rule him out.
Keith "Kito" Benson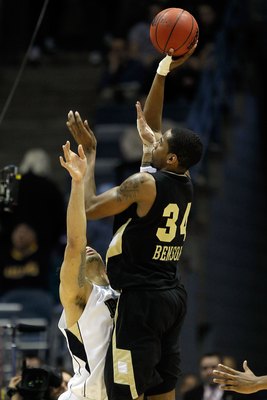 Jonathan Daniel/Getty Images
The Hawks' lone draft pick from this summer is a wiry, thin shot blocker who needs to seriously put some weight on before he can log legitimate minutes in the NBA.
He's aggressive despite his thin frame, and he has the potential to be a solid role player later in the year or maybe next season. Its safe to say you won't see terribly much of Benson this season, but after he broke the Summit League record for blocked shots and won Summit League player of the year for two consecutive seasons, he deserves respect.
The Summit League isn't the NBA, but anyone who can record over 300 blocks in Division I college basketball deserves a spot on an NBA roster.
Jason Collins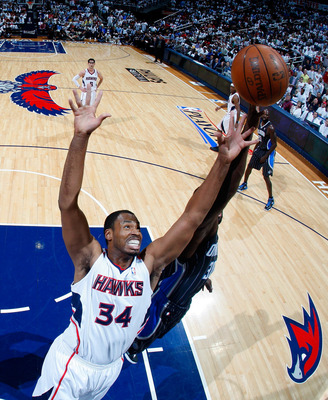 Kevin C. Cox/Getty Images
Jason Collins, or Twin as he's called around the league, was brought back to Atlanta for one reason—defend Dwight Howard.
No one can really stop Howard, but Collins was the only player to relatively put the clamps on him, and while he became known as the "Superman Stopper" in Atlanta, his impact in the first round cannot be overstated.
He will produce little to no offense on the floor, but he's known for stopping the biggest and burliest of centers in this league. Luckily for him, that's all the Hawks need him to do.
Kirk Hinrich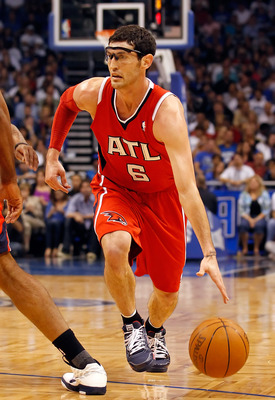 J. Meric/Getty Images
Suffering from a shoulder injury, Kirk Hinrich could miss games into February, which puts the Hawks in a tough situation in the back court.
It's hard to project the season an injured player will have, but knowing Hinrich, you can expect more of the same—solid defense and heady play at the point guard position, coupled with a few knock down jumpers.
He'll probably be backing up Teague when he returns, but Hinrich is Mr. Consistent, and you know what you're getting nearly every game.
Al Horford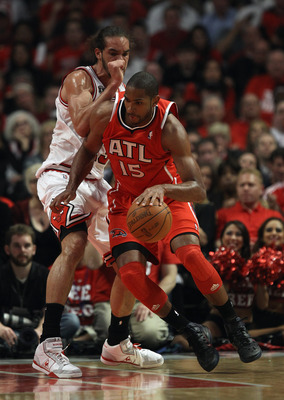 Jonathan Daniel/Getty Images
Al Horford may be better suited as a power forward, but he'll still be playing a lot of center this year.
Clearly he's decent playing the center position, as he's been selected as an All-Star at the position for the last two seasons.
You can expect more of the same from Horford this season: pick and pops and pick and rolls, along with some solid defense to boot. What everyone wants to see from Horford though, is a post game.
He's been a solid post game away from becoming a star for the last two seasons. While no one is expecting Horford to work a Hakeem Olajuwon Dream Shake every time down the court, anything more sophisticated than "push my man under the basket" will do.
Expect to see a few more fakes, and maybe some jump hooks, like he showed off in the Hawks' preseason debut. His numbers should rise this year, as he'll also see more touches down low with his improved post game.
Joe Johnson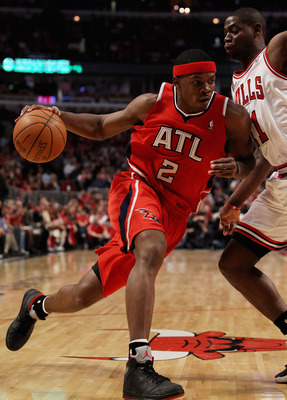 Jonathan Daniel/Getty Images
You can expect a full-blown bounce-back season from Joe Johnson.
He averaged only 18 points per game last season, and was hampered by an elbow injury all season. He played through it and posted his worst three-point field goal percentage in his NBA career, not even clocking 30-percent on the season. Josh Smith actually shot at a higher percent than Johnson, and Smith's shooting struggles have been well documented.
Johnson is fully healthy now, and according to Michael Cunningham of the AJC, he looks ready. That's a good sign for the Hawks, as they'll need Johnson to be the scorer he has always been if they hope to overcome some of the offensive struggles that plagued them last season.
With Teague facilitating, Johnson should get some good open looks through his penetration. Look for Johnson's three-point percentage numbers to rise exponentially—maybe even clipping 40-percent—along with a rise in points per game, as he'll easily top 20-per, and a get boost in assists as sharp shooters like Vladimir Radmanovic take some pressure off of him when he's doubled.
Johnson is set up for a full-fledged bounce-back season. Hopefully he stays healthy for the whole ride.
Tracy McGrady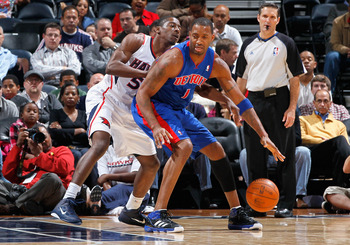 Kevin C. Cox/Getty Images
Tracy McGrady wasn't brought in to replace Jamal Crawford. No one is expecting McGrady to light the world on fire and score like its 2003 all over again. McGrady knows he's here to be a veteran leader and a playmaker.
McGrady also gives the Hawks offense more flexibility, and as Michael Cunningham of the AJC speculates, could give Atlanta some big lineups:
Drew will have the ability to send out some very big lineups. How about McGrady, Johnson, Smith, Al Horford and Jason Collins or McGrady, Johnson, Williams, Smith, and Horford? "There are some different combinations I can use," Drew said.
McGrady still has gas left in the tank. He was plagued by injury last season, and he's healthy coming into the year, so expect a mini bounce back. On a bottom feeder team, McGrady is probably capable of dropping 15 points per game. However, on a team like this, McGrady will be lucky to get more than 10. He'll chip in quite a few assists and rebounds per game, though.
He'll also win his first playoff series with the Hawks.
Zaza Pachulia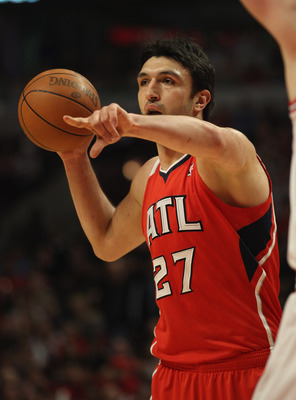 Jonathan Daniel/Getty Images
The way I see it, Zaza Pachulia is the perfect backup center.
You know not to expect any jaw-dropping stats, but to expect a toughness and a fire that is found in few other players around the league.
He gets under opponents' skin better than anyone, and he ignites a home crowd like no other. Pachulia is the toughness every team needs, and through that toughness an identity is given to the team.
The Hawks were able to stave off an Orlando comeback in Game 3 of the first round because of the energy he pumped into the crowd. This clip says it all.
You can expect more of the same this season.
Jannero Pargo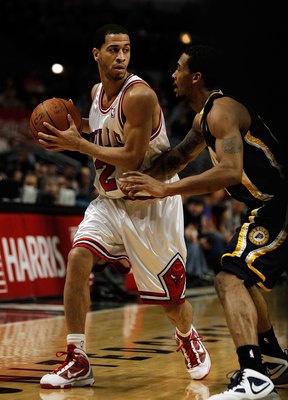 Jonathan Daniel/Getty Images
Jannero Pargo has reportedly inked a deal with the Atlanta Hawks, which will likely make it tough for either Brad Wannamaker or Donald Sloan to make the roster.
Pargo will likely get minutes early in the season as the Hawks cope without Hinrich, but he's not a very good point guard.
There was once a time when he was a decent bench scorer, but those days are long gone. He's a high volume shooter who likes the perimeter and he's never been known for his ability to set players up.
Quite frankly this wasn't Atlanta's best move, especially with two young bodies at the ready that could have likely handled the point guard position better than him.
If they were hungry for a veteran, there were better ones available.
Vladimir Radmanovic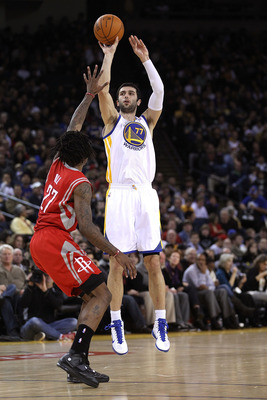 Ezra Shaw/Getty Images
A stretch four is the ideal player to put next to Josh Smith, and the Hawks got just that with the Radmanovic signing.
He's a knockdown shooter who will take the pressure off of Joe Johnson, Josh Smith, or Al Horford when they see double teams.
He'll be hovering around the perimeter and will likely be used in several pick and pops that could result in open shots.
You can expect a whole lot of three-pointers from Radmanovic this year, but that's about it.
He's a weak defender who is foul prone, and he has virtually no post game. Larry Drew wanted shooters this offseason though, and that is exactly what he got here.
Magnum Rolle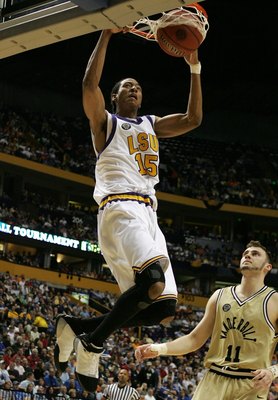 Andy Lyons/Getty Images
He's an athletic power forward who has quite a bit of polishing up to do on his game.
He'll play extremely sparingly and isn't even a lock to make the roster at this point. Don't expect anything from Rolle. That way if he somehow does turn into a contributor, it will be a pleasant surprise.
Josh Smith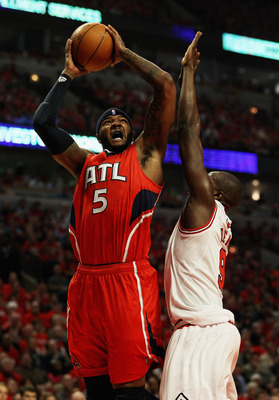 Jonathan Daniel/Getty Images
For a good read on what to expect from Smith, you can check out my fellow Featured Columnist Raj Prashad's article.
According to Jeff Schultz of the AJC, Smith has lost 25 pounds and has rededicated himself to this franchise. Fewer three-pointers and more 16-footers sounds good to every Hawks fan out there.
Truly though, this is the season when Josh Smith breaks out. He's going to explode with renewed athleticism and a game better suited for him. He wants this team to be as good as it can be, and he's doing his part. Smith is truly primed to become a star in this league, and this is the season when he makes the leap.
Pape Sy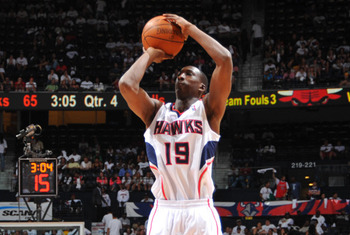 I'm cautiously optimistic about Sy this season, as I expect him to play some point guard in Hinrich's absence, and even some shooting guard when Hinrich returns.
Sy is an explosive athlete who has improved greatly from the start of last season to now. He's ready to take on an active role with the team, and his amazing quickness and athleticism will certainly help him do that.
He's known best as a penetrator and defender, but his shot is improving and so is his game. He has the potential to be a solid player in this league, and he's just now scratching the surface of it.
Expect a quiet, but very solid year from Sy. He's going to surprise a lot of people this season.
Jeff Teague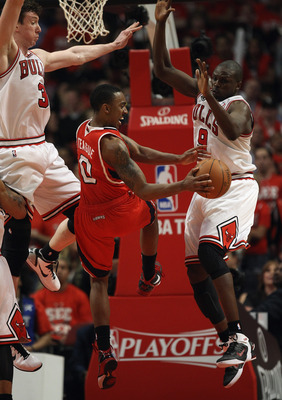 Jonathan Daniel/Getty Images
Teague is the player everyone wants to see this season.
He has an absolutely explosive first step—seriously, it could be the best in the league—and trying to contain him in the open court is like trying to catch lightning in a bottle.
He's a solid defender and a great penetrator, something the Hawks will be in great need of this season. His floater is his best shot, but he can seemingly get to the hoop at will and has the bunnies to rise up and throw it down.
All eyes will be on Teague to start the season, as he'll be in charge of running a fast-paced offense, something the Hawks should have had for some time but are only now installing. He's the point guard they've been looking for, and while he's not going to be Chris Paul, who Atlanta fans hoped for in 2005, he'll more than suffice.
Teague has been given the reigns to this team, and as Joe Johnson put it, "When he turns that corner, the Atlanta Hawks are going to turn that corner as well."
Teague is everyone's favorite candidate for a breakout season, including my own, and this year you can expect to see him break down his man often and get in the paint. He's not an all-world passer, but he'll probably average roughly six assists per game and get into the double digits in points.
This season, the Hawks go as Teague goes.
Marvin Williams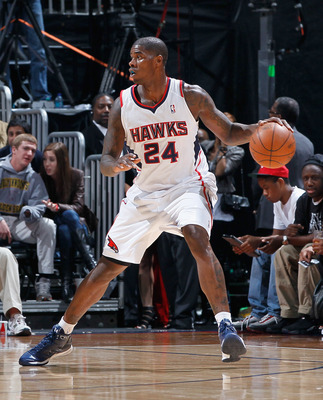 Kevin C. Cox/Getty Images
Marvin Williams will never be Chris Paul, but this is the season where he starts making up some ground and makes Atlanta realize that the pick wasn't entirely wasted.
Williams is ready to bounce back after a few rough seasons hindered by back issues. He had surgery in the offseason that has made him noticeably taller, and his vertical noticeably higher.
He's a high energy defender when healthy (he wasn't healthy the last two seasons), and a deadly mid-range shooter as well. He often finds himself with his heels on the three-point line, so better court awareness is something to watch for this season: a step back and that's three points; a step forward and it's a much easier shot.
Williams has all the tools to succeed in this league: long arms, innate athleticism, and decent fundamentals. He just has to put it all together.
Again, he'll never be Chris Paul or Deron Williams, but he wasn't a waste. He can be a bona fide starter in this league, and he'll be out to prove his doubters wrong as he walks upright for the first time in a few years.
Keep Reading

Atlanta Hawks: Like this team?