Arizona Cardinals
Arizona Cardinals Week 15 vs. Cleveland Browns: Keys to a Cards Victory
Beanie Wells (26) scores a touchdown against Dallas
Christian Petersen/Getty Images
December 16, 2011
In another must-win game, the Arizona Cardinals (6-7) host the Cleveland Browns (4-9) in what's setting up to be a battle of the backups. Both starting quarterbacks—Arizona's Kevin Kolb and Cleveland's Colt McCoy—were concussed in last week's action.
McCoy has had more time to work out the cobwebs because the Browns played in Pittsburgh last Thursday; however, the hit he took from now suspended James Harrison was far more vicious than Kolb's (see it again here).
Arizona is miraculously still in the playoff hunt, and this game is just another roadblock on their unorthodox path to the postseason.
Keys to a Cardinals' victory
Pound the rock
Cleveland is not good at defending against the run. They rank No. 23 in the NFL giving up 4.5 yards per carry, and No. 31 while surrendering 150.9 yards rushing per game.
And with the way Arizona's running backs carry the ball, it would be wise of coach Ken Whisenhunt to feed the beast and get the blur out on the edge.
The beast, Beanie Wells, has been a monster this season and is just 57 rushing yards away from becoming the first Cardinals' running back since Edgerrin James in 2007 to top 1,000 yards in a season.
The blur, LaRod Stephens-Howling, is fast becoming a fan favorite with the way he tends to score on screen passes in overtime to beat the Cowboys. Getting him the ball on the outside and allowing him to run in the open field against Cleveland's lumbering linebackers and injury-depleted secondary is a good way to break them early.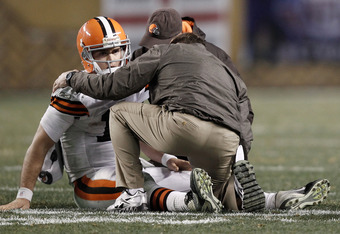 Colt McCoy after being hit by James Harrison
Jared Wickerham/Getty Images
For that to happen, the coaching staff needs to be true to it. If they are going to do it, do it. Sell out. Beanie has shown over the past month he can handle the load even with his banged up knee.
That will also help set up the play-action pass with Larry Fitzgerald and company.
Do your thing defensively
Since the middle-point of the season, the Cardinals' defense has been improving it seems with every snap of the ball. Over the past three contests—wins over St. Louis, Dallas, and San Francisco—the unit has totaled 12 sacks and forced countless more pressures on opposing quarterbacks.
Also over that time, they have allowed only 280.3 yards per game, good enough for fifth in the league.
The Browns offense has struggled mightily in 2011. And with McCoy not even making the trip to the desert, it will be Seneca Wallace all the way.
The defense cannot get cocky, though, and drop eight men into the box all day. Wallace is formidable in the passing game and will use his young receiving corps to try and push the ball down the field.
Nonetheless, expect the defense to put massive pressure on Wallace—enough to make him skittish in the backfield, as they did to Alex Smith last week.
Arizona's run defense is good enough to where if that happens, it could be an extremely long day for Cleveland's offense (or short, depending on how you look at it).
The Cardinals also get back safety Kerry Rhodes this week after he missed two months due to a broken foot. Defensive coordinator Ray Horton said he will play about half the snaps this week in order to get him readjusted to the speed of the game.
"It's so much faster than you can simulate out here (at practice)," Horton told azcardinals.com. "That's why we want to ease him in, and then next week against Cincinnati we can let him go 100 percent."
Allow John Skelton to sling it
Coming off the bench in relief of Kolb last week, Skelton struggled at first. He and the offense went three and out on his first two possessions, and he fumbled the ball away on a scramble during his third crack at it.
After that, he seemed to begin to find a rhythm. And in the second half, he was spectacular.
Much of that had to do with the stellar play of the offensive line, which as a whole played the best game of the season. When given time, Skelton will pick apart a defense with short throw after short throw, then kill it with his brilliant ability to get it deep.
In earlier starts this season, he struggled with the play-action game. That could have been because of the pressure he was facing, or it could have been a comfortability issue. That's unknown.
What is known is that he performed much better out of the play-action against San Francisco. It even led to a 60-yard catch-and-run for a touchdown by receiver Early Doucet that gave Arizona its first lead of the game.
Allowing Skelton the opportunity to get the ball to his playmakers, whether out of play-action or a straight drop back, will be paramount in keeping the Browns defense on its toes.
Matchup to watch: Larry Fitzgerald vs. Joe Haden
Cleveland's young cornerback has been the shining star of the Browns defense in 2011. He has looked like a Pro Bowler at times, ranking fourth in the NFL with 17 passes defended. The only part missing from his game this season is that he has yet to intercept a pass. He has been close a few times but simply has not cashed in.
Fitzgerald may have a field day with Haden Sunday.
Arizona's all-time leading receiver, as this B/R author pointed out, will have played against every team in the NFL but the one that drafted him when the game begins.
It will be another big game for Fitz. While Haden has all the talent in the world and will one day be among the best at his position in the league, he's just not big enough to separate Fitzgerald from his routes or outjump him when Skelton throws one up for grabs (which he is learning can be extremely beneficial). This matchup could be pretty lopsided by the time the final gun sounds.
Prediction
With how dominant Arizona's defense has been since the start of November and having to face Browns' backup QB Seneca Wallace, expect heavy pressure and 3rd-and-long to be the regularity in this contest.
Field position will be a large factor, and the defense will once again dominate the enemy. Wallace should have a tough time getting the ball out, and that may be enough for Arizona to get its first takeaway since linebacker Sam Acho forced two fumbles and recovered another in St. Louis three weeks ago.
Wells should have a big game and easily reach the 1,000-yard plateau for the first time in his career. A rushing touchdown is not out of the question, either.
Skelton does just enough to keep Cleveland's defense honest, and the Cardinals stay alive in the NFC wild-card picture with the victory.
Final score: Arizona 20, Cleveland 9
Like the new article format? Send us feedback!