Reasons Why the Los Angeles Clippers Aren't a Lock to Make the Playoffs
December 16, 2011
Stephen Dunn/Getty Images
While Clippers fans remain on a high after trading away three key players and a Timberwolves' unprotected first-round pick for superstar point guard Chris Paul, soon enough they will come to the reality that this team has quite a few flaws. I will discuss three of them in this article.
1) They are loaded in the backcourt, and scarily thin in the frontcourt.
With four point guards plus a combo guard on the roster, this team simply doesn't have the room to play all of these players. As of right now, it appears that Chris Paul will start at point guard, with Chauncey Billups running along side him in the backcourt. That's a very small backcourt with Paul listed at 6'0" and Billups at 6'3". Randy Foye is the team's tallest guard at just 6'4", which will cause many matchup problems for the Clippers all season. More on the defensive aspect later.  
2) They have a mediocre coach trying to maintain two superstars and high expectations.
Vinny Del Negro isn't a great coach. Let's be honest here. With Chris Paul and Blake Griffin, he now has two superstars to try and manage, along with huge expectations from Clippers fans and everyone around the league. Del Negro failed to deliver in Chicago, and could be out of the door after this season in Los Angeles if the team doesn't make the playoffs and live up to the hype. He also only has a week to put together a new offense and get the new guys (Chris Paul, Chauncey Billups and Caron Butler), all starters, comfortable running with the rest of the team. This will be a major concern, especially with a shortened 66-game season.
3) Not a great defensive team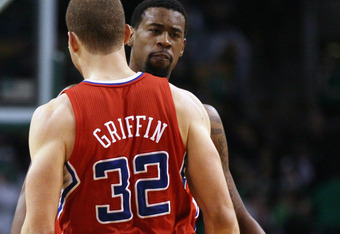 Elsa/Getty Images
Chris Paul is a good defensive point guard. He'll be one of the league-leaders in steals and will help get the team out on the fast-break where they will be very dangerous this season. But with an aging Chauncey Billups and Caron Butler at the wings, you have to be concerned with this team defensively. While they will have Blake Griffin and DeAndre Jordan, a great shot blocker, behind them, you can't rely on them to always be there. Also, DeAndre has been known to get in foul trouble, and as of right now, they have nobody to come in and maintain that defensive presence when he heads to the bench.
Let's take a look at the likely rotation players for the Clippers as of right now:
PG: Chris Paul, Mo Williams, Eric Bledsoe
SG: Chauncey Billups (Though not actually a 2), Randy Foye
SF: Caron Butler, Ryan Gomes
PF: Blake Griffin, Trey Thompkins (Rookie), Brian Cook (Stretch 4)
C: DeAndre Jordan, NOBODY
While the team will sign a back-up center, they likely won't be much of a threat off the bench since the team only has the $2.5 million mini mid-level exception. With that being said, the Clippers should have a lot of concerns going into the abbreviated 2011-2012 season.
Let's also take a look at the Western Conference standings from last year.
6) Portland Trailblazers
---------------------------------------------
10) Phoenix Suns
11) Utah Jazz
14) Sacramento Kings
Last year, the Clippers finished 13th in the Western Conference. When you look at the eight playoff teams from last year, the only team likely to fall out of the picture is the New Orleans Hornets. With that being said, do you believe the acquisition of Chris Paul and loss of three starters/rotation players can help boost the Clippers ahead of the Rockets, Suns, Jazz and Warriors for the last playoff spot in the Western Conference? Only time will tell.