Flyers Future: Is Retirement Something Chris Pronger May Be Considering?
December 16, 2011
Jim McIsaac/Getty Images
Yesterday, reports surfaced out of the Philadelphia Flyers camp that their captain Chris Pronger would be out for the rest of the season, including the playoffs.
With the Flyers showing signs that they can compete for the Lord Stanley's Cup this year, this news has many Broad Street Bullies' fans worried.
However, their concern should not only be about their All-Star defender's season, but his career as well.
Being the hard-hitting defenceman that he is, Chris Pronger has had a rather healthy career in the NHL. It was not until the offseason following the Flyers remarkable 2010 playoff run (where they would eventually lose 4-2 in games to the Chicago Blackhawks), that he had to worry about his health.
Pronger would undergo arthroscopic knee surgery during the 2010 offseason. That and a few minor injuries would have him sidelined a few times as well in the 2010-11 season, which limited his game total to 50.
That knee would bother the 6' 6" and 220 lbs monster. It kept him out a few times the following year, as well as hindering his progress in workouts during the 2011 offseason.
The 2011-12 season would prove to be even worse. Pronger would be sidelined once again with knee surgery and an eye injury. After returning from both, another injury would keep the star off the ice.
Originally the Flyers reported that he was suffering from a virus, which would later be upgraded to severe post-concussion syndrome. This would lead to the news that he would be sidelined for the year.
Now do not be surprised if talks of a possible retirement are next on the agenda.
Obviously, he is still in the early stages of recovery, and the result will be unknown for months. Flyers fans should remain optimistic that their captain will return to the ice by next year.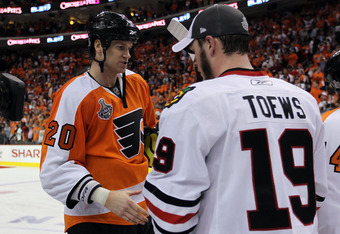 Bruce Bennett/Getty Images
Chris Pronger is 37 years old. He is not a young player by any stretch of the imagination, even though he plays as though he is in his prime every moment he is out on that ice surface.
He is a fierce competitor. There is not a doubt in my mind (or anyone else's) that he will be doing all that he can to get back.
Pronger has won a Stanley Cup, two Olympic Gold Medals, the Norris (best defenceman), and the Hart Trophy (MVP). He does not have much left to prove. What matters to him first and foremost, is his future health and family. 
It is not a far-fetched idea that a player with a high skill set would retire due to health issues. It happened to Bobby Orr, and more recently it happened to Marc Savard. Of course, there has not been an official report submitted that Savard is retired.
However, he was placed on long-term injured reserved (IR). This was a way for the Bruins to circumvent cap space since Savard was still under contract through the 2016-17 season. 
For those wondering about the possible effect a Chris Pronger retirement would have on the Philadelphia Flyers' cap, I'd simply say one thing: Don't, for now.
Under the current collective bargaining agreement (CBA), Pronger's contract would take effect only during the offseason if he is on long-term IR. Since he was 35 years of age when the contract came into effect. The CBA does expire following this season, so until that is done one can only speculate.