Roy Nelson: 'I Want to Fight the Best in the World'
December 16, 2011
After capturing arguably the biggest win of his mixed martial arts career over Mirko "Cro Cop" Filipovic at UFC 137, Roy Nelson is now slated to take on Fabricio Werdum at UFC 143.
UFC 143 will take place on February 4th, 2012 at the Mandalay Bay Events Center in Las Vegas, Nevada beginning at 7:00 p.m. PT and 10:00 p.m. ET.
However, it hasn't always been smooth sailing for the fan favorite Nelson as he had lost two consecutive bouts leading up to his heavyweight showdown with "Cro Cop." In an interview with Bleacher Report's Garrett Derr, Nelson addressed the roadblocks he had to overcome.
"I would say it was a learning lesson. It was a lesson I needed to learn before I can become champion," Nelson told Bleacher Report.
"You have to get rid of those stumbling blocks before you can become a champion. That way, you're not becoming like the heavyweight division where the title flip-flops all the time."
Not only did Nelson manage to surpass the roadblocks but he entered UFC 137 looking like a brand-new fighter. Nelson appeared in the best shape of his fighting career and packed with muscle. A loss in weight was a key component to Nelson's success inside the Octagon.
"The biggest thing for my weight loss was taking part in secret ninja training."
"And, if we're going off my previous fight, overall, I lost about eight pounds," Nelson stated.
Nelson will attempt to produce similar results when he squares off with Werdum in what could be the toughest fight of his mixed martial arts career.
A win over Werdum at UFC 143 will continue to move Nelson up the heavyweight rankings and potentially earn him a title shot.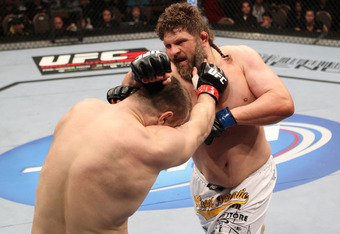 "My first and foremost is that I've always wanted to fight the best in the world. I think just for what I've done in my past, being a former champion myself, it all depends on timing. Who's hurt and who's not hurt."
"I think I showed the best and most impressive performance against Junior Dos Santos compared to any other fighter," said Nelson.
Nelson addressed the possibility of seeing a potential rematch with Dos Santos in hopes of seeking revenge from his defeat at UFC 117.
"I would like to fight Junior just because he has the belt. But, if he doesn't have the belt when I get around to fighting for it, I'll fight whoever has it."
Whoever has the belt could change as Nelson mentioned, as Brock Lesnar and Alistair Overeem are set to square off with the winner moving on to earn the No. 1 contender spot. Nelson shared his view on one of the most anticipated bouts of the year.
"It all depends on a lot of things. I'm waiting to see if that one actually happens. If Lesnar can take the fight to the ground, I think he'll win. But, if Lesnar can't take it to the ground, he loses. I really think it will be that simple," said Nelson.
As Nelson continues to move forward in his career, he is often brought back to those who've helped him become the fighter he is today.
"All my success is a result of those around me. I'd definitely say my wife and the friends who push me," Nelson stated. "But, the biggest in my fighting career, are the fighters who've made me lose. The guys who gave me my losses. Those guys are actually the guys who've made me the fighter I am today."