Philadelphia Flyers: Can They Replace Chris Pronger by Trading for Shea Weber?
December 16, 2011
Jim McIsaac/Getty Images
Philadelphia Flyers captain Chris Pronger has been declared out for at least the rest of the 2011-12 season and playoffs with severe post-concussion symptoms.
The announcement is particularly devastating to the team, after finding out just two days earlier that the NHL's leading scorer, Claude Giroux, is out indefinitely with a concussion.
Pronger's value to the team is impeccable. Though coach Peter Laviolette declared confidence in the team without Pronger in the lineup, no team can benefit from having a Hall of Famer out of action.
Many potential trades for the Flyers involve a minor move which replaces the lost depth by bringing in a competent defenseman. However, replacing Pronger requires more than a second-liner.
They need a man capable of carrying a team. They need one of the best defensemen in the league. They need a leader. To truly replace Chris Pronger, the Philadelphia Flyers need Shea Weber.
Weber's Availability

Weber is arguably the best defenseman in the NHL right now, finishing second in last season's voting for the James Norris Trophy. Niklas Lidstrom of the Detroit Red Wings won the award for the seventh time in his career (tied for second-most all time).
He is a physical defenseman with a hard shot. He is a leader. Like Pronger, his tough defensive style is a fit for the orange and black.
Weber is signed through the remainder of this season to a $7.5 million contract. The contract is the result of an arbitration hearing including his current team, the Nashville Predators.
The Predators are unlikely to be able to give Weber the money he wants in this upcoming offseason. The team may decide to trade Weber instead of leading themselves into a fiasco of contract discussions.
The Flyers, strapped for cap space, would have to trade a key piece of their current roster in order to acquire him this season due to the salary cap.
The team currently has a little over $2 million in cap space available due to room provided by long-term injury reserve (LTIR), according to CapGeek.com.
Acquiring Weber Now

There is only one realistic way (as in not trading away Danny Briere or Kimmo Timonen for the salary cap space) Philadelphia can get Weber during this season: if Claude Giroux is out for the season as well.
Teams may place a player on the LTIR if he is deemed unable to play for at least 10 games and 24 days. Teams are allowed to replace the player with player(s) that have equal to or less than the player's salary.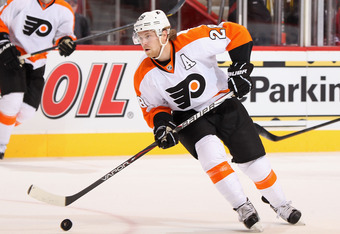 Christian Petersen/Getty Images
If Giroux is placed on the LTIR, the Flyers would be able to add someone with a $3.75 million cap hit or less. The drawback is once Giroux is deemed fit to play, the $3.75 million of relief is taken away.
So, if the Flyers lose Giroux for the season, the LTIR room available increases from the current $2.2 million to $5.95 million, but for the rest of the season.
Weber requires $7.5 million for this season, meaning the Flyers would have to find another $1.6 million in space if they were to trade for him with Giroux on the LTIR.
Philadelphia's Matt Walker has a $1.7 million cap hit.
Even with the injuries to Pronger and defensemen Andreas Lilja and Erik Gustafsson, Walker is being scratched in favor of rookies Marc-Andre Bourdon and Kevin Marshall. He would not be a major loss for the Flyers.
The team would also have to include additional players as salary dumps to cover the space lost when Lilja and Gustafsson come off the LTIR.
Perhaps Jakub Voracek is the man to include; the 22-year-old upcoming free agent would be a good trade asset. Plus, his $2.25 million cap hit would cover Lilja and Gustafsson's return.
The price for Weber would be incredibly steep; in addition to Walker and Voracek, the Flyers would likely need to give up three or more first-round draft picks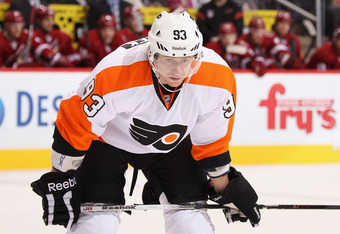 Christian Petersen/Getty Images
This is what the Flyers roster would look like (after Schenn and Lilja return from their injuries):
Forwards
Scott Hartnell
Sean Couturier
Jaromir Jagr

Wayne Simmonds
Danny Briere
Matt Read
James van Riemsdyk
Brayden Schenn
Max Talbot
Jody Shelley
Harry Zolnierczyk

Zac Rinaldo



Extra: Ben Holmstrom

or Tom Sestito

 

 

 
Defense
Andrej Meszaros
Shea Weber
Kimmo Timonen
Braydon Coburn
Matt Carle

Andreas Lilja


Extra: Erik Gustafsson

or Marc-Andre Bourdon


 
Another option, though less likely and probably the least realistic, could be exercised if Giroux is healthy. Instead of putting Giroux on the LTIR to have an extra $3.75 million to work with, the team could trade upcoming free agent Matt Carle, eliminating his $3.4 million cap hit.
The trade would be Carle, Voracek, Walker and two or three first-round draft picks for Weber.
The reason this trade is unlikely is that it involves trading two key members of the team halfway through a season in which the Flyers are leading the Eastern Conference. Still, here's a look at the roster resulting from this fantasy blockbuster:
Forwards
Scott Hartnell
Claude Giroux
Jaromir Jagr

Wayne Simmonds
Danny Briere
Matt Read
James van Riemsdyk
Brayden Schenn
Max Talbot
Harry Zolnierczyk
Sean Couturier
Zac Rinaldo



Extra: Jody Shelley

 


 

 
Defense

| | |
| --- | --- |
| Andrej Meszaros | Shea Weber |
| Kimmo Timonen | Braydon Coburn |
| Marc-Andre Bourdon | Andreas Lilja |
| Extra: Erik Gustafsson |   |
Acquiring Weber in the Offseason

If Giroux returns, the above scenario would not work out, and the Flyers' next opportunity to get Weber would be trading for him at the season's end.
Of course, this requires LTIR space. Pronger's LTIR space.
If Pronger's career is over (which, looking back on what happened to Keith Primeau and Ian Laperierre, it may be), then the Flyers could put him on the LTIR and have the relief from his cap hit. (The Flyers can keep him on the LTIR as long as he is unfit to play).
Since Pronger signed his current contract after the age of 35, his salary counts towards the cap if he retires. A buyout would not help the Flyers either; they would save money financially, but his cap would still count because of his age.
Essentially, if the Flyers put Pronger on the LTIR for the next five seasons and pay him for not playing, they are in a better cap situation than they would be if he was bought out or retired.
Once Pronger is on the LTIR, the team still has work to do in order to keep him.
It means not resigning Jaromir Jagr, Carle and Voracek. It means sending Walker to the AHL (or trading him) for cap space.
It means replacing them by re-signing cheaper players like Bourdon and Harry Zolnierczyk. It means re-signing an AHL player, such as Tom Sestito or Ben Holmstrom, and calling them up to the NHL permanently.
However, all of these actions would result in creating the cap space necessary ($7.5-8.5 million) to sign Weber after trading for his rights.
This is what the Flyers' roster would look like:
Forwards
James van Riemsdyk
Claude Giroux
Wayne Simmonds
Scott Hartnell
Danny Briere
Matt Read
Max Talbot
Brayden Schenn
Harry Zolnierczyk
Jody Shelley
Sean Couturier
Zac Rinaldo

Extra: Ben Holmstrom

or Tom Sestito

 

 

 
Defense

| | |
| --- | --- |
| Andrej Meszaros | Shea Weber |
| Kimmo Timonen | Braydon Coburn |
| Andreas Lilja | Marc-Andre Bourdon |
| Extra: Erik Gustafsson |   |
To recap, here are the three scenarios:
If Giroux is out for this season...
-Giroux on LTIR
-Voracek + Walker + picks for Weber
If Giroux comes back this season...
-Carle + Voracek + Walker + picks for Weber
If Pronger does not play next season...
-Lose Jagr, Carle, Voracek, send Walker to AHL
-Acquire Weber's rights in a trade for picks (and potentially the rights of Voracek, a RFA).
In the long term, affording Weber might not be an issue; the contracts of Kimmo Timonen and Scott Hartnell, a combined $11.5 million cap hit, run out after the 2012-13 season.
Acquiring Weber would certainly be a long shot. Would it be worth it?
B/R Featured Columnist Jason Sapunka is available on Twitter