NHL Trade Rumors: Sergei Gonchar to Replace Chris Pronger?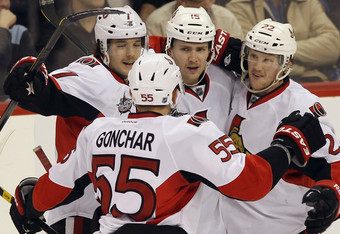 Bruce Bennett/Getty Images
The Philadelphia Flyers got quite possibly the worst news they could have gotten yesterday when they realized captain Chris Pronger would have to be shut down for the entire season, including playoffs, with post-concussion syndrome.
It couldn't have come at a worse time or year, as they have made a major overhaul to their roster and were heavily relying on Pronger to lead the way. Obviously, that isn't going to happen this year, and it may never happen.
While there are way more questions than answers right now, one thing is certain. The Flyers have to do something. They cannot afford to sit around and let other teams make trades. They need to be active and aggressive. While the team is playing tremendous hockey right now, the absence of Chris Pronger will eventually be felt, on and off the ice.
I know I've thrown out a few names in recent articles in regards to who the Flyers may be interested in, and whether you choose to believe it or not, the Flyers are indeed talking to teams, even as you read this. You can bet on that. The real question is, who are the Flyers targeting? Well, today, another name was thrown into the mix.
Sergei Gonchar.
It may be an obvious decision, and it remains to be seen whether the Flyers have any interest in him at all. With that said, he could be a great addition to the lineup.
Sergei Gonchar signed a three-year, $16 million contract with the Ottawa Senators on July 1, 2010, the first day of free agency after winning a Stanley Cup with the Pittsburgh Penguins a few seasons prior. There is no question that Gonchar is one of the better defenseman in the league, but his time with Ottawa hasn't exactly gone as planned.
Would you be happy with Sergei Gonchar as Chris Pronger's replacement?
Ever since joining the Senators, Gonchar's play has seemed to drop. He's only tallied two goals and 17 assists on the season this year, which isn't too bad but could be better. He doesn't quite look like himself on the ice. Now, that could be attributed to many things. The Senators have struggled in recent years, and they have traded away some of their top players in order to rebuild. It obviously doesn't help Gonchar look any better when he is playing for a team who finds themselves near the bottom of the league year after year.
What will be tough for Philadelphia is fitting his over-sized contract under the cap. Luckily, the Flyers do have some options. They can place Pronger on LTIR, giving themselves more cap space. They will most likely have to trade another player as well unless they give away just picks, so whoever they trade will also come off the books.
It's no secret that Ottawa would absolutely love to rid themselves of Gonchar's contract, and Philadelphia may be willing to oblige this year. While I haven't heard anything solid on this yet, I'd be willing to bet that the Flyers are taking a close look at it. If they aren't, they certainly should be.
So, do you think Gonchar is a good fit to replace Chris Pronger?
You can follow me on Twitter @ManayunkMike for updates, rumors and more.
This article is
What is the duplicate article?
Why is this article offensive?
Where is this article plagiarized from?
Why is this article poorly edited?

Philadelphia Flyers: Like this team?