Liverpool FC: What Victory at Villa Park Can Do for Liverpool
December 16, 2011
Alex Livesey/Getty Images
Last season when Liverpool headed to Villa Park on the last day of the season, their previous defeat by Spurs had near enough ended any hope of Europa League qualification.
Even with the pressure off, Dalglish's men lost to a Stewart Downing goal, and were left to contemplate only a fourth season out of Europe in 50 years.
The corresponding fixture this season occurs much earlier into the campaign and offers the Kop side an opportunity to solidify a stronghold on the top six. This is a remarkable contrast to this point last season where they had seven points fewer and languished in the midfield pack. 
Yet it could have been even better. Whilst Liverpool possess the strongest defensive record in the Premiership, they have seemingly cancelled this out by only netting 18 times in 15 games. 
The impact of the lack of goals has halted a top four challenge at this point. Spurs and Chelsea have been afforded opportunities to pull out an extended gap.  
After hitting the woodwork on 15 separate occasions, more than any other team, Liverpool have found themselves too often struggling to defeat mid to bottom half table teams like Fulham, Norwich and Swansea. 
The ridiculous recent tally of 15 shots on target against QPR with a return of only one goal highlights an issue of goal scoring that the side will need to overcome.
Fortunately, unless the wheels on Kenny's season come crashing off, it looks likely that Liverpool will finish comfortably at least in the top seven.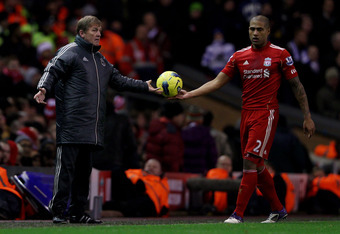 Clive Brunskill/Getty Images
A victory at Villa Park would extend the gap to Aston Villa to ten points, with Stoke and a faltering Newcastle team in between.
Apart from the 1-0 defeat at the end of last season, Aston Villa failed to triumph in 12 previous occasions at Villa Park. This then would provide a welcome chance for the floodgates to well and truly open for Liverpool. 
You can't help but feel that at some point the side will have a game where goals fly in left, right and centre. This is an occurrence that will need to happen if Liverpool can replicate their glorious run of form when Dalglish took over at the start of 2011. 
What we do not want is a stronger comparative opening to be followed by a weaker finale, which would only afford the same overall result and a reliance on a cup triumph to gain European qualification.