Arizona Diamondbacks Ready to Repeat as NL West Champs
December 16, 2011
Thearon W. Henderson/Getty Images
The Diamondbacks are ready to contend for the National League West title.
They traded one of the top prospects in their farm system, Jarrod Parker, for a known commodity in Trevor Cahill.
The addition of Cahill gives the Diamondbacks a formidable top of the rotation with Ian Kennedy, Daniel Hudson and Cahill.
The trade, which also included relief pitcher Craig Breslow, and the acquisition of free-agent reliever Takashi Saito hold true to GM Kevin Towers' pitching-first philosophy.
At this point the only new faces at spring training will be pitchers, as the Diamondbacks have yet to acquire a new position player.
The strategy worked well in 2011, as the underdog Diamondbacks nearly made it to the National League Championship Series.
Will the Diamondbacks be able to repeat with the current roster?
As the Giants learned, players who broke out for career years shouldn't be expected to repeat their performance the following season.
The biggest question mark for the Diamondbacks is their infield, which has uncertainty at every position.
Can they count on Paul Goldschmidt, Ryan Roberts and Willie Bloomquist to all pick up where they left off?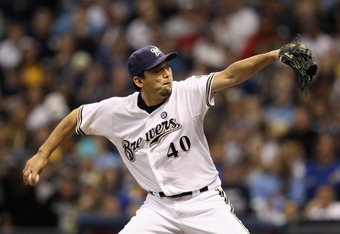 Christian Petersen/Getty Images
Can they count on Stephen Drew to make it through a whole season healthy?
Will Aaron Hill resemble the player he was the last two years in Toronto rather than the player he was when he came to Arizona?
If the Diamondbacks hope to win the division again, they will likely have to make due with what they have.
The potential is there for the Arizona to have a productive offensive player at three of the infield spots. Goldschmidt looks like he will be Arizona's first baseman of the future. Drew is a very good shortstop when he is healthy, and in the past Hill has been one of the better-hitting second basemen in MLB.
As for third base, there are not many free-agent options available, so any move they make would need to be done through trade. That means there will likely be a platoon of Roberts and Bloomquist at the hot corner.
Regardless of the questions that surround them, this team showed last season that it is nothing if not resilient, and the expectations should be nothing less than to repeat as NL West champions.