4 Offensive Playmakers the Kansas City Chiefs Must Target in the 2012 NFL Draft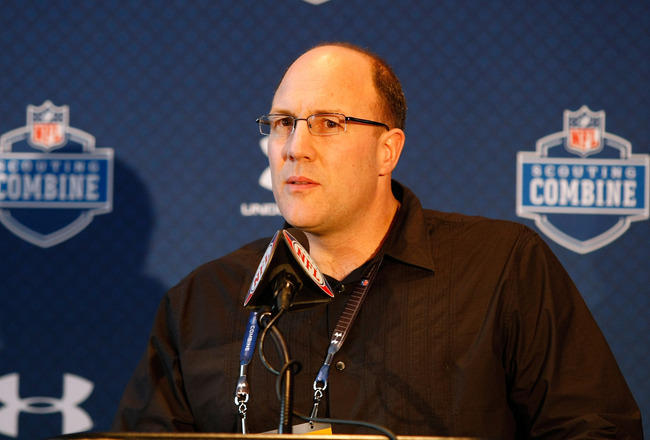 Scott Boehm/Getty Images
Prior to being fired, Todd Haley had higher expectations from their offense in 2011. Even with the injuries that took place, this season was a huge setback for the offense, and the Chiefs learned what holes must be filled this upcoming offseason.
As soon as Scott Pioli decides on who he wants to hire for next season, the new head coach may want to shake up the roster and have it his way.
Which four offensive playmakers should the Chiefs go after in the 2012 NFL draft?
QB Landry Jones, Oklahoma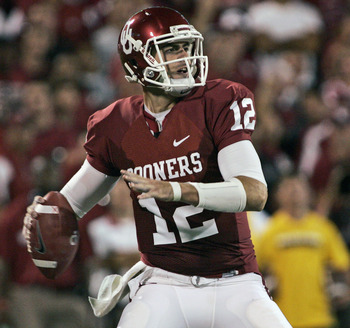 Brett Deering/Getty Images
With Haley no longer the head coach, Matt Cassel's chances of being the quarterback of the future are very slim. Cassel may still be on the team and may start next season, but the job could slowly be taken away from him, one way or another.
It is doubtful that the Chiefs could get Andrew Luck or Robert Griffin III. However, the Chiefs have a legitimate shot at landing Landry Jones from Oklahoma in the draft.
The big question is, will Pioli want to hire a head coach that will keep Cassel on the team? Or will Pioli allow the new head coach to make the decision?
RB Trent Richardson, Alabama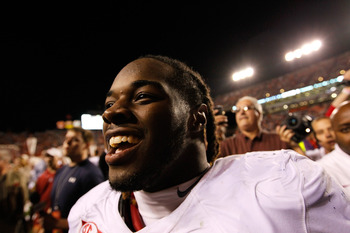 Kevin C. Cox/Getty Images
Seeing Trent Richardson's name on this list will raise a lot of eyebrows for two reasons. For starters, everyone knows Jamaal Charles is one of the best scatbacks in the league. Also, the NFL is now more known for being a passing league as opposed to what it was 10 years ago. Only Kurt Warner and Peyton Manning threw for over 4,000 passing yards in 2001. With three weeks remaining in the regular season, there are already four players who have surpassed the 4,000-yard mark and a couple more will follow before the season comes to an end.
Even though the Chiefs were given a fourth-place schedule and found a lot of success in 2010, it is likely that they will be given a fourth-place schedule in 2012.
The Chiefs succeeded in 2010 with Charles and Thomas Jones, ranking them first in the league in rushing. With Charles coming off of a season-ending torn ACL injury, Richardson could form a reliable duo.
Jones is finishing up his two-year contract he signed before the 2010 season. Jackie Battle is proving that his 119-yard game against a 32nd-ranked Indianapolis Colts defense was a fluke. And Dexter McCluster has not been the most consistent, but he could be a guy who gets the ball a couple of times per game as the third running back and an active receiver.
If Charles stays healthy, he and Richardson could help the Chiefs earn back their top-ranked status as the best rushing team in the league and eventually get back in the postseason.
OG David DeCastro, Stanford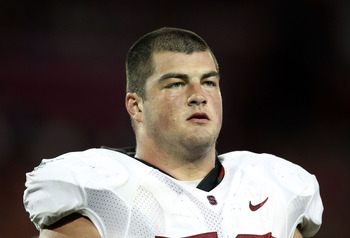 Christian Petersen/Getty Images
The interior offensive line of the Chiefs has not been strong this season, and we could see some new faces at each position.
Casey Wiegmann is expected to retire, opening up the center position. This means that rookie Rodney Hudson could switch from guard to center. Ryan Lilja has made some errors this season and it will be interesting to see if the Chiefs keep him for next season.
If the Chiefs manage to win a game or two, they may move up a couple of slots in the draft. The chances of them getting Jones or Richardson would be slim-to-none.
DeCastro would be a beneficial offensive guard and can help quarterbacks and tailbacks find success.
Stanford's Luck has been successful for a reason, as he plays with a lot of players on offense; DeCastro is one of many key tools Luck has worked with.
OT Mike Adams, Ohio State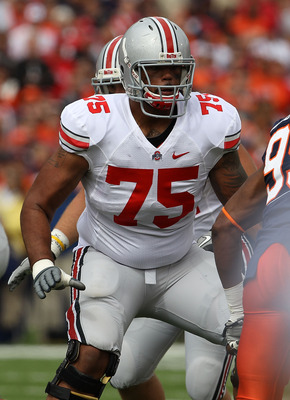 Jonathan Daniel/Getty Images
Barry Richardson is not a candid option at the right tackle spot for the Chiefs. He has continued to allow defensive players to stuff running backs and has not done his quarterbacks any favors this season.
The Chiefs should aim for the tallest offensive tackle entering the draft. If the Chiefs can trade up for a pick early in the second round, Adams should still be on the board.
Drafting Adams could create significant improvement for the Chiefs' offensive line since he is a balanced offensive tackle.
Adams would be a key factor for Charles' return. Speedy running backs, like Charles, like to hit the outside holes and explode for a big run.
The Chiefs will also improve on their total in sacks given up with a player like Adams on the offensive line.
Overview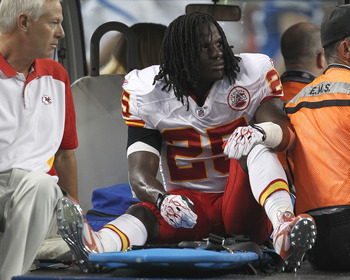 Dave Reginek/Getty Images
Most of these picks have to do with the quarterback and running back positions. Taking offensive linemen early in the draft puts a smile on the face of quarterbacks and running backs, knowing the protection they will receive for the following season.
It is without question that Charles is the best player on the team and many fans were agitated to learn that his season ended early, playing for only one game plus one drive in the second game of the season.
When Charles took over Larry Johnson's starting spot, he quickly turned into the most explosive running back and caught the eyes of many defensive coordinators and spectators.
Having Richardson on the team would help Charles carry the load and it would make sense since the NFL is turning into a league where no team has just one dominant running back. However, if the Chiefs decide to use Battle or McCluster as the No. 2 running back, then they must seek some strong offensive linemen in the draft.
The offensive line will also help next season's quarterback, whether it is Cassel, Kyle Orton, Ricky Stanzi or someone brand new to the Chiefs.
Taking a wide receiver should not be on the mind of the Chiefs. Dwayne Bowe will most likely be tagged before free agency begins. The Chiefs also added Steve Breaston through free agency and drafted Jonathan Baldwin in the 2011 offseason. Instead of drafting a wide receiver, let's see how these three do with tight end Tony Moeaki and a healthy Chiefs roster.
Keep Reading

Kansas City Chiefs: Like this team?