Denver Broncos: The Truth Behind Their Recent Success
December 16, 2011
Justin Edmonds/Getty Images
A lot has been said about the Denver Broncos' recent success this season.
After a 1-4 start to the year it appeared that the Broncos were on their way to the Suck-for-Luck sweepstakes.  Since then, the Broncos have won seven of their last eight games and currently sit atop the AFC West division.  
As you all know, much of this credit has been given to current starting quarterback Tim Tebow, who despite completing only 48.5 percent of his passes is drawing in a huge following with the "Just win, baby!" mentality.  
However, Tim Tebow's almost laughable statistics make you wonder if he is really the main reason why the Denver Broncos have turned their season around and are in position to continue playing in January.  
When analyzing this there are a few factors to look at:  Is Tim Tebow playing better than Kyle Orton was at quarterback?  Are other offensive players steeping up?  Has the defense really improved that much?
It is time to get to the bottom of this once and for all.
Let me first make a statement that I hope should be pretty obvious, but am starting to find that some people just simply do not understand.  Quarterbacks play on offense.  They can impact the team by scoring points for their offense and do not impact the defense in any significant way.
Many people still claim that having Tim Tebow at quarterback impacts the entire team so much to the point that the defense is playing better—but when looking across the NFL we clearly can see that such a thing just does not happen.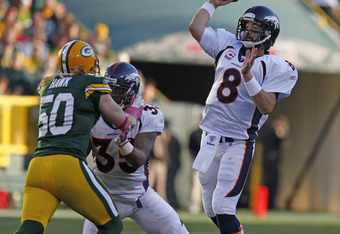 Matt Ludtke/Getty Images
In New England, it is Tom Brady's job to put up points for the Patriots and he does that job very well, since hey are currently third in the NFL in points scored, averaging about 30.5 per game.
It is in no way Tom Brady's fault that the Patriots defense has given up the most yardage of any team in the entire league, so why would it work the other way around?  
Simply put, it doesn't.
Now that we have gotten past that point, let's take a look at how Tebow has led this Broncos offense as compared to Kyle Orton this season.  
In eight games as a starter, Tebow has led the Broncos to score an average of 20.5 points per game.  In the five-game span that Orton was the starter, he led Denver to score an average of 21.0 points per game.
When it comes to offensive production, Kyle Orton did his job just as well as, if not slightly better than, Tim Tebow.  During that 1-4 start, Orton was also very unfortunate.  Three of the Broncos' four losses to start the season came by three, three and five points.
The one exception was the 49-23 loss in Green Bay.  If the Broncos defense were playing like they are now during that span, they could have easily been 4-1 and Kyle Orton wouldn't be facing the Packers again in a Chiefs uniform this weekend.
While Orton was under center, the Broncos allowed 28 points per game. However, during this current 7-1 stretch they have allowed only 15.8 points per game, an incredible turnaround.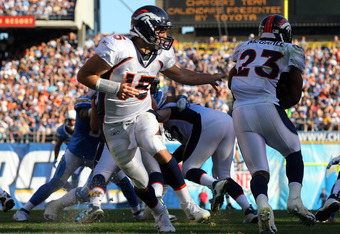 Donald Miralle/Getty Images
One factor that could have led to this does in fact help make the case for Tebow.  With the rush-heavy offense he brings with him, it helps to control the clock and keep the ball out of opponents' hands.  
That would in fact be a plus for Tebow if it were really true, but the Broncos offense struggles to move the chains, resulting in a rank of 23rd in the league in time-of-possession.
So what really is the difference for this defense?  
The biggest reason for this unit's success this season has been the pass rush.  The Broncos rank fourth in the NFL with 37.0 sacks, led by stud rookie Von Miller's 11.5 sacks.  Getting pressure on the quarterback is always a good way to improve a defense, especially one that needs to be great almost every single week just to be competitive.
The final factor to the Denver Broncos' recent success is the strength of their running game.
The Broncos rank first in the entire league with 156.2 yards per game on the ground thanks in large part to Willis McGahee and his 920 yards.  
Of course, Tebow does add to the run game significantly, but what he adds to the run game he takes away from the passing game, and in this case the cons outweigh the pros.
The Broncos 31st-ranked pass attack drags their top-ranked run game down to the point where they rank 23rd in yards per game overall.  This kind of production does not reflect strongly on your team's starting quarterback.
Overall, the Denver Broncos have had an incredibly up-and-down season that could ultimately earn them a spot in the playoffs.  While the general consensus is that Tim Tebow and his "Tebow Magic" have revitalized this Broncos team, reality paints a different picture.
The Broncos have been able to ride the waves of their incredibly strong run game and seemingly unmovable defense, resulting in a huge turnaround for this Broncos team,. 
While Tim Tebow may play some part in that, it is a very small one and definitely not at the MVP-talk levels that have been discussed. 
Maybe when it's all said and done he will have a better career then what he has put together so far, but for now the Denver Broncos are winning, and as you have learned, Tim Tebow is not the main reason for it.  
Always remember that football is a team game and the Denver Broncos are currently 8-5, not the Denver Tebows.