2011 Bowl Games: 5 Must-Watch Matchups
December 16, 2011
Bob Levey/Getty Images
With 35 bowls on the schedule this holiday season, it is natural to pick and choose which games one will actually spend more than a few minutes watching.
However, it would be a mistake to simply pass over every non-BCS/Jan. 2 bowl, as there are many entertaining matchups before the day after New Year's.
To help all of those out there having trouble deciding which games to keep an eye on, here are five bowl games that you may not have planned on watching but should.
Sheraton Hawaii Bowl (Dec. 24, 8 PM ET)
Nevada vs. Southern Mississippi
Watching football may not be your idea of Christmas Eve fun, but this game has all the makings of an offensive shootout, which is oftentimes what makes the minor bowl games so interesting.
Southern Mississippi has already experienced time in the spotlight, as they took down previously-undefeated Houston on national TV in what was an impressive offensive showing by the Golden Eagles.
Led by senior quarterback Austin Davis, Southern Miss averages over 37 points a game on offense and has the ability to score at will.
Nevada doesn't average as many points per game, but does amass over 500 yards per game on offense.  The Wolfpack have an extremely talented rushing attack that ranks eighth in the nation in yards per game, but will be going up against a Southern Miss defense that was second-best in Conference USA at stopping the run.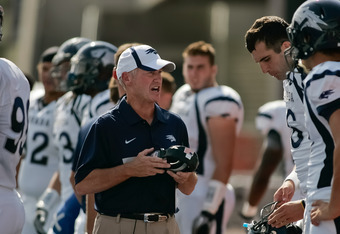 Otto Kitsinger III/Getty Images
It should be interesting to see whether the Wolfpack can get things going against a defense that stifled Houston's powerful offensive attack.
If anything, this game should be fun to watch purely for the amount of points that are likely to be scored. Since becoming an annual bowl game in 2002, the winner of the Hawaii Bowl hasn't failed to score less than 36 points. Considering the matchup this year, that streak should continue.
Little Caesar's Pizza Bowl (Dec. 27, 4:30 PM ET)
Western Michigan vs. Purdue
A 7-5 MAC team playing a 6-6 Big Ten team doesn't fit the conventional mold for "potential great game", but there are a lot of things about these two teams that most fans don't know. Fans that do tune into this game will find out about those things and likely will not be disappointed that they decided to watch.
Western Michigan isn't a household name, and as a result, neither is one of the best quarterback-wide receiver combinations in the entire nation. Alex Carder to Jordan White will be a phrase heard a lot in this game, and for good reason.
Carder is one of the best passers in the MAC and gives himself some extra time to throw by being a decent runner as well. White leads the nation in receiving yards and had at least 100 yards receiving in all but three games this season, including 238 yards against Toledo.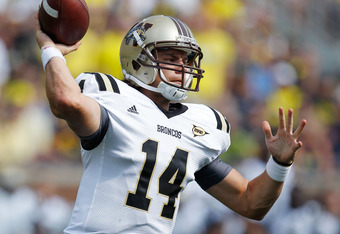 Gregory Shamus/Getty Images
Carder and White will be instrumental in the success of the Broncos, who will rely on a great offensive showing, since their defense has struggled this season.
Purdue may be 6-6, but managed to finish at .500 in the Big Ten, beating teams such as Ohio State and Illinois, which was ranked at the time.
Purdue is a gritty team, and no one embodies their personality better than their quarterback, Caleb TerBush.
TerBush, who came into the season third on the depth chart, has started every game for the Boilermakers, led a game-winning drive against Middle Tennessee State and scored the winning touchdown in overtime against the Buckeyes. If Purdue can keep this game close, then TerBush gives them a good chance to win a thriller.
If anything, this bowl game has produced a thriller in recent years. Since 2007, the contest has been decided by four points or less.
In addition, two of those games came down to game-winning field goals, which Purdue is well aware of. The 2007 Motor City Bowl was won on a 40-yard field goal by Purdue kicker Chris Summers as time expired.
Military Bowl Presented By Northrop Grumman (Dec. 28, 4:30 PM ET)
Toledo vs. Air Force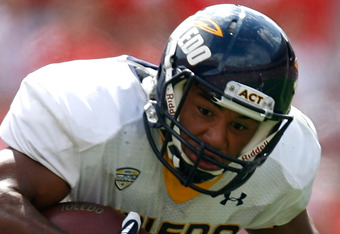 Kirk Irwin/Getty Images
Ignore the funky sponsor. This game is meant to honor our armed forces, and Air Force has made it clear that they are happy to be playing in a bowl game that is meant to honor them and the other branches of our military.
However, maybe the most exciting thing about this matchup is that it is tailor-made for fans of lots of offense.
Air Force is always a headache for opposing defensive coordinators due to the fact that they run the triple-option offense. While the offense has been humming, the issue for the Falcons this year has been their defense, which is normally very solid.
Air Force has struggled against the run at times, which could be an issue in this game. However, the team has played its best football of the season near the end of the year and has gotten better—especially in the secondary.
Toledo may have one of the most electric offenses in the entire country. Not once, but twice, the Rockets have scored over 60 points in a game (and actually lost one of those).
That says as much about their defense as it does their offense, but if Toledo manages to score 60 points in this game, it probably won't come back to bite them as it has before.
If offensive fireworks alone aren't enough to sway you, maybe potential NFL talent will.
Toledo has one of the best receivers in the nation in Eric Page and also uses him as a kick returner. There is little doubt that Page will make his mark on this game as he has done countless other times throughout his illustrious career at Toledo.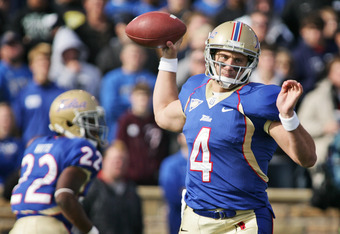 Brett Deering/Getty Images
Bell Helicopter Armed Forces Bowl (Dec. 30, 12 PM ET)
BYU vs. Tulsa
This game will feature contrasting offensive styles that can both produce lots of points. However, it may come down to a battle between BYU's defense and Tulsa's offense.
At any rate, this is a game that, perhaps surprisingly, features two teams that rank in the Top 25 in the FBS in wins over the past five seasons (BYU is No. 12, Tulsa is No. 21).
BYU is a team that relies heavily on the run, although they do not have any 1,000-yard rushers. In fact, no Cougar has even broken the 100-rushing-yard plateau in any game this season.
This makes them somewhat hard to prepare for because any one player can make a difference for the offense. In addition, quarterback Riley Nelson is somewhat of a dual-threat quarterback and has the ability to make a defense pay with his arm if they focus too much on his running capabilities.
Tulsa, on the other hand, is all about the passing game. Quarterback G.J. Kinne is a gunslinger, although his statistics may not suggest so.
Kinne has the ability to spread out a defense, which is dangerous in these minor bowl games where offensive prowess is sometimes more important than solid defense. If Kinne can have a performance similar to the one he had in last year's Hawaii Bowl, the Golden Hurricane will be in good position to win this game.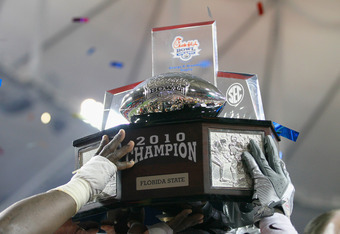 Kevin C. Cox/Getty Images
Tulsa's tough out-of-conference schedule likely toughened them for their weaker conference slate and could also serve them well in this game. However, against the four ranked opponents they played this season, Tulsa gave up no fewer than 41 points in each game.
While BYU is not ranked, they have the ability to put up similar offensive numbers against the Golden Hurricane.
Chick-fil-A Bowl (Dec. 31, 7:30 PM ET)
Virginia vs. Auburn
Sure, this game will be ending about an hour before the ball drops to signal a new year. But, would you rather end 2011 watching a bunch of bad performances by musical artists in Times Square or a potentially great college football game?
Auburn may not have lived up to the expectations they had for themselves a year after winning the national championship, but Virginia definitely picked up the slack in that department.
The Cavaliers are making their first bowl appearance since 2007, and most people would be lying if they said they predicted that Virginia would be playing in the postseason this year. Virginia has been surprisingly solid on both sides of the ball and is particularly strong on the offensive line, which has given up only 15 sacks all season.
Auburn has struggled offensively this season, but things won't get any easier in the bowl game, as the Tigers will be without star running back Michael Dyer.
The running game is essentially the only area in which Auburn excelled this season, and things would have been difficult against Virginia's defense anyway. Without Dyer, there is a chance that the Tigers will look lost on offense in this game.
This game probably won't be an offensive show like many of the other games highlighted in this article, but it does have a good chance to be an extremely close game. In addition, it will be interesting to see whether Virginia can cap off a great year with a bowl win in what would be considered a slight upset.