F1 2012: All Change at Toro Rosso
December 16, 2011
Peter Fox/Getty Images
Toro Rosso have announced an all new driver lineup for 2012 with Daniel Ricciardo and Jean-Eric Vergne taking over from Jaime Alguersuari and Sebastien Buemi.
Surprising?
Yes and no.
It was unlikely Buemi would keep his seat, but Alguersuari seemed to have done enough to stay on for a fourth year.  Still only 22, he's matured and improved as a driver, scoring 26 points in 2011 to his teammate's 15.
The Spaniard admitted the news took him by surprise.  Speaking to Spanish newspaper Marca, he said:
"I am very surprised by the decision.  Just a week ago I talked with Helmut Marko (Red Bull advisor) and Franz Tost (Toro Rosso team principle) and they told me they had plans for me in 2012.  They did it with enthusiasm and showed a lot of confidence in me.

I thought it was a little crazy to hand me a debut in 2009 when I had hardly any experience, but I'm even more at a loss to comprehend this latest news, especially as I'm in one of the best periods of my life."
Were he leaving any other team on the grid, few would disagree with him.  It would be a big surprise.
But this is Toro Rosso.  And "Toro Rosso" is, of course, "Red Bull" in Italian.
Though officially an independent entity, the team exists for a single purpose—to provide F1 experience to Red Bull's vast stable of young drivers.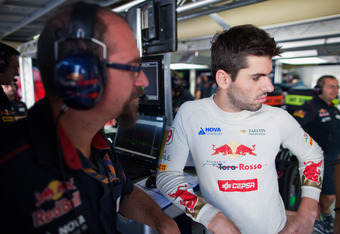 Peter Fox/Getty Images
Toro Rosso's goal is to find the next Fernando Alonso or Lewis Hamilton and see him safely promoted to drive alongside (or as a replacement for) Sebastian Vettel at the Red Bull team. 
Buemi and Alguersuari had three years, and though the latter, in particular, did okay, the grim reality was quite clear to the men in charge. 
Between them they drove over 100 races, and even a casual fan could see that neither would ever become a world class driver.  So keeping them at the team for 2012 would be a waste of extremely valuable time and resources. 
Moving on to Ricciardo and Vergne makes perfect sense to Toro Rosso—the team isn't for experienced drivers, it's for rookies. 
Team Principle Franz Tost summed up the situation.
"One has to remember that when Scuderia Toro Rosso was established in 2005, it was done so with the intention of providing a first step into Formula One for the youngsters in the Red Bull Junior Driver programme.

It is therefore part of the team's culture to change its driver line-up from time to time in order to achieve this goal."
All things considered, the surprise evaporates and it makes perfect sense.
Yes, it's tough on Alguersuari and Buemi, but the Red Bull view is that they had their chance, and it's time to let someone else have theirs.