Chicago Bears: Marion Barber Breaks His Silence; Should He Have To?
December 16, 2011
Doug Pensinger/Getty Images
Talk about a bad week. Or two. 
Barber played well against the Chiefs in Week 13. But if he could identify the line of scrimmage, his touchdown would have counted. 
And the Bears might still be tied with Kansas City, but they wouldn't have lost 10-3.
This week he was better against the Broncos. He ran recklessly in search of a starting job through the Denver defense.
That's what the Bears wanted, and what fans hoped to see.
Then, with less than two minutes to play and the Bears controlling the ball, the clock, and the score, he ran out of bounds and gave Denver a free time out. The Broncos had just enough time to tie the game, naturally.
When it couldn't get worse, it did.
Barber fumbled in overtime while the Bears were in game-winning field goal range.
Quick, someone get this man a padded cell.
Everything he does implodes. He needs to be protected from himself.
No, really. 
Barber's had the two worst weeks of his professional career. 
He was on the cusp of stepping in for Matt Forte and leading the Bears to two victories. Two wins, mind you, that would have Chicago sailing into the playoffs and fans asking Santa if they could get Cutler back for Christmas.
Instead, he cost them both games.
Season over? Sure feels that way.
After getting Tebowed, I know I said some bad smurfing words. 
But not Marion. Not publicly. He went into his cave and hid. There were barbarians at the gate, after all. 
Because one slip of the tongue, one frustrated sound bite or meltdown on camera and his image could have crumbled, too.
Truth is, he's a quiet person. And has never talked to the media much.
He's expected to be fined for violating the NFL's media policy after declining interviews again Wednesday.
So Thursday he emerged from the cave, talking to a team-selected reporter about the losses. But he didn't have much to say.
"My thoughts on it is getting to this next week and just preparing as much as I can to be ready for this game of course. I'm just all about making sure I know what I'm doing this week and understanding the concepts for this week and understanding the protections for this week so I can be at my best," Barber said.
When asked about running out of bounds he replied, "I'm not trying to be disrespectful, but I just move on. Just bear with me."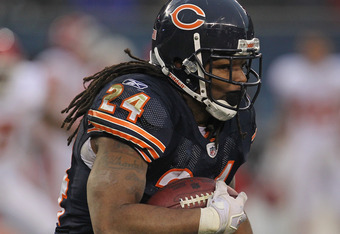 Jonathan Daniel/Getty Images
And that's about it, ladies and gents.
Do you blame him? What do you want him to say? That he's sorry for shredding the hope of millions of fans? 
It wouldn't do any good. And it's not true, because it wasn't all his fault. (Insert laundry list of team failures from the past three weeks.)
The NFL has plenty of players looking stupid in front of cameras, on the field and off.
So I don't blame Barber for keeping quiet. I can appreciate a professional who knows when to keep his mouth shut, even if it hits him in the wallet.
Talk about putting your money where your mouth is.