WWE Opinion: 10 Reasons John Cena Is the Most Polarizing Superstar Ever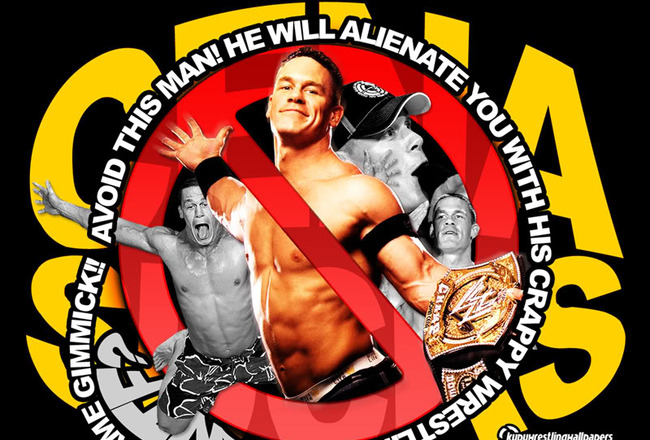 kupywrestlingwallpapers

It's a fact repeated numerous times by Michael Cole and King nearly every single week on RAW.
"No superstar elicits an emotional response from the WWE Universe quite like John Cena."
Whether shouting "Cena sucks!" or "Let's go Cena!" John Cena's name is on the lips of every fan at every WWE event the world over. It seems as if there's no middle ground when it comes to him—you either love him or loathe him.
But hey, both of those are a lot better than indifference.
Here are 10 reasons why John Cena is the most polarizing superstar the WWE has ever known.
10. John Cena the Person vs. John Cena the Wrestler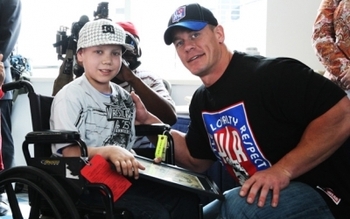 Cena is a Wish Ambassador for the Make-A-Wish Foundation
I don't know how many of you relate, but this is an extremely relevant point for myself.
I am not a fan of John Cena the wrestler. I, like hundreds of thousands of other members of the WWE Universe, have fervently chanted "Cena sucks!" from the stands of Monday Night RAW.
I hate how he always bounces back to win the match. I hate how he never loses clean. I hate his Five Moves of Doom.
But I am a huge fan of John Cena the person.
Do you know how much good this man does? He has granted over 200 wishes for the Make-A-Wish Foundation, is one of the most requested celebrity wish granters and is a member of the Wish Ambassador Council.
He's a genuine role model for kids the world over and, while cheesy, his "Hustle, Loyalty, Respect," "Never Give Up," and "Rise Above Hate" slogans contain meaningful messages.
And the fans aren't the only ones he does good for. As big a star he is, as high up on the WWE food chain he is, he's proven more than willing to put over younger talent—a fact we've all seen in his recent endorsement of Zack Ryder.
All that being said, it seems kind of impossible to dislike John Cena the person. Unless maybe you're the Grinch.
But there's still a plethora of reasons to dislike John Cena the wrestler, and that makes this point contentious in and of itself.
9. Super Cena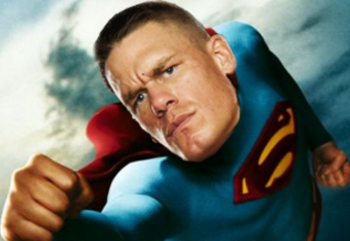 This has got to be the number one reason people dislike John Cena (the wrestler).
One of the biggest things I learned during my short experience training is the importance of match psychology. Matches should always tell a story, and moves should always be sold appropriately and for the duration of the match. For example, if an opponent has been working your leg, then you shouldn't be running and bouncing around without any difficulty.
Why, then, is John Cena allowed to spring back like he has Wolverine healing powers?
We all know pro wrestling is a work—moves are orchestrated to look more painful than they actually are. It ruins the illusion when Cena miraculously regains all his strength and pummels his opponents like the Hulk.
This in turn leads wrestling to look less like a work and more like it is just outright fake.
For the casual fan who wants nothing but a hero to cheer, Super Cena is just fine. But to the smart mark, Super Cena is the bane of a good and satisfying match.
8. The Five Moves of Doom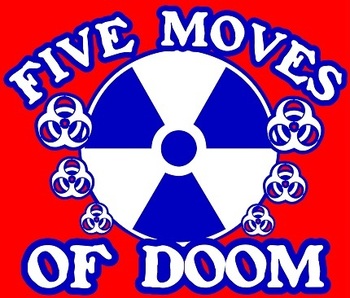 Check out BarberShopWindow.com for all your awesome wrestling shirt needs
The sting of Super Cena is only exacerbated by the infamous Five Moves of Doom.
Not nearly as frequent as "Cena sucks!" but a million times more scathing is another phrase Cena's detractors have been known to shout: "You can't wrestle!"
Clap clap clap-clap-clap.
When faced with this, Cena usually busts out a dropkick or some other move not normally used in his arsenal. But it does little to dissuade the chants.
The WWE Universe loves the theatrics of the Five Knuckle Shuffle. They love shouting, "You can't see me!" They love how Cena dusts his shoulder off and delivers a blow to his laid-out opponent.
But for a lot of us, that's just not enough.
We want wrestlers who can wrestle. Wrestlers who can either impress us with technical prowess or wow us with high-flying feats.
We don't want wrestlers, much less champions, whose every move we can predict.
Which brings me to exhibit No. 4...
7. 12-Time World Champion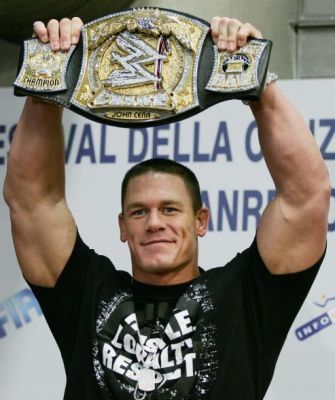 Unfortunately, there's zero doubt in my mind that John Cena will match Ric Flair's record 16 World Title reigns. And there's little doubt that he will one day surpass it altogether.
Veteran wrestling fans hate this. I mean hate it, with the burning fire of a thousand suns.
It's not just that Cena has already accumulated 12 World Titles at the age of 34. It's also that, while he may be a superb entertainer, he's not the best wrestler.
I think this states loud and clear which part of the phrase "sports entertainment" the WWE favors.
In a divide that has already been and will continue to be highlighted throughout this article, for the casual fan, this point is a non-issue. To them, the more gold Cena can amass, the better.
But to veteran members of the WWE Universe, and especially veteran fans of pro wrestling itself, Cena's numerous wins are borderline mockery of the prestige that being a World Champion once meant.
6. Stale Gimmick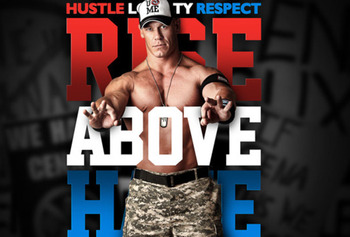 Kupy Wrestling Wallpapers
The frequent change in color schemes isn't fooling anyone, WWE. John Cena's character has been the same for going on seven years now.
And we're sick of it.
5. Corny Gimmick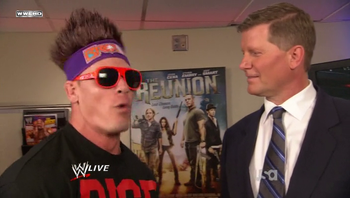 Okay, this was actually kinda funny
OK, you have to admit: John Cena is funny. It's one of the reasons he started to grow on me after my initial aversion to him.
But his brand of humor can be so unbelievably corny sometimes.
On the one hand, it has to be corny. After all, WWE is PG, and Cena appeals to the little kiddies more than any other superstar.
One the other, the corniness often annoys the more mature fans.
Granted, Cena's humor isn't always corny. I thought it was pretty darn clever when he busted out lines from Antoine Dodson's viral video sensation in reference to R-Truth's craziness.
Then again, I also find that Antoine Dodson video absolutely hilarious, so it could just be my weird sense of humor.
Nevertheless, Cena's jokes appeal to some just as much as they irritate others—as does, apparently, everything else about him.
4. Constant Presence in the Main Event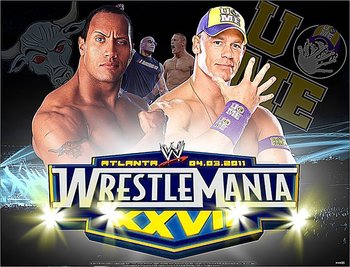 There are a handful of wrestlers who frequent the main event far more than others. But none so much as John Cena.
It's rare that RAW doesn't end with a match or segment involving Cena. It's rare that a pay-per-view isn't headlined by Cena. It's rare that he loses a title match, or any match.
Enough is enough already.
We want to see other wrestlers pushed; we want variety. As CM Punk flat-out told Johnny Ace, we want Zack Ryder vs. Dolph Ziggler. We want Ziggler to drop the U.S. Title to Ryder so that he can enter the upper card—and he's not the only one we want to see elevated.
But even though a lot of us are bored to tears with the John Cena song and dance, the fact of the matter is that he's still a huge draw for WWE.
As I've stated in previous articles, WWE is in the business of making money. As long as Cena continues to draw in huge numbers, he will always be a huge presence in the main event.
3. There Is No Bigger Workhorse in the WWE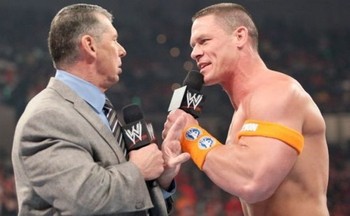 I'm hard-pressed to name any superstar who does more for the WWE than John Cena.
In the world of professional wrestling you have to pay your dues. You can't expect to be in the main event overnight, even if you do have family connections. You have to prove yourself, both inside the ring and out. Respect is most certainly earned, and if you wade through all the crap, you will be rewarded in the end.
There's no doubt in my mind that Cena deserves his position at the top of the WWE food chain—he worked for it, and hard. Few wrestlers are on the road more often than him, and no current, full-time WWE superstar makes more appearances than him.
He's an unbelievably dependable workhorse for the company. The boys in the back respect him, and it certainly shows.
So then why do so many of the fans disrespect him?
Well, I've already answered that question in the previous slides. It's because of his stale and corny gimmick, the Five Moves of Doom, the Super Cena persona. Fans put much more weight on what happens in front of the cameras than we do on what happens behind them, and why shouldn't we? That's what we tune in every week for.
We all know the majority of the Miami crowd at WrestleMania in April is going to be in Rock's corner. Most of us are—it's Rocky, for crying out loud, the only star brighter than Cena.
But as much as we want to, we can't boo Cena whenever he mentions how Rock left WWE for the bright lights of Hollywood. We can't boo him when pokes holes in Rock's already flimsy promises to make a full-time return. We can't boo him when he reminds us that he's the one who's stayed true to the WWE Universe.
Because it's the God's honest truth.
2. The PG Era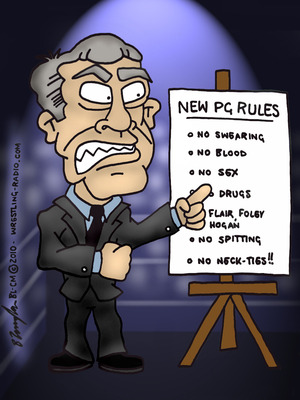 After a John Cena heel turn, one of the IWC's most-wished-for things is for WWE to shed its PG rating.
But as much as we argue in favor of them, it doesn't seem like either of those things is going to happen any time soon.
Back in the Attitude Era, WWE's agenda was to reel fans in via the shock factor. Today, in the PG Era, it's agenda is much more family friendly.
Obviously, the WWE has changed dramatically because of this.
John Cena is the undisputed face of the PG Era. He's the perennial good guy, battling endless amounts of villains, yet always coming out on top. He's the epitome of a role model for little boys, what with his unparalleled work ethic and drive, his unfaltering loyalty and undying respect.
He's the embodiment of everything older fans dislike about WWE in the PG Era.
Which brings me to my No. 1 point...
1. Veteran Fans vs. New Fans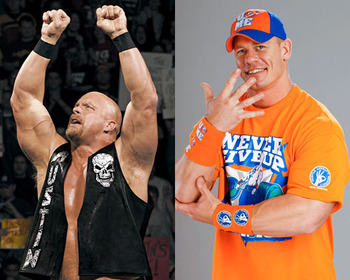 The biggest reason the fans are so divided in their opinion of John Cena is because the fans are divided themselves.
On one side, there's the veteran generation of fans. The fans who have been watching WWE since the '80s ad '90s, the fans who remember when it was still the WWF and the fans who remember the Monday Night Wars that first skyrocketed pro wrestling into popularity. The fans who look fondly back on the days of the Attitude Era and wish they would return.
On the other side, there's new generation of fans. The fans who don't know a non-PG WWE, the fans who are more familiar with Dwayne Johnson the movie star than they are Rock the wrestler. The fans who probably haven't yet hit puberty and would rather have a hero to constantly cheer on than an intriguing storyline.
These two sets of fans approach pro wrestling with far different understandings, and because of that they have far different opinions of John Cena.
Far, far different.
Like Him or Not, Cena Is a Huge Star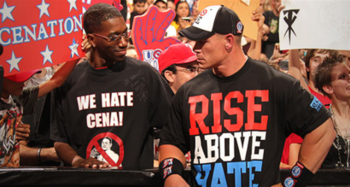 I love this
People love Cena, people hate Cena—and the majority of people who read this article are probably of the latter camp.
But, as stated in the opening slide, in the world of pro wrestling, any emotional response, whether it be adoration or despise, is far better than silence.
The only other wrestler who elicits so much passion from the WWE Universe is CM Punk, but he hasn't been doing it nearly as long as Cena.
He's still the number one asset to WWE, and he's not going anywhere.
Thanks for reading, and as always, share your thoughts in the comments section below.
Keep Reading