MLB Trade Rumors: Cincinnati Reds Need Pitching...Or Do They?
December 16, 2011
Jared Wickerham/Getty Images
Going into the 2011 season, the Cincinnati Reds pitching staff was suppose to be a strong-suit. Looking at 2012, at best, it is tattered. General Manager Walt Jocketty has made it completely clear that he wants a top of the rotation starter and bullpen help.
But teams offering the James Shields', Gio González's, Jair Jurrjens' and Andrew Bailey's of the baseball world want pillaging prices.
That begs the question, can the Reds survive 2012 with the same arms (minus Coco Cordero) as they struggled with last season?
Sure they can.
The only two locks in the starting rotation are Johnny Cueto and Mike Leake. Cueto is an ace. And Leake, who is perfectly suited for a small park like Great American, should by now be able to pitch over 200 innings.
So where do the other three guys come from?
First, there is Travis Wood. Chalk up 2011 to a sophomore slump and the portsider is a commendable third starter.
Next, Edinson Voquez, this guy has a lot to prove and he knows it. There is little denying his talent, but many questions regarding his attitude and ability to not serve first inning scuds. He will improve or be forced to retire without enough MLB money to buy a box of wine.
Bronson Arroyo, it's a sure bet he wont be as bad as last season. Okay, that's not comforting to Reds' fans. He had mono last year. No?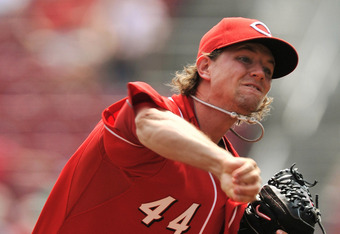 Jamie Sabau/Getty Images
What about Homer Bailey? This is finally going to be Bailey's year. Yes, Reds' faithful have been repeating that mantra almost as long as, "Pete deserves a plaque."
Where is Aroldis Chapman, you ask? Quick answer—he's the closer—the Cuban Missile may be a starter in 2013, but for right now, the Reds still need him in the pen. With Cordero's departure, the team has to have another guy to walk the bases loaded and miraculously find a way out of the jam.
Jocketty has been busy spending dimes on bullpen help. Two righties signed this week, Kanekoa Texeira and Andrew Brackman. Together they are known as, "Who are they?"
Reds' pitching coach, Bryan Price, is one of the best in the biz. If anyone can transform a "Who are they?" into a reliable hurler it is Price.
Sam LeCure, when he wasn't hurt, had a fine season in a middle relief role.
Nick Masset is still around. There's not much to say about Masset other than pitch him in games only when leading by six or more.
If Jose Arredondo can find the strike zone with more regularity, watch out. Opposing batters hit only .226 versus Arredondo, but he did walk 31 in 53 innings pitched. Lower the walks and you've got a solid right-handed set-up guy.
The Reds have insurance if Aroldis does wind up in the starting rotation or is convicted of manslaughter for killing a batter with a 115 MPH heater to the head.
Bill Bray will be the closer. He was brilliant last season, and if Dusty Baker is a smart baseball manager—which is questionable—he will use Bray in the latter innings.
Throw in two more bullpen arms out of Logan Ondrusek, Carlos Fisher, Jordan Smith, Bradley Boxberger, Donnie Joseph and the "Who are they?" guys and you've got yourself a pitching staff.
Right?