New Orleans Hornets vs. Memphis Grizzlies: Full Preview, Spread Info and More
December 16, 2011
Ronald Martinez/Getty Images
The New Orleans Hornets take their first act on the road to meet the Memphis Grizzlies in one of the more memorable preseason games in Hornets' history. 
The elephant in the room is there is one less superstar in the Hornets' locker room. Chris Paul has finally been granted his one wish in being traded from New Orleans. 
The Hornets got back a great wealth of young talent and draft picks. So there is no way you can judge their strength in the first exhibition since that fateful night. 
Here is the information you need on the first preseason game in what will be a shorter, albeit wilder, season. 
Where: FedExForum, Memphis, TN
When: Friday, December 16th, 8:00 EST
Listen: Louisiana KMEZ 106.7 FM in New Orleans and MAX 94.1 FM in Baton Rouge; Memphis 92.9 FM ESPN/680 AM ESPN
Betting Line: according to Betonline.com Grizzlies -11.5 
Key Injuries: No injures to report. The Grizzlies' Rudy Gay's shoulder should be back to full health. 
What's At Stake?: Not much. The fact that it won't be on TV should tell you how much importance the league holds on this game. 
This will be an exercise in getting the guys back on the floor to work out some chemistry issues. This game should get ugly at times, especially for the any new Hornets present getting to learn a new system.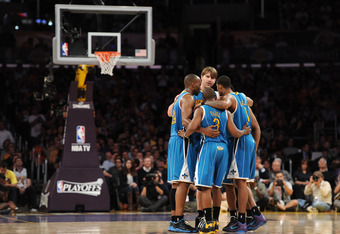 Harry How/Getty Images
What They're Saying: 
Brett Martel writes for The San Francisco Chronicle that the Hornets could very well be depleted this Friday, " The three former Clippers are expected to report over the weekend, after the Hornets' first preseason game at Memphis on Friday night. Demps says he thought he might have to try to sell Gordon, Kaman and Aminu on coming to New Orleans, but says all three sounded excited about the move and are eager to get a new start.
Marc Gasol sounds quite pleased to be back with the Grizzlies, "I didn't see myself other than with this team, whether it was going to be for the long term or one year. I definitely thought I would be here this year."
Hornets Player to Watch: It sounds likely that the Hornets will be very thin on talent on Friday. That means the leadership and scoring will come from Trevor Ariza. 
Grizzlies Player to Watch: I am interested to see how Marc Gasol does after being rewarded with a shiny new deal. The Grizzlies will coast to a preseason victory in what should be a comfortable start at home. 
Key Matchup: I just hope no Hornets players get hurt. This team has been depleted of star power and is in a state of flux. They are also playing a team on the rise. Forget matchups, this is all about safety and getting into game shape. 
Prediction: Grizzlies 97, Hornets 85