Alabama Football: Trent Richardson, Barrett Jones Declaring for NFL a Good Thing
December 16, 2011
Kevin C. Cox/Getty Images
The time of year has come again where everybody starts debating whether or not select juniors and redshirt sophomores will be leaving early for the NFL Draft, and the general consensus is that they will be sorely missed.
Everyone seems to love seeing a star come back for their senior season.  While the short-term result the follow season may be good, the long-term result isn't so great if you look at it with a realistic eye.
This is an examination as to why it's best for NFL ready players to declare for the Draft early.
Recruiting:
Let's face it, the goal of every star high school football player is to make it to the NFL some day.  Any that don't have that as their goal are the extreme minorities.  When big time prospects see a school churning out NFL-ready juniors year after year it carries a lot of weight when they make their decisions.
There's a reason Nick Saban and his crew are so great at recruiting, but flaunting national championship rings doesn't carry nearly as much weight as some might think.  Otherwise Alabama would land every 5-star every year.
Take off the crimson-colored glasses for a moment and recognize that, to a prospect, it's less about what they can do for the team and more about what the team can do for them, at least before they commit to a school.  
A college football team is a conduit to making it to the pros.  It's not cynical, it's a fact.  Who's the last guy to go pro that didn't play college ball?  Vince Papale?  How many come from small schools as opposed to large schools?  Last I checked, Alabama has more players in the NFL than Louisiana-Lafayette.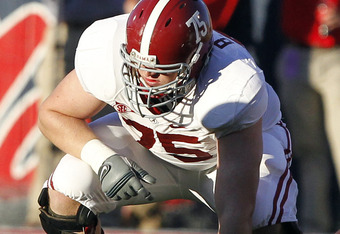 Butch Dill/Getty Images
Alabama can have just about any 3-star recruit they want.  They make an offer, and it is accepted. Look at future Tide quarterback Alec Morris, a 3-star prospect.  He dropped his commitment to Wake Forest (the biggest program that gave him an offer) in a heartbeat, switching his commitment to Alabama when Saban gave the word.
It's the four and five-star prospects that can be difficult to catch, and nabbing them is a lot easier when the big men on campus will be leaving as juniors every year.  It showcases the coach's ability to turn players into NFL men as well as chances for early playing time.
There is a particular situation that showcases the effect of seniors sticking around.  In 2009, Tim Tebow returned for his senior year.  His NFL stock was in question, but he would have been drafted, regardless, and he didn't return because his stock was low.
Youngster quarterback Cam Newton decided he didn't want to wait another year to compete for a starting position because--let's be honest--no one would beat Tim Tebow out of a starting position.
Cam had those issues with the laptop, but the main reason he left for a junior college was he wanted to play, not sit behind Tebow another year, or sit out a year due to the transfer rules.
He then went to Auburn and turned them into national champions.  
What if Tim Tebow had declared early, and Florida had two years with Cam Newton as the starter in a spread offense?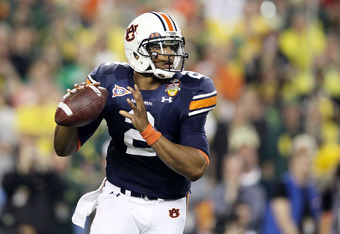 Christian Petersen/Getty Images
Auburn, as a whole, was not as good as the 2009 and 2010 Florida Gators.  That is a fact.  Stick Cam Newton into the 2009 and 2010 Gators, and what do you think might have happened?  I dare say that Newton was a better player than Tebow, so use your imagination.
It's an extreme example, but a good one, nonetheless.  
Giving backups their chance:
As stated before, college football is a means to an end, with that end being the NFL, an education, or simply love of the game.  Whatever it may be one thing is certain:  Every player on the roster wants to play on Saturdays.  
Teams like Alabama that are loaded with talent sometimes don't have room for everyone on the field. A balance must be created between who has potential and who has experience.  If the balance tips towards experience too much it can be a problem.  
If you have a Heisman Trophy finalist at running back and an Outland Trophy winning left tackle that are both staying for their senior year, what choice do you have but to start them?
If Trent Richardson and Barrett Jones, for example, return for their senior years, Nick Saban has to start them.  Eddie Lacy may be the future at running back, and Cyrus Kouandjio the future at left tackle, but you just can't start them over Richardson and Jones.  To do so would be to hinder their development. 
Now, I'm not saying Eddie and Cyrus will transfer, as I'm sure they wouldn't, but they have proven that they are both capable and deserving to be starters.  It's their turn.  Trent and Barrett have given so much to the team, but it's time for them to pass the torch.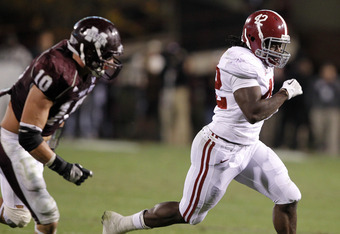 Butch Dill/Getty Images
Eddie Lacy and Cyrus Kouandjio are just examples, albeit the best examples.  They both have NFL futures.  But they want to play college ball, and to make them wait so long is just wrong.  Nick Saban, Trent and Barrett all recognize this.
There are two reasons why high-caliber NFL prospects return for his senior year:  Either their team really needs them (or they think the team needs them), or they are selfish and want another year to pad stats or win awards.  
To be blunt, regarding Alabama's case with Saban at the helm, the team doesn't need their NFL-quality non-seniors.  The team helped them, they helped the team, and it's time to move on. 
Players futures:
If there is a player on the roster that is not a senior but has already proven his worth as an NFL-quality prospect, why risk his career?
Football is a brutal game, despite what the Rugby lovers of the world might say.  Injuries occur during every single game.  It might be a sprained ankle, bruised ribs, a torn ACL, or worse.  Alabama fan's remember their own Tyrone Prothro.  
In 2005, Tyrone broke both bones in his lower leg, effectively ending his career.  His future looked bright and he likely would have played in the NFL.  Instead, he works as a bank teller in Tuscaloosa. Though there is nothing wrong with that, it's a fact that he'd rather be playing on Sundays.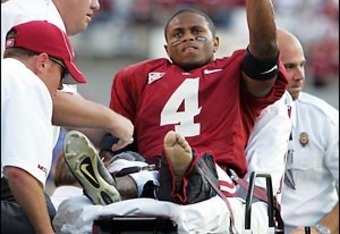 Now, Tyrone wasn't a NFL ready player returning for his senior year, but his bad luck could happen to anybody.  It could happen to Trent Richardson if he returns for his senior year (which he isn't).  
Conclusion:
Alabama churns out NFL talent every year and they will continue to do so for a very long time.  Players leaving for the NFL is a good thing for the team, the players, and the fans as well.
As much as fans would like to see guys like Mark Ingram and Trent Richardson return for another year to see what else they can accomplish, it's just not a good thing.  
Collegiate football isn't the NFL, and the depth chart must look very different every year.  
It is rumored that Nick Saban urges his non-seniors with high Draft stock to leave early.  That is absolute evidence that he cares not just about his career, but the program and the players as well.  
Every college player dreams of a three-and-out, and I'm not talking about punting.  They want to be the guy that proves he is a monster on the field and leaves for the NFL after his junior year.  
Nick Saban respects that dream, and he respects the new guys eagerly awaiting to rise to the coveted role of starter.