Chelsea FC: Ranking the Blues' Top Potential Transfer Targets
December 15, 2011
Julian Finney/Getty Images
Chelsea will enter the January transfer window at a crossroads of sorts. On the one hand, the Blues are flying high, sitting at third in the English Premier League table after handing Manchester City their first loss of the 2011-12 season and granting first-year manager Andre Villas-Boas a respite, however brief.
On the other hand, the squad itself is an awkward hodgepodge of Stamford Bridge stalwarts (Didier Drogba, Frank Lampard, John Terry) and new boys in top form (Daniel Sturridge, Juan Mata, Raul Meireles).
And then there's Fernando Torres. Oh, and Nicola Anelka, who's set to join Shanghai Shenhua once the calendar turns.
With club owner/Russian billionaire/Bond villain Roman Abramovich dangling sacks of cash from the deck of his space-age super yacht, and with Drogba and Salomon Kalou due to compete in the African Cup of Nations, the Blues are poised to make big waves in the transfer market, with these three stars among the most prominent names circulating through AVB's rolodex.
Eduardo Vargas, Universidad de Chile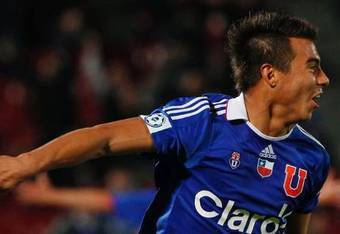 Eduardo Vargas may not be the most recognizable figure on the block for Chelsea, though that doesn't mean you shouldn't know who he is. Vargas is among the fastest rising stars in South America, with the 22-year-old drawing favorable comparisons to fellow Chilean countryman and Barcelona winger Alexis Sanchez.
Mark Griffiths, Vargas' agent, told Calcio Mercato that Chelsea has yet to extend an official offer for his client:
"He's definitely a player that is attracting a lot of interest. Has there been an official offer from Chelsea? Their chief scout in South America is Chilean, Jorge Alvial, so it is expected that the best players from his country will be linked with the Blues.

"However, we have not received an official offer from London. Maybe they will bid in the future, but to date there is nothing. That is the same for all the European teams.

"A valuation of €10 million, I think it could be higher than that, maybe around €12 million-€14 million.

"Vargas as the next Sanchez? Comparisons have been made, but I think in some ways he is even better than the Barcelona player because he scores more goals."
Whether Vargas is actually on Sanchez's level remains to be seen. That being said, he wouldn't find playing time as difficult to come by in North London as Alexis has at Camp Nou.
Robinho/Alexandre Pato, AC Milan
AVB will also be patiently waiting to see what Manchester City does with disgruntled Argentine striker Carlos Tevez.
If Tevez winds up with AC Milan, which is a distinct possibility at this point, then, as The Daily Mail suggests, the Rossoneri would likely be inclined to part with one of their two Brazilian strikers, Robinho or Alexandre Pato.
Robinho left Manchester City for Milan in the summer of 2010, helping the Silvio Berlusconi-owned club claim the Serie A league championship and the Supercoppa Italiana in 2011. The 22-year-old Pato has been at the San Siro since 2007.
The price for Pato figures to run much higher given his youth, not to mention tremendous talent; though scoring a player of Robinho's caliber instead is hardly a poor-man's consolation prize. Either South American star would fit well into the more free-flowing, Iberian style that AVB is slowly but surely installing at Stamford Bridge.
Gonzalo Higuain, Real Madrid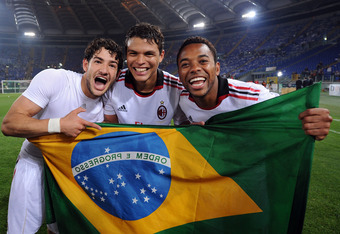 Giuseppe Bellini/Getty Images
It would only be fitting if Jose Mourinho lent AVB his chief disciple, a helping hand on the transfer market while seeking to upgrade his own squad in Madrid.
While "The Special One" is out throwing coin at the hottest names on the transfer market (i.e. Santos striker Neymar), he'll also be fielding offers for Gonzalo Higuain. The 24-year-old French-Argentine has seen his role diminish every so gradually behind fellow superstar strikers Cristiano Ronaldo and Karim Benzema, and he is none to happy about it.
According to Mirror Football, the Blues are poised to line up a £30-million bid to bring Higuain to the Premiership. He would figure prominently into Chelsea's attack over the long term, with Drogba declining a new contract, Romelu Lukaku still needing some seasoning and, of course, Torres being a total bust since moving over from Liverpool last January.