Texas A&M Football: Candidates to Fill out Kevin Sumlin's Coaching Staff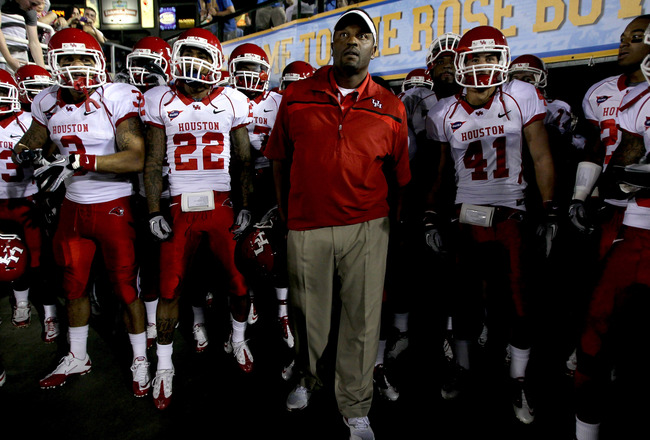 Stephen Dunn/Getty Images
Texas A&M Head Football Coach Kevin Sumlin is busy traveling across the country shoring up the Aggies 2012 recruiting class.
Meanwhile the remaining coaches from Mike Sherman's staff are busy preparing the Ags for the upcoming bowl game and are looking for their next coaching job.
Sumlin needs to put together his coaching staff while he is busy trying to bring in the players needed to compete at an elite level.
He is expected to bring a few coaches with him from the Houston staff. Who he brings will depend on whether one of his assistants is promoted to the head job at Houston and who that coach wants to keep at Houston.
This is a look at some of the candidates who are likely to end up at A&M.
Offensive Coordinator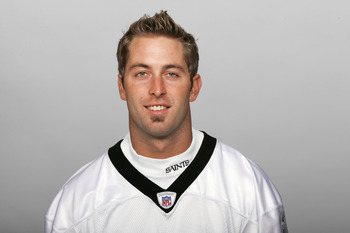 NFL Photos/Getty Images /Getty Images
Sumlin had co-offensive coordinators at the University of Houston.
Jason Philips and Kliff Kingsbury were co-offensive coordinators under Sumlin. Philips is expected to be heavily considered for the UH head job. Kingsbury is expected to follow Sumlin to A&M.
He will likely be the quarterback coach but right now no one knows whether he will only be a position coach or will also be the offensive coordinator.
Most fans will remember Kingsbury as the quarterback who set multiple school passing records at Texas Tech. He then went on to spend some time in the NFL with the New England Patriots and the New Orleans Saints.
He is considered a rising star in the coaching ranks.
Do not be surprised to see Kingsbury running the offense for A&M in 2012.
Running Backs Coach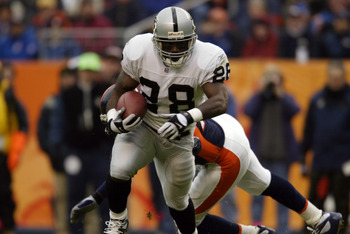 Brian Bahr/Getty Images
Randy Jordan is the running backs coach at A&M right now and most Aggies would like to keep it that way.
Trey Williams is one of the top running backs in the nation and he has stated that he will sign with A&M as long as Randy Jordan is his position coach.
The Aggie running backs have blocked well under Jordan and he has done a good job of recruiting at the position.
Jordan has expressed some interest in coaching the running backs for Steve Spurrier at South Carolina.
If Jordan leaves then Clarence McKinney is expected to take over. McKinney coached running backs under Sumlin at Houston.
He has extensive contacts in the Houston high school ranks. McKinney was the head coach at Houston Yates High School before joining the Houston staff. He also coached at North Shore and Booker T. Washington in the Houston area.
He was the recruiting coordinator for Sumlin and his contacts in Houston should help the Ags recruit that area.
Wide Recivers/Tight End Coach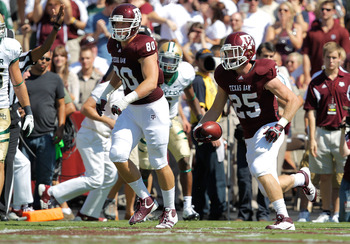 Sarah Glenn/Getty Images
It appears that David Beaty is going to be hired to coach the wide receivers or tight ends at A&M. He may end up coaching both. Whether or not Jason Phillips is hired will likely determine Beat'y coaching responsibilities.
Beaty has extensive contacts in the DFW Metroplex area in the high schools. He was on the Garland High School staff when they won the state title in 1999. He also coached at Garland Naaman Forest and took over as the head coach at Irving Macarthur in 2002. Beaty led the moribund program to four consecutive playoff appearances and a 33-11 record in four seasons.
He has coached wide receivers at Rice and Kansas producing such notable wide receivers as Jarrett Dillard and Kerry Meier.
Offensive Line Coach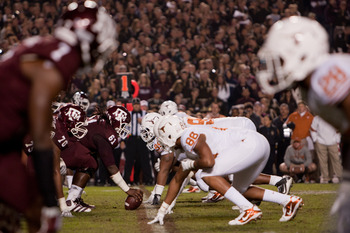 Darren Carroll/Getty Images
Jim Turner is one of the top offensive line coaches in the country. He helped turn the offensive line at A&M into one of the top units in the country.
Turner looks to be headed to Ohio State to work for Urban Meyer.
Houston OL coach B.J. Anderson is the likely candidate to replace Turner. He coached at Houston for three years and helped produce offensive lines that paved the way for some of the top offenses in the nation.
Andersen has also coached the OL at Sam Houston State and Tarleton State. He spent three years as a graduate assistant at A&M.
Defensive Coordinator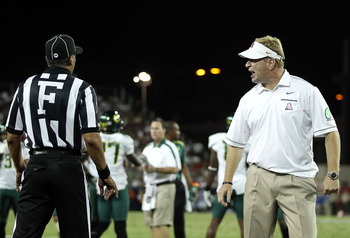 Christian Petersen/Getty Images
Ideally Sumlin would have kept Tim DeRuyter as the defensive coordinator. He was named the head coach at Fresno State. Aggie OLB coach Nick Toth is likely to follow Deruyter to Fresno in order to be the DC there.
There have been multiple rumors that Sumlin is going to hire former Arizona head coach Mike Stoops to become the A&M defensive coordinator.
Right now it looks like Stoops is not going to take the job.
Alabama linebacker coach Sal Sunseri has also been mentioned as a possible DC candidate. He has helped coach the number one defense in the nation this year. With Alabama defensive coordinator Kirby Smart interviewing for the Southern Mississippi head coaching job, Sunseri may be considered for the DC job in Tuscaloosa.
This defensive coordinator hire will be the first big hire made by Sumlin. Everyone knows that Kevin Sumlin can coach offense. His hire on defense will tell the country how serious he is about having an elite defense in the SEC.
It looks like the Ags will wait until after the bowl game to make a hire at defensive coordinator.
Defensive Line Coach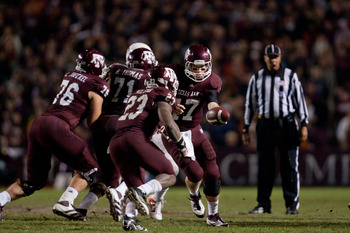 Darren Carroll/Getty Images
Kevin Sumlin is going to retain Terrell Williams as the defensive line coach.
Williams is the top recruiter on the A&M staff and has been traveling across the country with Sumlin in order to shore up the 2012 recruiting class.
He is also one of the better defensive line coaches in the country. Williams coached the Aggie defensive line this season when they were sixth in the country in yards allowed per rush.
Williams and Sumlin previously coached together at Purdue.
Linebacker and Defensive Backs Coach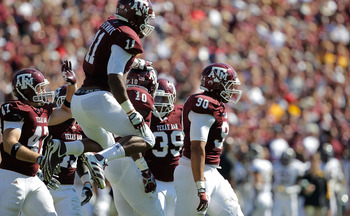 Sarah Glenn/Getty Images
It looks like whoever the Aggies hire to be the defensive coordinator will be allowed to pick the rest of his defensive staff.
Do not expect the Ags to hire a linebacker or defensive backs coach until after they hire a defensive coordinator.
It looks like the Aggies will wait until after the bowl game to hire most of their defensive staff.
Strength and Conditioning Coach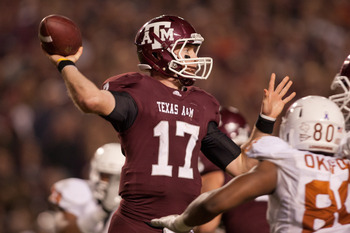 Darren Carroll/Getty Images
It looks like the Ags are going to hire Houston Strength and Conditioning coach Larry Jackson to be the S&C coach at A&M.
Jackson has been the strength coach at Houston for the past six seasons. He learned under the tutelage of Jerry Schmidt at Oklahoma and Mike Clark at A&M. Both are considered to be among the best in the business.
Jackson is a 1995 graduate of Texas A&M. He spent four years playing in the NFL and NFL Europe.
He is widely considered one of the top strength coaches in college football today.
Keep Reading

Texas A&M Football: Like this team?