2012 NFL Mock Draft: Top 5 Consensus Players on Big Board
December 15, 2011
Ezra Shaw/Getty Images
There is no legitimate debate against Andrew Luck as the No. 1 prospect on the draft board.
The Stanford quarterback has been the No. 1 prospect two years running and it hasn't changed. He's finished as the runner-up for the Heisman in two straight seasons and, as he would have last year, will still hold the No. 1 prospect ranking over the winner.
Baylor's Robert Griffin III has consistently risen up draft boards all season, but he's not at Andrew Luck's level. In fact, RGIII is still chasing Matt Barkley of USC on most boards.
As for the rest of the top prospects, there is a rather solid general consensus around the web. The following players have done enough throughout this season and their college careers to earn the respect of nearly every draft analyst.
Here are the top five consensus players on the draft boards after the regular season.
1. Andrew Luck, QB, Stanford
Largely considered the best quarterback prospect to enter the draft since Peyton Manning in 1998, Luck has everything you look for more and more in a franchise quarterback.
He's proficient in the pro-style, he possesses an extremely high football IQ, he can make every throw necessary, he understands what he can and cannot do as an athlete (and he's quite a skilled athlete at that), he has good arm strength and, most importantly in this day and age, he knows how to lead.
Andrew Luck isn't just the best quarterback on the board in recent memory, he's the best overall prospect in quite some time.
ESPN Scouts Inc. Rank: 1
Mel Kiper Rank: 1
CBS Sports/NFLDraftScout.com Rank:  1
2. Matt Kalil, OT, USC
The big, athletic tackle from USC is a sure-fire top five pick with elite NFL bloodlines and the potential to be an immediate franchise left tackle. He's 6'4", 295 pounds with great feet, good agility and strength and was solid all year long. He's effective in both the run and pass game and shows no real weaknesses.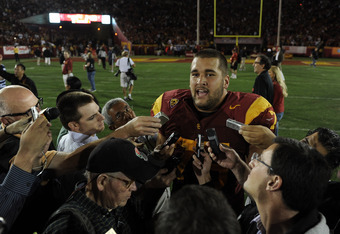 Harry How/Getty Images
He was so good as a Trojan he kept last year's No. 9 overall pick and starting right tackle for the Dallas Cowboys, Tyron Smith, on the right side of the line during their stay together at Southern Cal.
If he opts to come out this year he'll be highly sought after and certainly won't regret it.
ESPN Scouts Inc. Rank: 2
Mel Kiper Rank: 2
CBS Sports/NFLDraftScout.com Rank:  3
3. Morris Claiborne, CB, LSU
The Tigers' top defensive back is often overshadowed by his teammate the "Honey Badger," but NFL scouts and teams aren't fooled. Claiborne isn't as physical a specimen as last year's No. 5 overall and former teammate Patrick Peterson was, but I think we can all agree that Peterson was probably the best overall prospect on the board
Claiborne has good height at 6'1", but is light at 175 pounds. However, he's the best pure cover corner with great hips, quickness and overall instincts for the game. He understands routes and does a great job positioning himself to make plays on the ball.
He'll be an immediate help to a team in the top five or seven.
ESPN Scouts Inc. Rank: 3
Mel Kiper Rank: 5
CBS Sports/NFLDraftScout.com Rank:  4
4. Matt Barkley, QB, USC
The Heisman finalist snub from USC actually had a better season than former winners from the program Matt Leinart and Carson Palmer. The media has shied away from Barkley mostly because of USC's postseason ban, but he's been the second best quarterback in the nation throughout the year.
Barkley's progressively gotten better after taking over as the starter his freshman year and has everything needed to succeed at the next level.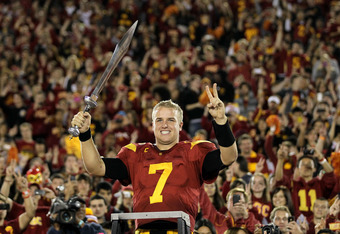 Stephen Dunn/Getty Images
He's a natural leader with a great arm, a good football IQ, above-average athleticism and the type of intangibles necessary to turn around a franchise.
Should he opt to enter the draft he'll be a top five or top seven selection.
ESPN Scouts Inc. Rank: 6
Mel Kiper Rank: 6
CBS Sports/NFLDraftScout.com Rank:  2
5. Trent Richardson, RB, Alabama
The running back position is undervalued now, but Richardson is the real deal and everyone knows it.
He's ridiculously strong and has dominant legs. At 5'11", 224 pounds he's the ideal size for the position, is a willing and able blocker and is also a very dangerous weapon out of the backfield.
Richardson does a phenomenal job of running behind his pads with a low center of gravity and exhibits great overall balance in the hole and on the edge.
Plain and simple, he's a better overall prospect than former teammate Mark Ingram was last year.
ESPN Scouts Inc. Rank: 4
Mel Kiper Rank: 3
CBS Sports/NFLDraftScout.com Rank:  8
*Draft order determined by combination of current record and projected finish.
| No.  | Team (Record) | Player, Pos. |
| --- | --- | --- |
| 1. | Indianapolis Colts (0-13) | Andrew Luck, QB |
| 2. | St. Louis Rams (2-11) | Justin Blackmon, WR |
| 3. | Minnesota Vikings (2-11) | Matt Kalil, OT |
| 4. | Miami Dolphins (4-9) | Matt Barkley, QB |
| 5. | Carolina Panthers (4-9) | Morris Claiborne, CB |
| 6. | Buffalo Bills (5-8) | Robert Griffin III, QB |
| 7. | Cleveland Browns (4-9) | Trent Richardson, RB |
| 8. | Jacksonville Jaguars (4-9) | Michael Floyd, WR |
| 9. | Washington Redskins (4-9) | Landry Jones, QB |
| 10. | Tampa Bay Buccaneers (4-9) | Quinton Coples, DE |
| 11. | Philadelphia Eagles (5-8) | Alshon Jeffery, WR |
| 12. | Kansas City Chiefs (5-8) | Riley Reiff, OT |
| 13. | Seattle Seahawks (6-7) | Dre Kirkpatrick, CB |
| 14. | San Diego Chargers (6-7) | Alfonzo Dennard, CB |
| 15. | Arizona Cardinals (6-7) | Jonathan Martin, OT |
| 16. | Tennessee Titans (7-6) | Vontaze Burfict, LB |
| 17. | Cincinnati Bengals (via OAK) (7-6) | Lamar Miller, RB |
| 18. | Chicago Bears (7-6) | Peter Konz, C |
| 19. | Dallas Cowboys (7-6) | Devon Still, DT |
| 20. | Cincinnati Bengals (7-6) | Janoris Jenkins, CB |
| 21. | Detroit Lions (8-5) | Luke Kuechly, LB |
| 22. | New York Jets (8-5) | David DeCastro, OG |
| 23. | Denver Broncos (8-5) | Brandon Thompson, DT |
| 24. | Cleveland Browns (via ATL) (8-5) | Jarvis Jones, LB |
| 25. | Houston Texans (10-3) | Mark Barron, S |
| 26. | Pittsburgh Steelers (10-3) | Dont'a Hightower, LB |
| 27. | New York Giants (7-6) | Zach Brown, LB |
| 28. | New England (via NO 10-3) | Chase Minnifield, CB |
| 29. | Baltimore Ravens (10-3) | Courtney Upshaw, DE |
| 30. | San Francisco 49ers (10-3) | Kendall Wright, WR |
| 31. | New England Patriots (10-3) | Mohamed Sanu, WR |
| 32. | Green Bay Packers (13-0) | Cordy Glenn, OG |