Denver Broncos K Matt Prater: The Lesser Tebow
December 15, 2011
Justin Edmonds/Getty Images
If Tim Tebow has the hand of God, then Matt Prater has the foot. His right foot, more specifically, which has been clutch all season for the underdog Broncos. 
Case in point: Sunday's game against Chicago, a nail-biter this team has grown accustomed to. Prater connected on two crucial field goals down the stretch; One from 59 yards out to send the game into overtime. The other, a 51-yard game-winner, placing him as one of two kickers (Mike Vanderjagt) in NFL history to have a 50-plus-yard kick to tie the game and another to win it. 
Maybe Prater's name should be synonymous with "winning."
During practices and warm-ups, Prater has been seen kicking the ball through the uprights at over 70 yards. If diamonds are a girl's best friend, then altitude is a kicker's BFF (best friend forever).
Tebow gets all the publicity, but he's not the only one out there making plays for the team. That's not a knock to Tebow, everyone needs a little help. 
Batman had Robin.
Jordan had Pippen. 
Shrek had Donkey. 
Kobe had Shaq (or the other way around, depending on who you talk to).
Sherlock Holmes had Dr. Watson.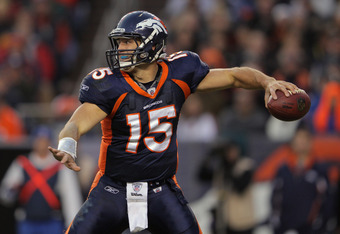 Doug Pensinger/Getty Images
And the list goes on and on and on and on. 
Even Jesus had a group of disciples. 
Now, Tebow has Prater.
And Prater has converted four game-winning field goals during the Denver Broncos' current six-game win streak, a streak that has catapulted them from the bottom to the top of the AFC West. 
Should he miss any of those, Tebow's magical run wouldn't appear so magical. 
If Tebow goes on to win the MVP award, which is not out of the realm of possibility, the least he could do is take Prater out for a nice steak dinner to show his appreciation to the kicker. 
Or, just keep praying for him.