Why the Cubs Should Move Starlin Castro to the Outfield
December 15, 2011
Scott Cunningham/Getty Images
Most people, particularly in the media, love Starlin Castro.
Some even dubiously proclaim Castro as the next Ernie Banks, but count me as someone who's not quite as impressed.
While Castro accomplished an impressive feat in ringing up 207 hits in 2011, he needed 674 at-bats (the second-highest in the majors) to do so. In addition, Castro has nowhere near Banks' power: Castro hit 13 home runs in his first 1,137 at-bats while Banks hit 21 home runs in 509 fewer at-bats.
Could Castro develop power later in his career, as some hope? Possibly, though history shows power doesn't usually develop later unless steroids is involved.
The lack of power isn't a strong concern, but Castro's iron glove and wild arm is. The 21-year-old Dominican led the majors in 2011 with an astonishing 29 errors, proving that his 27 errors in 2010 (second-worst in MLB) were no fluke. Castro's UZR was minus-8.7, second-worst in the majors among regular shortstops.
His defensive liabilities offset some of his offensive contributions.
Merely accepting Castro's defensive limitations should not be an option. The question is: what can the Cubs do then?
What To Do With Castro?
Some have bandied the idea of trading Castro.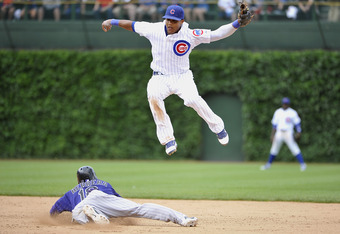 Brian Kersey/Getty Images
It's not a bad idea. If everyone else is enamored with Castro, why not trade him while his value is sky high and get a bunch of top prospects? After all, the Cubs need help at a lot of positions, and you could fill several of those voids with one trade.
As the Chicago Tribune reminded, the Rays got several exciting prospects and a major-league defensive contributor when they sent Matt Garza to the Cubs, and the Royals got several top prospects and a major-league defensive contributor when they traded Zach Greinke.
Whatever Theo Epstein does, he shouldn't trade Castro for a couple middle-tier prospects. If Epstein is like Tampa Bay's shrewd GM Andrew Friedman, he'll require multiple highly significant prospects for Castro.
But Castro staying with the Cubs is probably the most likely scenario.
Epstein implied that Castro can be a Gold Glover like Derek Jeter when he compared Castro's defensive issues with an early Jeter. Epstein's comments are puzzling since he should know that the numbers clearly reveal Jeter has performed well below average for nearly his entire career.
Just this past summer, Jeter was dead last in DRS among regular shortstops (minus-18), worse than even Castro (minus-16). In 2010, the last year Jeter won a Gold Glove, he had the fourth-worst shortstop DRS at minus-13.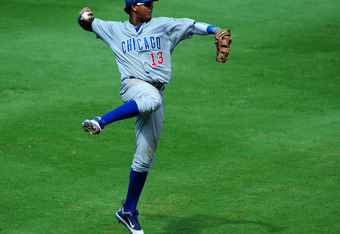 Scott Cunningham/Getty Images
While Jeter has earned his Gold Gloves for his reputation on some flashy plays, Baseball Prospectus' James Click cautioned, "While spectacular effort is a joy to watch, it should not be confused with results." As performance analysts know, Jeter isn't even the best SS on his own team (that would be Alex Rodriguez).
Where Should Castro Play? 
The Cubs could keep Castro at SS, but why put up with the defensive struggles when you can minimize them?
This was an argument Click made about Jeter, stating that the Yankees should have moved Jeter to center field and put Rodriguez back at SS.
While some suggest moving Castro to third base, I suggest the Cubs remove him out of the infield completely and put him in the outfield.
In general, moving a shortstop to 3B will slightly improve that player's defensive contribution by 1.9 runs per year. However, it's uncertain if a fielder as bad as Castro will see even that slight improvement.
Since Castro bungles grounders and slings wild throws from the shortstop position, it's quite possible he will also bungle grounders and sling wild throws from 3B. In fact, it could potentially be even uglier at third when Castro also must charge bunts and slow rollers and then hurry a throw to first.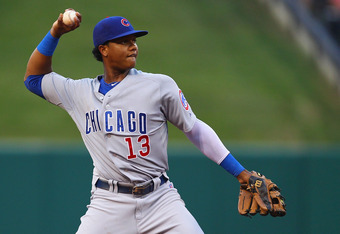 Dilip Vishwanat/Getty Images
The Case for the Outfield
Moving Castro to the outfield instead of third base would limit damage because not all errors are equal.
Outfield errors are rarely on dropping catchable fly balls but instead due to bad throws and bad fielding. Thus, outfield errors almost never turn sure outs into baserunners; rather, the baserunners already exist, but they get an extra base or two on a bad throw or poor grounder fielding.
On the other hand, shortstop errors always turn routine outs into baserunners.
Since baseball's two most precious commodities are runs and outs, shortstop errors negatively affect both. Not only does the defense not reduce one of the offense's 27 precious outs, but the offense now also has a runner on base that should not have been there.
This free baserunner, in turn, creates a higher likelihood for the offense to score runs. Run expectancy is always higher with a man on base than with bases empty.
Indeed, Castro's DRS for 2011 was minus-16, again second-worst among all regular shortstops and far below the average defensive shortstop, the Angels' Erick Aybar. Moving a SS to LF improves the team's defense by an average 4.8 runs per year. With Castro, this number would be higher.
So why not put Castro in CF, where his strong arm could be an asset? The main reason is that Tony Campana is a known commodity at CF as a strong defender with great speed and great range, two important qualities for CF. Replacing Alfonso Soriano, with his marginal arm, with Castro in LF would be a better option defensively.
Suggested Defensive Changes
In 2011, the predominant Cubs defense, based on innings played, was (DRS/UZR in parentheses):
- 2B: Darwin Barney (-4/+5.1)
- SS: Starlin Castro (-16/-8.7)
- LF: Alfonso Soriano (-5/+3.4)
- CF: Marlon Byrd (-2/+2.2)
- RF: Tyler Colvin (+3/+4.6)
Check out all those negative DRS figures. No wonder the 2011 Cubs defense was so awful.
One suggested defense for 2012 could be (2011 DRS/UZR in parentheses):
- 2B: DJ LeMahieu (+1/+0.8) (Ed. note: the Cubs traded LaMahieu in the offseason)
- SS: Darwin Barney (+1/+1.0)
- LF: Starlin Castro
- CF: Tony Campana (+2/+4.3)
- RF: David DeJesus (+13/+10.1)
Assuming the Cubs don't deal Byrd (who was minus-2/plus-2.2 in CF in 2011), they could put him at 1B, resolving the issue of finding a first baseman.
As you can see, the above proposed defense for 2012 would be significantly upgraded not only at SS but in many other positions on the field.
In addition, learning a new position would be kept to a minimum. Barney makes a minor adjustment. And while Castro would be learning an entirely different position, left field is an easier position to learn than shortstop. Same with Byrd going from center field to first base.
What's more, this suggestion would substantially upgrade the entire defense without having to trade away any prospects or spend one cent on a free agent.
The biggest problem with this suggested defense is that it puts Soriano's offensive production on the bench. But then again, Soriano had a WAR of only 1.3, so his offensive output isn't irreplaceable.

The Bottom Line
Improving the team's defense in multiple positions helps significantly in a close game (the Cubs were 25-28 in one-run games in 2011) or helps keep a close game from turning into a blowout loss.
Moving Castro to the outfield may seem radical but when the status quo clearly isn't working, why not put all options on the table? If the Cubs want to seriously compete for a championship, they cannot afford 25 to 30 errors at the most important position on the field.