Mike McCoy: Giving Credit to the Denver Broncos Coordinators
December 15, 2011
Ezra Shaw/Getty Images
How does the worst offense in the NFL for the first three quarters-plus of a game suddenly become unstoppable in the final minutes?
Many are arguing that it is the mistakes of the opposing defenses, while others (a much smaller faction, admittedly) are saying that offensive coordinator Mike McCoy is the reason.
The truth may never be ascertained, but what is interesting in this debate is the Broncos' stubborn play-calling early in games and why it is so vastly different from the games' conclusions.
Mike McCoy spent his early coaching career with John Fox and the Carolina Panthers before becoming an unusual bedfellow in the "pass heavy" offense that Josh McDaniels was trying to create in Denver.
Surely, it was a shock to McCoy's "run-first training" from his days in Carolina, when McDaniels forced him to work with an offense that did anything but run first, or second or third for that matter.
Strangely though, despite wide speculation that he wouldn't be retained, McCoy was asked by John Fox to stay on as the OC for Denver. Maybe Coach Fox knew something that the others didn't about his old assistant?
At the outset of the season, it was clear that Kyle Orton had command of the offense that he and McCoy both learned under Josh McDaniels. The execution of it, at times, was very good—but more often than not, Orton would do something to short circuit the drives.
Nothing makes a coordinator more crazy than being told constantly, "Hey, you should have tried this" when oftentimes the coordinator was "trying" just that, but the player on the field made a mistake that rendered the play that was called completely unrecognizable.
This is not an argument that Kyle Orton made McCoy look completely ineffective as a play-caller, but for the most part both men were still trying to find their way through an offense that was not of their own creation.
Enter Tim Tebow, and the same problem was becoming apparent. Tebow and McCoy were both trying to keep their heads above water in an offense that Josh McDaniels intentionally made so deep that he would be the only one with a buoy to stay afloat.
When McDaniels left, so did the buoy. Fortunately for the Broncos, John Fox had seen enough and finally decided to completely drain the pool and scrap the offensive scheme completely.
If the Denver offense seems bland and vanilla for most of the game, that's because it is. Mike McCoy has been tasked with something midseason that most OC's take months to prepare in the offseason.
Nobody feels sorry for the Broncos, and just because they are doing this on the fly does not mean they are exempt from any criticism. Still, sometimes the critics should be more aware of the situation.
Criticize the Broncos offense for what it is, and bemoan the growing pains of this still newborn game-planning style. Don't hold it to the same standard of the Patriots, Packers or Saints offense because it isn't, and might never be.
One major criticism of Mike McCoy is his first-half play-calling.
It is boring and largely ineffective in generating points. McCoy is watching the same game as the fans, though, so why would he continue to pound the same old plays over and over again?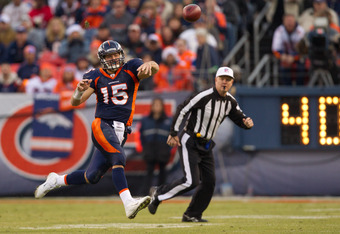 Justin Edmonds/Getty Images
The simple answer to that is: research and design.
Long ago, it was a well-known fact that Mike Shanahan had a schedule of 15-20 plays that were perfectly rehearsed for the Broncos to start the game. He would stick directly to the script regardless of all else, and in his prime he was wildly successful with this approach.
Nowadays, that approach is not such a novelty, but maybe Mike McCoy is using the same plan in a different way. Even though McCoy knows that some of these plays might be ineffective immediately, the information and insight that he gains is invaluable down the stretch.
It has been well documented that there is no road map for what the Broncos are currently doing. Films of pro defenses against this style of attack are non-existent.
Therefore, McCoy is forced to stubbornly run his plays in an effort to learn and make adjustments in the game and pray that his defense will keep them close enough to strike once the fact-finding is done.
Nobody in their right mind would take the Broncos offense in its current state, call it finished and then replicate it around the league. It would be a little like picking a car off the assembly line before its done and expecting it to last 100,000 miles.
However, something good is happening in Denver. Mike McCoy is a part of that for the moment. He and the rest of the Broncos are not without flaws that need correction, but maybe that is all in the pursuit of progress.
Perhaps a Thomas Edison quote can be slightly modified to explain the current Broncos offense under Mike McCoy:
"The Broncos have not failed to score on many of their offensive possessions, they have just discovered 1,000 ways not to score!"
Both John Fox and John Elway are hoping that knowing what doesn't work will help to put in place what does work on a permanent basis.