Yu Darvish Rumors and Updates: Where Will Japanese Star Land?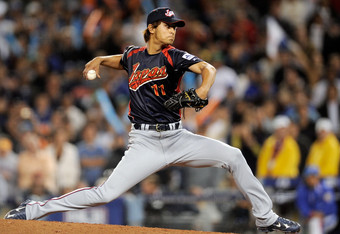 Kevork Djansezian/Getty Images
Yu Darvish could be headed for the New York Yankees, Chicago Cubs, Texas Rangers or Toronto Blue Jays by the end of the week. Bidding for negotiating rights with the right-handed Japanese pitcher closed Wednesday, and though no signing will happen for several days, the identity of the winning organization could leak quickly.
Darvish walks in the footsteps of Daisuke Matsuzaka, among others, as players who have passed through the (much-maligned) posting process whereby MLB teams can cherry-pick top NPB (Nippon Professional Baseball, the Japanese big leagues) talent years earlier than they can access them through true free agency.
There is risk here, be it the lurking danger of injury or the inherent difficulties of a transition to Stateside baseball. Darvish, 25, already has well over 1,200 innings of pro ball under his belt, and the Japanese system of starting pitching rotation has allowed him to shoulder that load better than he might in the United States. He has pitched just once a week, and has never made more than 28 starts in a season. An MLB usage pattern could pose serious injury risk here.
Effectiveness is also a fair question. Darvish seems to have supernal command and more electric, American stuff than any previous Japanese starter. He's not, strictly speaking, a good comp for Daisuke Matsuzaka. But after Matsuzaka's struggles to stay healthy and effective over the past three years, teams may be wary of Darvish, anyway.
All that said, the money spent to acquire him is going to be huge. Someone is going to lay out nine figures in order to land him. Who it is will be revealed in time. As we wait, check back here for rumors, updates and general analyses of how Darvish fits into the plans of many teams around the league.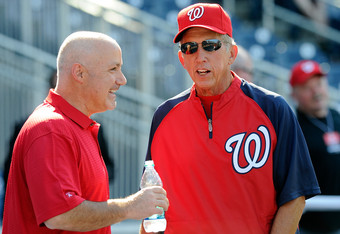 The Washington Nationals did not bid on Japanese right-hander Yu Darvish, according to Adam Kilgore of the Washington Post. That is surprising, because as Kilgore noted, the Nationals have long taken keen interest in Darvish. They have sent scouts on 10 occasions to see him pitch, according to Kilgore.
A few things might have changed the team's mind. First and foremost, the Miami Marlins made themselves much better over the past few weeks, and after being spurned by both Albert Pujols and C.J. Wilson, they profile as the top candidate to land Cuban defector and outfielder Yoenis Cespedes. The Nationals likely feel that between Miami, Atlanta and Philadelphia, they are too swamped with good competition to justify a major outlay right now.
For myriad reasons, though, it's awfully strange to see Washington bow out. It's probably a poor choice by GM Mike Rizzo. The Nationals could have added Darvish to a rotation that already features Stephen Strasburg and Jordan Zimmermann, and would then have fielded one of the division's strongest pitching staffs. The team has no dearth of money, so the exorbitance of the posting system need not have intimidated them. Darvish also would have been the rare elite pitching acquisition who would cost neither prospects nor draft picks.
Yet, there are valid reasons that Washington did not jump into this melee. Edwin Jackson and Roy Oswalt highlight a crop of free-agent pitchers that runs deep. Hiroki Kuroda is also an option. If the Nationals feel they can expend Derek Norris or a similarly talented pitcher, they can likely land Wade Davis of the Tampa Bay Rays for much less than it would cost to grab Darvish. Still, this is a head-scratching tidbit in the Darvish saga.
This article is
What is the duplicate article?
Why is this article offensive?
Where is this article plagiarized from?
Why is this article poorly edited?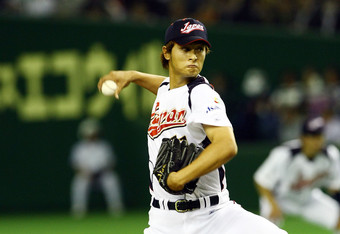 The story went live on the New York Post Web site overnight: The Toronto Blue Jays appear to have won the bidding for the right to negotiate with Yu Darvish. The winning bid appeared to have been in the $40-50 million range.
Frankly, this does not feel like the end of anything. Jim Bowden confirmed the Post's report on Twitter, but also wrote that the Jays "have until Tuesday to complete a deal." That's not even close to true. Considering that Bowden was also the first to report that Albert Pujols was headed back to the St. Louis Cardinals on a 10-year deal during last week's Winter Meetings, his confirmation carries even less weight.
This is still the best information we have at hand right now, and it jives with the prevailing wisdom, as the Jays have long been infatuated with Darvish. But it's too early to consider the case closed. Incidentally, the Post also noted that the Cubs were believed to have made an aggressive bid, though its viability versus that of the Jays is unclear.
This article is
What is the duplicate article?
Why is this article offensive?
Where is this article plagiarized from?
Why is this article poorly edited?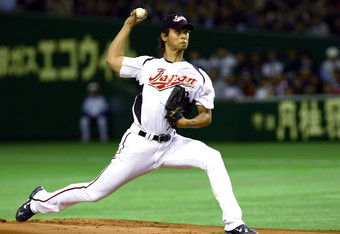 The Nippon Ham Fighters aren't likely to publicly accept a bid for the negotiating rights to Yu Darvish much before the deadline to do so next Tuesday, according to Danny Knobler of CBS Sports. The identity of the winning team (and even the amount of their bid) should leak out long before then, but clearly, the Japanese club is taking its time here.
The waiting is the hardest part, or so they say, but in the meantime, let's delineate a bit:
| | | | | |
| --- | --- | --- | --- | --- |
| Did Not Bid | Not Expected to Bid | Expected to Bid | Bid, Long Shot | Bid, Major Player |
| Baltimore Orioles | Arizona Diamondbacks | Detroit Tigers | Chicago Cubs | Texas Rangers |
| Boston Red Sox | Atlanta Braves | Philadelphia Phillies | New York Yankees | Toronto Blue Jays |
| Cincinnati Reds | Chicago White Sox | Seattle Mariners | | |
| Los Angeles Angels of Anaheim | Cleveland Indians | Washington Nationals | | |
| Miami Marlins | Colorado Rockies | | | |
| Minnesota Twins | Houston Astros | | | |
| New York Mets | Kansas City Royals | | | |
| Oakland Athletics | Los Angeles Dodgers | | | |
| San Francisco Giants | Milwaukee Brewers | | | |
| Tampa Bay Rays | Pittsburgh Pirates | | | |
| | San Diego Padres | | | |
| | St. Louis Cardinals | | | |
The Tigers and Phillies should bid, but don't need Darvish that badly. They also have very high payrolls already, so they may not even get involved. The Yankees placed a bid, but it's probably too modest to beat the field. The Cubs are a long shot, more likely to spend on bargain-bin assets this winter than take a flying leap into this kind of market.
It could come down to the Jays and Rangers, the former hoping to follow the schematic the latter wrote on how to build a contender in a large middle-market environment. The Nationals are the most interesting and feasible team no one is talking about when it comes to Darvish.
This article is
What is the duplicate article?
Why is this article offensive?
Where is this article plagiarized from?
Why is this article poorly edited?
Wherever Yu Darvish lands, he is going to have an impact in MLB. Kevin Goldstein, who handles prospect coverage for Baseball Prospectus and therefore knows a thing or two about scouting, said Darvish has the most impressive scouting report of any Japanese import to date.
The question, then, isn't whether he would help any given team's starting rotation, but whose he will help most. We know that the Chicago Cubs, New York Yankees, Toronto Blue Jays, Texas Rangers and Washington Nationals all have (or had) interest in Darvish. Here's a look at the projected starting rotations for each of them, if each could have Darvish:
| | | | | |
| --- | --- | --- | --- | --- |
| Cubs | Yankees | Blue Jays | Rangers | Nationals |
| Matt Garza | CC Sabathia | Ricky Romero | Yu Darvish | Stephen Strasburg |
| Yu Darvish | Yu Darvish | Yu Darvish | Derek Holland | Jordan Zimmermann |
| Ryan Dempster | A.J. Burnett | Brandon Morrow | Neftali Feliz | Yu Darvish |
| Randy Wells | Freddy Garcia | Henderson Alvarez | Matt Harrison | John Lannan |
| Andrew Cashner | Ivan Nova | Brett Cecil | Colby Lewis | Chien-Ming Wang |
The above table illustrates the strange nature of this showdown. Every contender has a different level of need for Darvish. The Cubs probably need him most, but can use him least. The Rangers gain the most by acquiring him, but would lose least by letting him go by, since they could simply keep Alexi Ogando in their rotation.
The Yankees stand out as the team that has the greatest overall utility for Darvish. Their lineup will make them contenders no matter what, but without Darvish, the rotation is a weak point. The Nationals and Blue Jays are dangerous elements, in large part because they are upstarts looking to knock off established powers en route to the playoffs. Darvish would be their statement acquisition, and as such, they may be willing to spend more for him than the others.
This article is
What is the duplicate article?
Why is this article offensive?
Where is this article plagiarized from?
Why is this article poorly edited?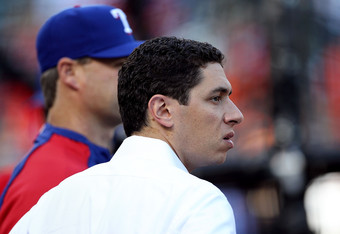 The Texas Rangers and Toronto Blue Jays each submitted bids for the right to negotiate with Yu Darvish, according to Jim Bowden of ESPN. Theirs were each bigger than the one made by the New York Yankees, according to Jon Heyman, and Evan Grant adds that the Rangers bid somewhere in the range of $40 million.
These two teams are the most likely to land Darvish, if the information we have thus far proves accurate. It's strange, but not surprising that they should end up squaring off for the services of Darvish.
The clubs are as far removed from one another as the North is from the South. The Blue Jays have not been to the playoffs since winning the World Series in both 1992 and 1993; the Rangers have lost each of the last two Series. Toronto has struggled to draw fans as they flounder in third and fourth place year after year, while the Rangers have one of the most energetic fan bases in the game and drew over 1,000,000 more fans than the Jays this season.
Yet, there are similarities here, too. No team anywhere in MLB can match their commitments to player development and scouting. They each have huge media markets and wealthy owners, and have salary upside far beyond their current payroll levels. Both have had keen interest in Darvish for a longer period than almost any other squad.
There's no question: In the short term, Texas has more to gain. They have won two straight pennants, but the Angels' free-agent coup has them reeling a bit. Reinforcing their starting rotation might make them AL West favorites again in a blink.
Toronto, meanwhile, has more need of Darvish in terms of absolute value. The Rangers could trot out a rotation of Neftali Feliz, Alexi Ogando, Derek Holland, Matt Harrison and Colby Lewis without missing a beat. They would merely be a bit more vulnerable. Without Darvish (or some high-profile outsider), the Blue Jays might not even be able to fill a rotation. They also play in the AL East, where top-shelf pitching is at a greater premium.
Whichever team wins will have paid a heavy price, but if Darvish even approximates his upside, he could make one of these teams the AL's preeminent power for the next few years.
This article is
What is the duplicate article?
Why is this article offensive?
Where is this article plagiarized from?
Why is this article poorly edited?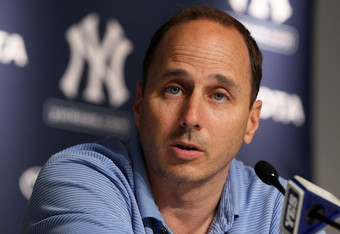 Donald Miralle/Getty Images
The New York Yankees have won the negotiating rights to a seven-time NPB All-Star, but perhaps the wrong one. Hiroyuki Nakajima, a shortstop by trade, cost New York just $2.5 million on the winning bid in the posting process. Now, however, New York is likely as not to trade him. With Derek Jeter and Eduardo Nunez already in place, they have little use for a third shortstop.
If they are willing to throw their weight around when it comes to Nakajima, though, they should be willing to bid big bucks on the likes of Darvish. He is a special talent, a potential top-tier rotation head, and both his stuff and his delivery are more American than most high-profile Japanese imports.
Reports suggest, though, that New York took a measured middle course in their approach to Darvish. Their bid was "modest," according to Jon Heyman. It doesn't sound like they were willing to compete with the big bids expected of both the Texas Rangers and Toronto Blue Jays, but one has to wonder why not.
General Manager Brian Cashman clearly has faith in both Freddy Garcia and Phil Hughes. Still, those two go alongside CC Sabathia, A.J. Burnett and Ivan Nova in the Yankees' starting rotation at the moment. One has to imagine the Yanks would like to do better. Darvish doesn't seem to be en route. Is a trade on the horizon?
This article is
What is the duplicate article?
Why is this article offensive?
Where is this article plagiarized from?
Why is this article poorly edited?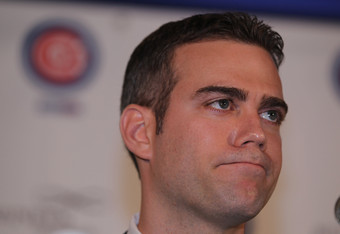 Jonathan Daniel/Getty Images
The Chicago Cubs might be looking to make a big splash. They submitted a bid for Darvish, according to Phil Rogers of the Chicago Tribune. It also sounds as though they're about to move some chips to the middle of the table on Prince Fielder. That would be a coup for the Cubs, virtually on par with the one the Los Angeles Angels pulled off last week.
It comes at a strange time. The Cubs seem a few years from contention; adding Fielder and Darvish would not necessarily change that. The Ricketts family, president Theo Epstein, GM Jed Hoyer and the rest of the organization have emphasized player development in unison ever since Epstein came aboard in October. Another priority is updating and monetizing the area around Wrigley Field, which the Rickettses moved to do by buying land adjacent to the park this week.
Add it all up, and the logical conclusion is that the Cubs will come in a bit too low on their bid for Darvish. They're not as ideally positioned to leverage that kind of acquisition into important wins as are the Toronto Blue Jays and Texas Rangers, among others. Still, if the Cubs could make just one game-changing addition, this would be it. The Chicago pitching staff walked the most batters and allowed the third-most runs of any group in the National League in 2011.
This article is
What is the duplicate article?
Why is this article offensive?
Where is this article plagiarized from?
Why is this article poorly edited?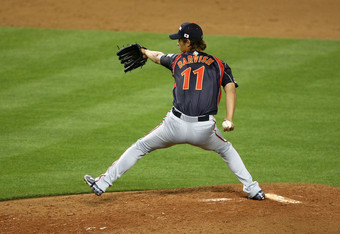 Here's what we know so far about bidders in the Yu Darvish sweepstakes:
That's not a ton of information, but it gives us a picture of the landscape. The Yankees seem like they're pretty much out. The Nationals are the only team who seemed sure to be interested, but whom no one has yet reported to have done so. That makes them the wild card in this. The Cubs are the dark horse.
This article is
What is the duplicate article?
Why is this article offensive?
Where is this article plagiarized from?
Why is this article poorly edited?