Hossa Still Chasing His Boyhood Dreams
December 15, 2011
Jonathan Daniel/Getty Images
When it came to reaching a personal milestone, Marian Hossa, one of hockey's most complete players, made sure he did in style.
It was by no means the prettiest goal of his 14-year NHL career, but Hossa's goal at 11:42 of the first period on December 8th, the one that represented the 400th of his big-league tenure, was certainly memorable.
"If anyone had told me that I would score 400 goals or play the game this long, I don't honestly think I would have believed them," Hossa told NHLPA.com, the night after Chicago's 3-2 overtime win against the New York Islanders that night. "But I couldn't have asked for a better way to reach this milestone."
Hossa, who became the 85th player to score 400 NHL goals, was equally, if not more enthused, about the outcome of the game.
"To win any game in overtime, it's just always a special feeling, one you can't always describe, when you come out on top," said Hossa, who had three points, including a helper on Patrick Sharp's extra-fame winner. "It was a tough game and we were happy to win it."
His poise throughout the contest was in stark contrast to his first NHL game, one he still vividly recalls.
"I remember how nervous I was before the game," remembered Hossa, who played for Dukla Drencin in his native Slovaka, before suiting up for one season with the Portland Winter Hawks of the Western Hockey League in 1997-98. "I was in Montreal and I was standing on the blue line for the national anthem and my knees were shaking."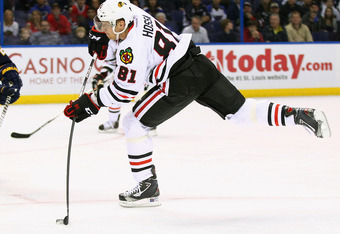 Dilip Vishwanat/Getty Images
It didn't take long for Hossa, who suffered a serious knee injury, but still played a major role in Portland's Memorial Cup championship in 1998, to get comfortable on NHL ice.
The aforementioned injury that kept him from joining the Senators for full-time duty until the end of 1998 didn't hinder his impact. Despite missing two months, Hossa, who had appeared in seven games with Ottawa in 1997-98, contributed 15 goals and 15 assists for 30 points in 60 games to earn NHL All Rookie honours. He also finished second to Chris Drury in Calder Memorial Trophy voting for rookie of the year. 
Since then, he has played for the Atlanta Thrashers, Pittsburgh Penguins, Detroit Red Wings and currently, the Chicago Blackhawks. Over the course of his career, he has made four NHL All-Star Game appearances and played in three consecutive Stanley Cup Finals' with three different teams before finally winning the Stanley Cup in 2009–10 with the 'Hawks.
The 32-year-old is hoping he has plenty more time left skating on hockey's biggest stage.
"I consider myself very lucky to have played this long and to have won a Stanley Cup," said the native of Stará Ľubovňa, Czechoslovakia, whose father František Hossa, is a former head coach of the Slovak national ice hockey team, and whose mother, Mária Hossová, is a clothing designer. "And now, to have 400 goals, this is very special for me. Being drafted into the NHL was a dream come true. To play in my first game and to experience all that I have, that is a dream come true, too. I still remember the first time I put that (Ottawa) jersey over my head. It was amazing."
Sharing such experiences with friends, family and fans in Slovakia has been equally rewarding for Hossa, who has played extensively for his country, including seven World Championship appearances, and three Olympic Games, including in 2010, where he scored the game-tying goal in the third period against Russia during the preliminary round.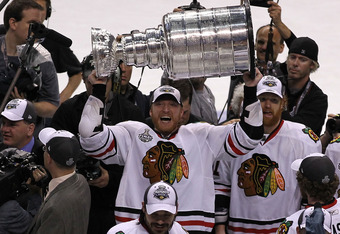 Al Bello/Getty Images
"People back home have been wonderful to me," he said. "Whenever I go back, I see old friends, teachers and so many other people. It's nice to have that support."
Hossa, playing at a point per game pace with Chicago in 2011-12, isn't done with personal milestones.
He's closing in on 1,000 games-played and is less than 150 points from 1,000 in his career.
Yet, in spite of his successes, Hossa remains very much the same in his love for the game and desire to be a respected teammate.
"I remember telling you guys, probably about 10 years ago, the story of when I used to play all day on the rink outside of the apartment where I grew up in," recalled Hossa, who has appeared in over 925 NHL regular season games. "Even when I was sick, too sick to go to school, I'd sit at the window and ask my mom if I could go play for a little while. I just wanted to be out there as much as I could."
That passion for hockey hasn't waned.
"I respect people and hopefully, I have the respect of others," he said. "When I was younger, all I did was dream of playing in the NHL against the best players and it happened for me. Hopefully, I have many more years to enjoy it."
Visit NHLPA.com for more player news and videos.
Unless otherwise noted, all quotes were obtained first-hand.