NFL Gets $7 Billion from CBS, Fox, NBC, ESPN, DirecTV & Verizon. Every Year. Wow
December 15, 2011
The NFL has 32 teams that each participate in 16 games over a 17-week schedule, with 12 of those teams qualifying to play an additional one to four games in an annual playoff tournament to determine a Super Bowl champion.
That's a rather simplistic way of looking at the NFL's product, but it's also the best way to explain what CBS, Fox and NBC are paying a combined three billion dollars per year to televise.
Add in ESPN's recent renewal of Monday Night Football—a yearly haul of $1.8 billion for the league—and the NFL's radio, mobile and DirecTV Sunday Ticket deals, and we're looking at a reported figure of nearly $7 billion per year…to broadcast 267 NFL games.
Doing some loose math, that means the media outlets that cover the NFL are essentially paying $26 million per game to cover the NFL—a mind-bogglingly huge number, showing just how powerful the NFL's hold over its media partners (and its throngs of adoring fans) has become.
Before we get too far, let's acknowledge just how loose that math actually is. Networks aren't necessarily paying for the right to just show games on TV.
The reported $1 billion for each network does include the ability to stream games to tablet devices, and each of the networks will surely have expanded rights to NFL highlights, enabling them to make a little more of that investment back with NFL-themed programming throughout the week.
The little-known secret with these NFL rights deals—which I learned thanks to the fine reporters at SportsBusiness Journal—is that the league meters out exactly how much content their media partners can use in non-game programming.
When ESPN signed its $1.8 billion deal a few months ago, most people thought that was exorbitantly high for a 16-game Monday Night Football package (that would round out to paying $112,500,000 per game), but the real benefit for ESPN was not only the expanded reach online and on tablets, but the expanded amount of NFL highlights they can show, allowing the worldwide leader to create boatloads of new NFL programming throughout the week.
Expect the same from the other networks.
There's already talk that NBC will create a Sunday-morning pregame show on the re-branded Versus network, a smart idea even though they don't have a game to lead into.
There is not one football fan in America who would say the NFL pregame market isn't already over-saturated, but how can you blame NBC for planning their own show when it's already working for the other networks?
NBC needs to build in as much NFL programming as possible if they want to get back the astronomical figures they're paying for the rights to show us one regular season contest a week, a playoff game or two and the Super Bowl every third year.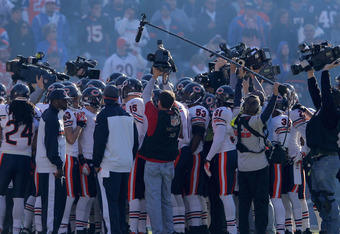 Doug Pensinger/Getty Images
How long before CBS and Fox start following the ESPN model of two- and three-hour pregame shows?
How long before ESPN starts their pregame show at eight in the morning to get out ahead of what the NFL Network is doing?
Oh, right, the NFL Network.
I didn't mention that in addition to a much more flexible schedule for the networks to pick from both conferences more evenly, this new deal also includes an expanded Thursday schedule on the NFL Network (The big news on Thursdays is that the Thanksgiving game will move from NFL Network to NBC, projecting ratings for that game to be in the 40-50 million range).
The expanded Thursday schedule means that the $7 billion the league is getting for the right to disseminate their content from NBC, CBS, Fox, ESPN, DirecTV and Verizon does not include the growing ad revenue they'll receive from showing more games on their own in-house network, and the increased rights fees the network will be asking cable providers to pay to keep the network as part of their package.
The league is making money on both ends. The NFL is essentially printing money, and I wouldn't be surprised if Roger Goodell's face ends up on the billion-dollar bill.
The extended deal the NFL struck with its TV partners is for nine years, with the mobile contract with Verizon and Sunday Ticket deal with DirecTV expiring around 2014. There's a safe bet that within three years we will have regular NFL games Sunday, Monday and Thursday every week of the season (well, no Monday game in Week 17), and by the time the NFL negotiates their just-extended network deals, a plan will be in place for NFL games to be on four or five days a week.
The league won't mess with college football on Saturdays, savvy enough to know that a huge part of their core follows the amateur game almost as closely as the professional. That said, as soon as the regular slate of college games is over in early December, we should expect expanded Saturday games through the end of the season.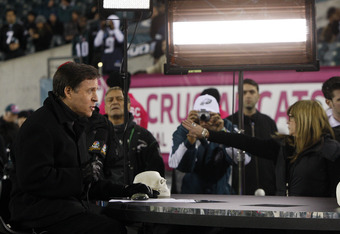 Rich Schultz/Getty Images
If the NFL has Thursday, Saturday, Sunday and Monday, what's precluding them from adding a Friday game, too? High school football? High school seasons are usually over before the college seasons, so why wouldn't the league think about a game on Friday as well?
And while we're at it, why not look to schedule games on Tuesday night, too? If there's a media partner willing to pay the money to put a game on that night—we all know the ratings for a Tuesday night football game would blow any other prime-time rating out of the water—what's stopping the league from having more games in the best time slots of the week?
Sure, scheduling will be tough, but the league can figure out a way to give teams that play on Tuesday a bye or a Monday night game in the following week. And yes, the league does need to be careful about marginalizing its own product to the point where it could potentially hurt ratings.
Showing games two days a week with an occasional third or fourth day has made the NFL "appointment viewing" for fans across the country.
Putting games on five days a week would allow fans to be a bit more selective of the out-of-market games they choose to watch, potentially hurting the average ratings in an attempt to expand the overall numbers. 
Having said that, they're raking in $7 billion per year.
If the NFL offered games on Tuesday and Friday nights—heck, seven nights a week—the networks would pay for it, because most of us would watch it.