Rangers Injuries: Sauer's Injury Allowing Defensive Lineman to Step Up
December 15, 2011
Bruce Bennett/Getty Images
The New York Rangers announced that defenseman Michael Sauer was to head to the injured reserve list. Sauer has not played since sustaining a concussion last Monday and has not gone on the Rangers' current West Coast road trip. 
Sauer joins Ranger defenseman Marc Staal on IR, who has not played a game since last season after getting a concussion due to a hit placed on him by his brother, Carolina Hurricanes forward Eric Staal.
One would assume that the Rangers would be defensively crippled with injuries to their best defenseman (Staal) and now with Sauer gone, but they are not. The Rangers are fifth best in the league in the penalty kill and their defense has carried them to long winning streaks this season, allowing them to be second in the Atlantic Division and forth in the Eastern Conference.
How is this possible? The New York Ranger defense has stepped up in order to fill the gaps that have been created in their defensive front.
All-Star snub Dan Girardi has risen to be in my opinion one of the best defenseman in the NHL, filling in nicely for the injured Staal. The spot on the front defensive line that has been vacated by Staal has been filled in nicely this year by second year player Ryan McDonagh. McDonagh already has more points this year (13) than he did last year (nine) and is one of the team leaders in time on the ice per game (25:07).
With McDonagh's spot on the second defensive line needing to be filled, Michael Sauer rose to the occasion with the help of Michael Del Zotto and was able to fill the hole there. This Ranger defense is being put together as pieces are falling apart and its working.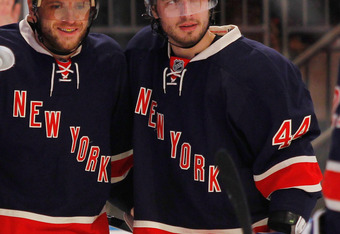 Mike Stobe/Getty Images
Now, however, Sauer is injured, and with the players the Rangers have, it seemed impossible to continue the run they were on without both Staal and Sauer. Cue Steve Eminger.
The usual third line defenseman has seen more playing time since the absence of teammate Sauer, and he has seen an increase in his numbers as a result. On top of playing about five more minutes per game, Eminger has netted three points in his last 4 games (only one in his first 24) and has seen his +/- go from negative two to three.
Another Ranger player has risen to the occasion to step up when a key man has been injured. The Rangers have proven they are able to deal with what for some teams would be crippling injuries and still win games.
I have been impressed with Eminger's play since the injury to Sauer, and I expect to see his numbers continue to increase in his absence. The Rangers have taken the opportunity to step up when it was called upon them to do so, which is why they are considered one of the elite teams in the NHL this year.
In the beginning of the year, Girardi, McDonagh and Sauer all stepped up to fill in for Staal. Now, Eminger is rising to the occasion to fill Sauer's spot, and its working.