Red Sox Pitching Is One Big Question Mark
December 15, 2011
Abelimages/Getty Images
The uncertain status of Clay Buchholz is a metaphor for the entire Red Sox pitching staff.
Nobody knows how Clay Buchholz will come back from his back injury in 2012.  Buchholz missed most of 2011 due to the injury, which mysteriously required a long, long time to heal.  Though Buchholz said he felt stronger after the season ended, pitchers with back problems—particularly serious, lingering types like his—often can experience a recurrence of related problems.
So, Buchholz, who is an indisputable key to the success of the pitching rotation, faces significant uncertainty about his capacity to remain healthy for all of 2012.  Who knows if the effects of the injury will return? Couldn't Buchholz suddenly experience the same soreness he did in early 2011?  Yes, he could.  One can make a powerful argument that Buchholz' injury in 2011 was the largest negative factor in causing the team to fail to make the playoffs.
The uncertainty doesn't stop with Buchholz.  Josh Beckett, who pitched outstandingly for a major chunk of 2011, wore down at the end, and pitched poorly in the disastrous September, when the team went 7-20 and collapsed.  Beckett has broken down physically for several of his seasons on the Red Sox, suffering from injuries or ailments.  In 2011, it seemed he was just tired.
Jon Lester performed more erratically in 2011.  He was never able to string together a series of excellent outings.  He struggled with his control at times.  His fastball wasn't as consistently zipping with command.  Andrew Miller was terrific at times, but often he was terrible too.  Daisuke Matsuzaka missed most of the season and had "Tommy John" surgery.  John Lackey was a disaster, but will not return in 2012 while he recovers from his "Tommy John" surgery.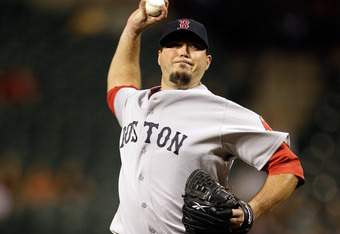 Rob Carr/Getty Images
We all know how poorly Tim Wakefield and Kyle Weiland performed down the stretch.  They were horrible, but the team kept putting them out there because it had no more pitchers. 
So, let me ask you this?  Which, if any pitcher on the Red Sox in 2011 was consistently good from the start of the season to the finish?  You guessed it.  Jonathan Papelbon, and, he's been traded to the Phillies.  OK, I would add Alfredo Aceves, who had a terrific season out of the bullpen. So, that's two guys out of the bunch, but, looking to 2012, how do you feel about any of the pitchers left?
There is NOT one pitcher in the rotation or the bullpen who you can really count on right now.
That may sound excessive, but my point is none of the pitchers had the kind of 2010 that convinces you they are "rock-solid" for 2012. 
Let's not forget that Daniel Bard, who has been a superb set-up relief pitcher, struggled badly at the end of 2011.  Bard blew a number of saves and contributed to a few key losses in August or September.  Bard appeared to be fatigued toward the end.  (I think Terry Francona over-used Bard at times and disregarded signs of his fatigue.)  Bard will go to 2012 spring training to prepare to join the starting rotation, according to GM Ben Cherington.  So, Bard, too faces great uncertainty—whether as a starter or reliever in 2012.  The key for him, like others, will be: Can he stay strong and pitch well into September?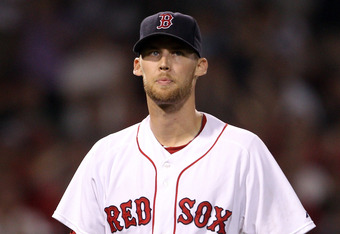 Elsa/Getty Images
What amazes me is that I keep hearing Cherington or CEO Larry Lucchino refer to how talented this Red Sox team is, but they conveniently do not focus on the recent failures of the pitching.  The team's hitting was damned good last year, but, as always, we witnessed the truth that good hitting is NOT enough to carry a team into the playoffs. 
The Sox just got Mark Melancon, who was a closer with the Houston Astros in 2011, but it remains unclear if he'll close for the Sox.  It's also unclear how effective Melancon will be facing far more tough hitters in the American League East compared to the National League's Central Division. 
The deal for Melancon seems like a good start, but the Red Sox have a long, long way to go to build a pitching staff for 2012.  They still have a virtually empty bullpen with only Franklin Morales, Matt Albers and Bobby Jenks slated to return for sure.  Early indicators suggest the Sox may plan to patch together the best bullpen they can without spending a ton of money. 
If so, that would leave a rotation filled with question-marks and a new, inexpensive, unimpressive bullpen to lead the Red Sox to a championship in 2012.  While I may be focusing on the negative possibilities, I think Sox fans should have their eyes more open as spring training approaches.
The 2012 Red Sox, with so much unpredictability surrounding their pitching staff, are NO sure thing to make the playoffs next September either.