Sean Avery: Rangers Forward Gets Owned by Model Kate Upton in Twitter Battle
December 15, 2011
Christopher Pasatieri/Getty Images
While pesky New York Rangers forward Sean Avery breathed new life into the team after getting called up from the AHL several weeks ago, he has been up to his same old antics. This time, he has engaged in a war of words over Twitter with model Kate Upton.
Upton, who happens to be a Rangers fan, apparently attended the team's Nov. 29 game against the Pittsburgh Penguins. Avery, as only he can do, sought to embarrass the stunning Upton by accusing her of ogling at Swedish goaltender Henrik Lundqvist.
Like the players Avery attempts to antagonize on the ice, Upton refused to sit idly by as she shot back with a gem of her own.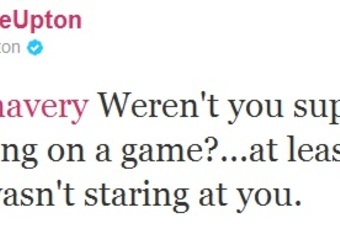 Ouch! If Kate's tweet were akin to a hockey fight, she would have Avery's sweater pulled over his head while pummeling him senseless with uppercuts. Upton makes a good point regarding Avery's focus as he clearly had to be scanning the crowd in order to see what he interpreted to be Upton staring at Lundqvist.
If that weren't enough, she went for the dagger by essentially telling Avery she had no attraction to him whatsoever. For a guy like Avery who likes to act as though he's Rico Suave, that little jab likely hurt him more than he would ever lead on.
This is just the latest in a long line of annoying behavior by Avery. Not only does he like to get under the skin of opposing players on the ice, but his off-the-ice incidents are well-documented too. Who could forget his "sloppy seconds" rant regarding former Calgary Flames and current Toronto Maple Leafs defenseman Dion Phaneuf and Avery's ex-girlfriend Elisha Cuthbert?
Basically, Avery is incapable of conducting himself as a normal, respectful human being. In terms of ability, he's an effective NHL player, but it's no wonder that Rangers head coach John Tortorella didn't want any part of him when the season began.
Success makes for strange bedfellows, however, and there is no question that the Rangers are a better team with Avery in the lineup. If he could ever mellow out and stop staying stupid things, then hockey fans could respect him as an honest player, but after his latest run-in with Upton, I doubt that will happen any time soon.