Why Tony Sparano Was Least of Problems for Miami Dolphins
December 15, 2011
Tom Pennington/Getty Images
Tony Sparano is gone, but to many Dolphins fans, the problems remain the same. 
No quarterback, no hope. 
Currently standing at 4-9, Miami hopes to win out the rest of their season, for what reason, I cannot fathom. I know a lot of Dolphins fans were against "Suck For Luck," against the hope that the team loses.
"You're not true fans if you want your team to lose" they would say, not realizing that it was about sacrificing a lost cause season in order to bring hope in the next decade. Not even this argument worked against them. 
Well, they got what they wanted, which apparently is Jeff Ireland.
To quote Ethan J. Skolnick's tweet from Monday:
As I wrote at 0-4, most dangerous thing for Dolphins would b winning a few games. Not about Luck. About Ross deciding not to clean house.

— Ethan Skolnick (@EthanJSkolnick) December 12, 2011
The 0-7 start was enough to get Sparano fired, however, it couldn't get Jeff Ireland fired when he had to go too. 
I would rather trust Sparano continuing to coach this team with a different general manager than trust Ireland drafting and signing the players with a different coach. Stephen Ross stated that he felt the 0-7 start was about coaching, as their 4-1 mark in November and December showed the type of talent this team had.
I beg to differ actually.
The 0-7 mark was a combination of post-lockout malaise, bad coaching, lack of  depth and talent at certain positions and a tough schedule. Of the teams Miami played in their first seven games of the season, five of them would go to the playoffs if their season ended today, and four of them would be division winners.
In fact the first two teams Miami lost to—New England and Houston—are fighting for home-field advantage and a first-round bye (and the Houston team that beat Miami in September had more talent than the one you've seen recently that has won seven in a row despite losing Mario Williams and two quarterbacks).
Miami's other two losses during that stretch against non-contenders San Diego and Cleveland? Both came on the road. 
Yet, despite this, for the season, Miami has actually outscored their opponents 256-246. This due to a stretch against Kansas City, Washington, Buffalo, Dallas and Oakland where they went 4-1, beat every team they were supposed to beat (and only lost to Dallas by one) and outscored their opponents 119-54. 
Now, obviously Sparano and Ireland can't be blamed for the schedule makers, but Ireland can be blamed for bringing in some of the players, and Sparano can be blamed for the coaching of these players. 
But simply put, Miami beat the teams they were supposed to beat and lost to the teams they were supposed to lose to. And even against the good teams, they played close and were competitive until well into the final quarter.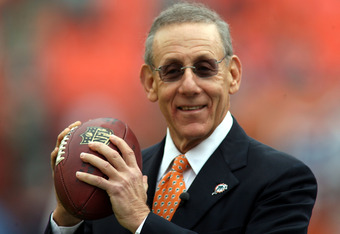 Marc Serota/Getty Images
Last Sunday's game in fact was the first real blowout the 'Phins had all season, and even then, they still lost by only two touchdowns (and two two-point conversions). 
That's not only indicative of bad coaching (and I wouldn't even say bad coaching, just bad decision making, Sparano was good at rallying the troops behind him) but also the lack of talent. 
You can't possibly fault Sparano with lack of talent without discussing Jeff Ireland's or Bill Parcells' role in this. 
Parcells and Ireland combined to make some terrible picks. While Ireland on his own turned out to be OK, there's a lot to be desired with him.
To top it all off, Stephen Ross quite simply has no idea what he's doing. 
Wayne Huizenga didn't know what he was doing either, but he admitted it. He was honest about the fact that all he knew about football was watching it, and he made the decision each time to let the people that he felt knew (Shula, Johnson, Wannstedt and Spielman, Saban and Mueller) run the show without meddling. 
Ross seems to be a meddler, someone who thinks because he's watched football since he was a child and he knows what he's doing. Huizenga wouldn't have boarded a plane to Palo Alto, CA to meet with Jim Harbaugh while still keeping Sparano employed.
Huizenga would've likely fired Sparano first, which is more honorable (and it would've been better for Sparano too; had he been fired after last season, he would've landed another job as a coordinator and with his record with the Dolphins—at the time 27-24 with a division championship—he'd likely be a hot NFL or college football coaching commodity already with someone willing to give him a second chance). 
This trip, which included Ireland, also showed Ireland's lack of judgement. Sparano never had a chance after that, despite the two-year extension he received after it ended. It did nothing but undercut Sparano's authority, and he deserves credit for keeping the team together after that fiasco, the lockout and the 0-7 start. 
Bonehead things like the chase for Harbaugh are on Ross. Until he either stops meddling or sells the team, nothing's going to change, whether the coach is Tony Sparano or Jon Gruden.