NFL Picks Week 15: Guaranteed Losers for This Weekend's Action
December 15, 2011
Rob Carr/Getty Images
This deep into the 2011 NFL regular season, it's easy to see which teams just don't have it. Week 15 features some great matchups, but just like every other week, some teams don't stand a chance. 
Nobody likes to lose, but it's a part of the game. When a team is obviously much better, it makes predicting games much easier. 
Whether they've been on a downward spiral for many weeks or their opponent is far greater than them, these three teams are going down in Week 15. 
Kansas City Chiefs
Interim head coach Romeo Crennel has his hands full this weekend when the slumping Chiefs battle the undefeated Green Bay Packers. 
Aaron Rodgers and company are better at home, but since the Chiefs aren't very good at home or away, the Packers won't be struggling. 
Green Bay's quest for perfection will not be denied at the hands of Kyle Orton, who will be starting in place of Tyler Palko if fully healthy. If not, Ricky Stanzi will be the starter, which is even worse news for the Chiefs. 
It's been a rough season filled with many injuries for the Chiefs, and their depleted team will fall to the mighty Packers. 
Prediction: Packers 42, Chiefs 13 
Minnesota Vikings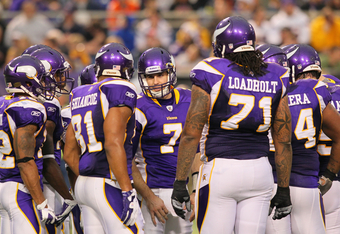 Adam Bettcher/Getty Images
Facing the New Orleans Saints right now is something no team should want to do, but unfortunately for the Vikings, they have to. 
It's a good thing they'll be playing at home and that Adrian Peterson is expected to return. Still, though, considering how bad Minnesota's pass defense is, the Vikings will be lucky to limit Drew Brees to just 300 yards. 
He's passed for over that mark for four straight games right now, and he'll easily make it a fifth. Brees is on fire at the moment, and the Vikings don't have the talent to put him out.
Expect another high-scoring game for the Saints, and for the Vikings to disappoint their fanbase once again.
Prediction: Saints 38, Vikings 24 
Indianapolis Colts
It's hard to see the Colts winning a game at all this year. Even though they'll be motivated to take down a division opponent this Sunday, they just don't have what it takes to win. 
The Tennessee Titans have a chance to make a wild-card spot, but they have win out and have a few things fall their way. 
Since Chris Johnson is still going back and forth between being awesome and awful, the Titans will look to Nate Washington and Damian Williams to deliver a good game. 
Tennessee doesn't have to worry too much though because the Colts' defense is downright pathetic this season. It can get after the quarterback, but it can't stop the run or the pass, which bodes well for the Titans. 
Prediction: Titans 28, Colts 17