Boxing's Biggest Pay-Per-View Fights of All Time (with Video)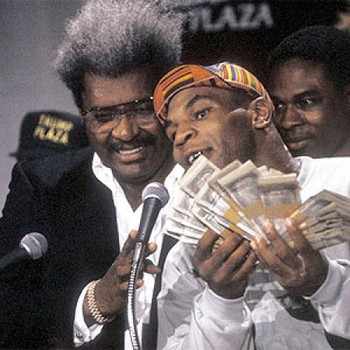 Without too many exciting fights looming in the near future, I've gone ahead and compiled a list of boxing's biggest pay-per-view fights over the last 20 years.
I'll dole them out chronologically from 1991 until present day.
Maybe after we've toured around these fights, I'll come up with some kind of fantasy list of the top pay-per-view fights that might have been. Plenty to choose from on that score.
Mike Tyson and Roy Jones Jr. was a fight that was openly discussed. Jones took it seriously.
Mike Tyson and Cuban three-time Olympic champion Felix Savon was a fight Don King offered a king's ransom to the legendary Cuban to make it happen (when I interviewed Savon in his modest Havana home his reply about turning down the money was to say, "I may not be a millionaire, but I did gain a million friends by my decision.")
Mike Tyson and George Foreman would have been hugely successful.
Riddick Bowe against Lennox Lewis or Mike Tyson.
There are so many to choose from. Anyhow, we've got 27 fights on this list to get to.
George Foreman vs. Evander Holyfield
April 19, 1991, brought us Evander Holyfield and George Foreman clashing to the tune of 1.4 million buys.
Holyfield, sadly, won by unanimous decision.
Foreman's career obviously had more to come.
Mike Tyson vs. Donovan Ruddock II
June of 1991 brought a tremendous rematch between Tyson and Ruddock after their first epic war, which sold 1.25 million PPV buys.
These two fights for Tyson are frequently overlooked, given just how evenly matched he and Ruddock were.
This fight ended in a UD for Tyson, unlike the controversial stop of their previous match.
Mike Tyson vs. Peter McNeeley
Back in 1995, 1.55 million people bought into Mike Tyson's post-prison sideshow fight against Peter McNeeley.
The "cocoon of horror" that McNeeley promised to be in store for Tyson somehow swept up the audience in the collateral damage of how awful the fight turned out.
Mike Tyson vs. Frank Bruno II
March of 1996 offered Mike Tyson's rematch against Frank Bruno and 1.37 million PPV demonstrated the interest as Tyson fought to regain the title.
Tyson did indeed win the title by third-round TKO.
Mike Tyson vs. Evander Holyfield I
What a thankless task to relive this awful moment for me personally.
Back in 1996 Mike Tyson and Evander Holyfield squared off to the tune of 1.59 million PPV buys.
Less documented is how the fight also amounted to one of the low points of 12th grade for one Brin-Jonathan Butler. How could he lose!
And then that miserable post-fight interview by Holyfield after just to rub it in my face. The worst of all time.
Evander Holyfield continues to fight. Boo hoo.
Oscar De La Hoya vs. Pernell Whitaker
April of 1997 brought this classic fight between Oscar and "Sweat Pea," which garnered 720,000 PPV buys.
Still, a great, great fight.
They don't come more slick than Sweet Pea.
Mike Tyson vs. Evander Holyfield II
June of 1997 brought us one of the most disappointing fights in history. And guess what? Only 1.99 million people paid to watch it. What a waste.
If only these two had fought back when Tyson actually cared about the sport.
Evander Holyfield vs. Lennox Lewis
March of 1999 brought us one of the biggest robberies in heavyweight title history that 1.2 million PPV buys lined the pockets of Don King to watch.
Lewis should have knocked Holyfield's block off. If James Toney not far down the road could, why not Lewis?
Felix Trinidad vs. Oscar De La Hoya
What an epic fight. Astounding, career-defining implications for both fighters.
In September 1999, 1.4 million PPV buys signaled one of the most hotly-anticipated fights of all time as Oscar (and his bicycle) entered the ring against Felix "Tito" Trinidad. Once Oscar racked up a lead, he coasted on that bicycle all the way to a majority-decision loss.
Tito! Tito! Tito!
Evander Holyfield vs. Lennox Lewis II
In November of 1999, 850,000 PPV viewers tuned in as Lewis finally had his revenge against the most boring champion of all time, who wasn't able to have God, steroids (as if "Evan Fields" wasn't juicing for this fight) or Don King fix another of his fights.
Did I mention Evander Holyfield is still fighting?
Maybe he and Roy Jones can finally square off as they planned to in a WWF-style retirement match.
Mike Tyson vs. Lennox Lewis
June of 2002 brought us this tragic end to the hopes that the Tyson we remembered would ever return. Tyson talked a good game going into this fight, but he didn't have anything.
The anticipation for the matchup led 1.97 million people to buy into the fight.
Once I spent some time with Tyson's trainer for the Lewis fight, Ronnie Shields, and I asked him if at the outset of training Tyson he knew he was shot.
"What, are you kiddin' me? Of course I did. Within five minutes. It was a payday."
Oscar De La Hoya vs. Fernando Vargas
September of 2002 brought Oscar and Vargas together with a great build-up that commanded 935,000 PPV buys.
Vargas, usually soft for all his fights, was juiced up to the gills and shredded for this fight. It didn't stop Oscar from taking him out by 11th-round TKO.
Oscar De La Hoya vs. Shane Mosley II
Speaking of steroid abuse, next we come to Shane Mosley against Oscar De La Hoya from September of 2003. Great, immensely close fight that satisfied the 950,000 PPV buys with drama.
Oscar De La Hoya vs. Bernard Hopkins
In September of 2004, Hopkins shocked the world with an emphatic KO of Oscar De La Hoya in the ninth round. A cool one million PPV viewers tuned in to watch Oscar squirm for all his cross-dressing sins.
Oscar De La Hoya vs. Ricardo Mayorga
May of 2006 found Oscar and Mayorga squaring off in an epic grudge match that thrilled 925,000 PPV buys. Nobody could sell a show or make a fight interesting quite like Mayorga. But Oscar drilled him all the same with a sixth-round TKO.
Oscar De La Hoya vs. Floyd Mayweather
May of 2007 brought us the biggest PPV fight of all time, 2.4 million buys, Oscar and Floyd finally getting down to business.
Mayweather ended up winning the fight by split decision and has never looked back from stealing no small share of the "Golden Boy's" considerable audience for the rest of his career.
Floyd Mayweather vs. Ricky Hatton
Back in December of 2007, Floyd electrified 920,000 PPV fans around the world with this dominant routing of the undefeated Ricky Hatton.
Floyd looked tremendous.
Manny Pacquiao vs. Oscar De La Hoya
One of the bigger fights in the modern era, in 2008 Manny Pacquiao solidified his legacy as one of boxing's greats with this eight-round stoppage of Oscar De La Hoya.
Over 1.25 million PPV buys watched as Oscar was too afraid of Pacquiao to even bother leaving his stool.
Ricky Hatton vs. Manny Pacquiao
There were 850,000 PPV fans tuned in to watch Pacquiao unload the KO of his career against Ricky Hatton.
Hard to know if Pacquiao ever lit up fans with quite so much excitement as this fight. Tyson-esque.
Floyd Mayweather vs. Juan Manuel Marquez
Floyd came out of retirement (shocker) back in September of 2009 to take on the Mexican legend, Juan Manuel Marquez. Before 1.05 million PPV fans, Floyd steamrolled Marquez, winning nearly every round.
Not such good news for Pacquiao fans, as we came to discover.
Manny Pacquiao vs. Miguel Cotto
The Puerto Rican faithful undoubtedly contributed to the 1.25 million PPV buys that sadly saw Miguel Cotto be dismantled by the Pacquiao express.
Fortunately for Cotto fans, the rematch with Antonio Margarito was in the cards and with it, sweet revenge.
Cotto! Cotto! Cotto!
Manny Pacquiao vs. Joshua Clottey
March of 2010 brought a snoozer of a fight between Pacquiao and the disgraceful Joshua Clottey. What an abysmal fight this was that still, somehow, stole money from 700,000 PPV buys.
Floyd Mayweather vs. Shane Mosley
May of 2010 brought this fascinating fight between two legendary boxers.
While Floyd suffered perhaps the most dangerous round of his career in the second, he also showed everything that makes him one of the all-time greats in the sport's history for the remainder of the fight.
Over 1.4 million PPV fans bought in to watch Floyd put on a clinic.
Manny Pacquiao vs. Antonio Margarito
Back in November of 2010, Pacquiao brutally pummeled the disgraced Margarito and left him with considerable hospital bills to repair the damage. Over 1.15 million PPV buys watched as Pacquiao laid waste to the shameful Margarito.
Manny Pacquiao vs. Shane Mosley
Despite everyone obviously pushing for Pacquiao and Mayweather to happen, 1.3 million PPV fans still tuned in to watch Shane Mosley run away from Manny Pacquiao for 12 rounds.
Pacquiao won nearly every round of the fight and scored a knockdown against Mosley that Mosley seemed gravely afraid would happen again if he so much as engaged in the fight thereafter. He didn't.
Very dull contest.
Floyd Mayweather vs. Victor Ortiz
Last September 1.25 million fans got more for their money with Larry Merchant taking on Floyd Mayweather than anything Victor Ortiz mustered.
The legitimate cheap shot Floyd used to end the fight (and God knows Ortiz was asking for it with his own fouls and weird antics leading up to it) gave this fight some luster.
Floyd still hasn't lost a step and immediately after the fight called out Pacquiao for a fight in May. Imagine that.
Manny Pacquiao vs. Juan Manuel Marquez III
Pacquiao's victories had led his fans to inflate their hero into an unbeatable machine now capable of not only avenging the two close fights against Marquez but viciously beating him into submission.
It didn't happen.
Marquez still has Pacquiao's number.
Outside the ring, things are clearly infiltrating Pacquiao's psyche inside the ring. This isn't good.
While allegedly Floyd Mayweather wasn't one of the 1.45 million PPV buys who tuned in, word seemed to reach him as he eagerly expressed a desire to get things on with "the little guy" as soon as possible.
Here's hoping it happens.
Keep Reading