Green Bay Packers vs. Kansas City Chiefs: Key Matchups and Prediction
December 15, 2011
Scott Boehm/Getty Images
The Kansas City Chiefs will play host to the undefeated Green Bay Packers this Sunday at Arrowhead Stadium.
KC will try to spoil the Pack's unblemished record this season, as their overall winning streak goes all the way back to Week 16 of the 2010 season.
The Chiefs will have their work cut out for them in this contest, as they will be going against the best QB in the league in Aaron Rodgers.
Here are some of the big matchups that I see taking place in this game.
Key Matchup No. 1: Aaron Rodgers vs. Kansas City Secondary
At first glance, you would have to think that Rodgers and his plethora of wideouts have a big advantage in this matchup—but no so fast.
KC boasts two of the more underrated starting cornerbacks in the league in Brandon Flowers and Brandon Carr.
However, the Packers' receivers are the best group of wideouts in the league, led by Greg Jennings (though he is out this week) and former K-State Wildcat Jordy Nelson.
Advantage: Packers
Key Matchup No. 2: Green Bay Offensive Line vs. Kansas City Pass-Rush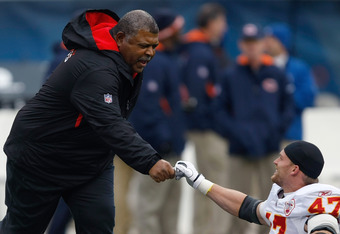 Scott Boehm/Getty Images
This is an area that the Chiefs defense can exploit on Sunday.
The Packers O-line has allowed 32 sacks of Rodgers this season, which is already higher than their overall season total of 31 in 2010.
Tamba Hali leads KC's pass-rush with nine sacks, and rookie Justin Houston has picked up four in his last two games.
Advantage: Chiefs
Key Matchup No. 3: Kyle Orton/Ricky Stanzi vs. Green Bay Defense
Earlier this week, Chiefs interim head coach Romeo Crennel said that either Orton or Stanzi will take the place of the struggling Tyler Palko this Sunday.
Whoever starts for Kansas City is going to have their hands full against a Packers defense that leads the league in interceptions with 27 on the season.
The Chiefs' passing attack might be able to move the ball, since Green Bay is currently ranked dead-last in the league against the pass this season.
However, scoring on them might be a different story.
Advantage: Packers
Key Matchup No. 4: Kansas City Rushing Attack vs. Green Bay Defensive Front Seven
Once again, the ground game has been the strength of the Chiefs offense this season.
Even with Pro Bowl RB Jamaal Charles out for most of the season with a torn ACL, KC has still managed to be ranked in the middle of the league in this area.
The Packers defense should see a steady diet of Jackie Battle and Dexter McCluster in this game, or Kansas City's 2011 version of thunder and lightning.
However, the Pack have been solid against the run, and I don't expect that to change this week against KC.
Advantage: Packers
Prediction: Packers 24, Chiefs 10
I don't think that the Green Bay offense will put up as many points as some might think in this game, but I still expect Aaron Rodgers to throw for at least two touchdowns against the Chiefs secondary.
I see Kansas City's offense struggling to score many points in this one, no matter whom they decide to put in as their quarterback.