Why Was Baron Davis Amnestied by the Cleveland Cavaliers?
December 15, 2011
Jared Wickerham/Getty Images
In a move that nationally seemed like the no-brainer of all no-brainers, the Cleveland Cavaliers used their amnesty selection on Baron Davis and his bloated contract.
I never had any doubt that Davis would eventually be the amnesty selection of the Cavs, but I am surprised by the timing.
According to the rules of the current collective bargaining agreement, teams have the entire duration of this CBA (at least six years) to use their amnesty, provided that the player is on the roster under contract at the time of the signing.
This is important because it means that the Cavs did not need to rush this decision and cut Davis before the season.
Baron Davis, though drastically overpaid, is a very talented basketball player and maybe the best one the Cavs had on a roster that is clearly devoid of talented basketball players. He could have done a lot to help the team this year in terms of breaking in Kyrie Irving.
Now I know that he is likely out for six to eight weeks with the back issue, so that may have played into the decision. But that's still not enough for me.
The only way I can justify this decision is if Chris Grant and the Cavs actually plan on making a significant signing or trade.
With Davis on the books, the Cavs were over the cap by almost $5 million. When you subtract his $13,900,000 we're left around $8.9 million under. That is a nice bit of money to work with.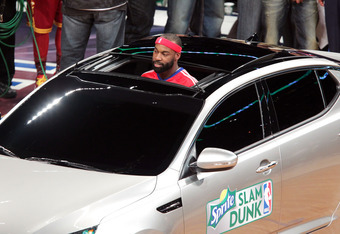 Noel Vasquez/Getty Images
The problem is that a lot of deals have already been made and I'm not sure what the Cavs really want to do at this point.
They brought back Anthony Parker, I'm guessing, to be the starting shooting guard. If that was what they're planning on going with, then it's pretty obvious that they're gunning for another Top 3 pick in next year's draft.
With Davis, Anderson Varejao and Antawn Jamison on this team, they could have actually won a few games.
But Davis is gone, so expect Jamison to get moved at some point before the trade deadline, which will result in more losses. (This may not be a bad thing, considering the strength of next year's draft class).
A couple potential free agent options for the Cavs are SGs Arron Afflalo and Nick Young, both restricted.
Unfortunately I have a bad feeling that the Cavs aren't going to do anything. They still have the trade exception which expires Friday but word is that they aren't going to do anything with that either.
It's rather dull and unexciting, but it might just be the best play at this point. Build through the draft and don't get too good too fast like we did with LeBron and subsequently lacked depth and talent.
And for those of you who are wondering, unfortunately the Celtics re-signed Sasha Pavlovic.
Bummer...I know.
You can follow Benjamin Flack on Twitter @ClevelandFlack