Boston Red Sox: Rich Hill, Non-Tendered Lefty Reliever, Should Be Re-Signed
December 15, 2011
Elsa/Getty Images
The Red Sox are rolling the dice by not tendering left-handed reliever Rich Hill.
Faced with a glut of southpaws who are out of options (Franklin Morales, Andrew Miller, Felix Doubront) it is understandable from a numbers perspective that Hill was the odd man out. After all, he did undergo Tommy John surgery last spring, and it is doubtful that he would have been ready for the start of the season anyway.
However, Hill showed signs of great promise after having been signed as a free agent and converted to relief work at AAA Pawtucket in 2010. He came up to the Red Sox at the end of that season and was not scored upon in six appearances.
Even though he was a little older than most of his PawSox teammates and had had some success in the big leagues, he approached the offseason with the right attitude. The Pawtucket Times described his appearance at McCoy Stadium for the team's annual Christmas party for local kids.
In 2011 spring training, he developed a new sidearm delivery, and as Peter Abraham of the Boston Globe reported, he worked on his arsenal to make sure he was not viewed as "just another LOOGY" (lefty one-out guy). He concentrated on throwing his fastball inside to right-handers and also worked to improve his change-up. 
Hill started the 2011 season with a bang, giving up only two runs in 16 innings at AAA Pawtucket. He was then called up to Boston, where he racked up nine more scoreless appearances before injuring his elbow in late May. Just as encouragingly, right-handers hit only .167 off him (one hit in 12 AB).
Just think about it: 15 Red Sox appearances, no runs allowed and a WHIP of less than 1.00. As Abraham wrote, "Hill could be an interesting weapon. Imagine the trouble a hitter would have after facing Jon Lester for seven innings and then have to deal with Hill coming in from a sidearm angle."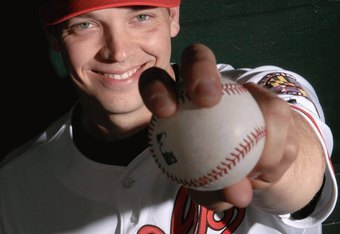 Marc Serota/Getty Images
Hill is a local boy who was born in Boston and starred at Milton High School. He was drafted by the Cubs out of Michigan as a starter in 2002 and helped them win the NL Central in 2007.
Of his 78 major league games, 70 have been as a starter.
His 2008 season was an almost total write-off: back and shoulder problems limited him to only five appearances. The Cubs sold him to the Orioles early in 2009, and after a struggling year, he signed with the Cardinals just prior to spring training of 2010. He pitched at AAA Memphis before the Red Sox picked him up and converted him to reliever.
Alex Speier of WEEI.com reports that Hill "is progressing well in his rehab from surgery that took place a week after he suffered his injury." He is now throwing at 120 feet and is guardedly optimistic that he will be ready by Opening Day.
"Health-wise, I couldn't feel any better," Hill told Speier. "I'm trying to get as strong as I can for the start of the season."
Hill was obviously disappointed that the Red Sox did not tender him a new contract and will now wait to see if another team will gamble on him for a major league deal.I would imagine that if no other team bites, he would be willing to come back to Boston on another minor league deal with an invitation to spring training. His split contract last season called for a prorated $580,000 salary while in the majors, so he would certainly fit GM Ben Cherington's mold of low-cost, low-risk signings.
Best-case scenario for Hill would be for the Red Sox to move one of the other lefty relievers in a trade for starting pitching or outfield help. That could open a roster spot him, and I hope the Red Sox bring him back.