ROH: Countdown to Final Battle, an Interview with Jay Lethal
December 21, 2011
Jay Lethal has been back with Ring of Honor for only a few months, but a lot has changed since he was last with the company.
It is now owned by Sinclair Broadcasting Group and the company is doing shows in different markets and has a weekly television show. Going into the company's biggest show of the year, Final Battle, Lethal couldn't be happier.
"I love it (being back)," he said.  "I've made the comparison to the company being the same car with a new engine because Ring of Honor has always had the best product, because they focus strictly on wrestling, but they didn't have that tool to get it out there.  Now they do with Sinclair and I'm excited to be a part of it."
Lethal returned to ROH for the first time since 2006, at the Best in the World show in June. In August he won the ROH Television Championship by defeating champion El Generico. He'll defend that title against Generico and "The Prodigy" Mike Bennett at Final Battle.
Lethal said being with the company is ten times better than it was before due to the increased exposure. While there were growing pains at the start of the Sinclair ownership, Lethal said things are looking great going into 2012.
"We're doing phenomenal," he said.  "I was looking at our schedule for next year and, not to give anything away, but man it's going to be great."
For Lethal, the greatest thing about returning to ROH is that the company's focus on wrestling allows him to focus on the same thing. At his previous stint with TNA Wrestling, Lethal was more known for his impersonations of "Macho Man" Randy Savage as the "Black Machismo," and Ric Flair.
"It's amazing," he said.  "I got to work with El Generico, I won the Honor Rumble that gets me a title shot at (Ring of Honor World Champion) Davey Richards, who is incredible.  I'm loving life right now."
Lethal isn't downing talents like Chris Sabin, Alex Shelley and Sonjay Dutt, who he wrestled in TNA. He said it is the style of wrestling that sets ROH apart.
It is also the style that has Lethal feeling the heat.
"I don't feel the pressure to steal the show (at Final Battle), but coming off my time in TNA I'm definitely feeling the pressure to show I can compete in a company that's all about wrestling as opposed to being about entertainment like TNA and WWE are," he said.  "So far, I think I'm holding up pretty good."
Lethal has had to hold up wrestling with a variety of styles, which is something he'll really be challenged with at Final Battle against two different wrestlers with two completely different skill sets.
"Generico has more of a lucha style that I would really like to wrestle more of and Bennett is more of a classic old-school heel and even has an old-school heel manager," Lethal said.  "Bennett's style is more of what I faced at TNA and Generico wrestles a style I enjoy more so I'm going to have to figure a way to tie both together.  My brother said I have to be a chameleon."
While adapting to a more challenging wrestling style, Lethal has also had to focus on a change in cutting promos. Where he was mainly doing impersonations in TNA, Lethal has had to find his own voice in ROH.
"I admit that when I was doing the impersonations (in TNA), I was a lot more comfortable," he said.  "It's been really tough to find myself (in ROH) but working at it will make me a better wrestler."
Lethal admits that he would be even more shy in front of the camera if he hadn't had the chance to portray "Black Machismo" and do the Flair impersonations in TNA, but now he's ready to focus strictly on being Jay Lethal.
One way Lethal wants to continue that focus is by taking on the best Ring of Honor has to offer, and there's no doubt about who is at the top of his list.
"Number one is Davey Richards," Lethal said.  "He's labeled as the Best in the World and, if you're not striving to be that in this business then I don't know what you're doing here.  At one time, Ric Flair was considered the Best in the World, and I wrestled him, but for the era I grew up in, it's Davey Richards."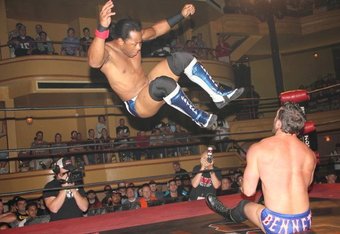 Another guy Lethal said he'd like to face in Ring of Honor is someone he's faced before, Roderick Strong.
"When we wrestled before, he was a lot heavier, but he's lost a lot of weight, looks great and we're both a little smarter now," he said.  "I'd love to go the distance with him."
Whoever he faces in the future, Lethal knows that he has to take his in-ring game up a notch now that he's back with Ring of Honor.
"Being with this company forces you to dig down deep," he said.  "I'm having to bring something out of me that I haven't had to in awhile and it feels great."
Final Battle is live from the Hammerstein Ballroom in New York City on Friday, Dec. 23. You can watch the show live on Internet pay-per-view.
Darryn Simmons is a Featured Columnist for Bleacher Report. Unless otherwise noted, all quotes were obtained first-hand.