WWE: Can Wrestlemania 28 Be the Greatest Pay-Per-View Ever?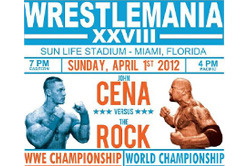 WrestleMania 28 will be one of the greatest pay-per-views of all time if WWE plays this correctly. My preview will consist of two parts.
1. Breaking down matches already booked such as Rock vs. Cena.
2. Creating matches I want to see to fill out the rest of the card.
There are four matches booked at WrestleMania. There will surely be matches added as the Road to WrestleMania reaches its destination.
You have your high-flying match in the Money in the Bank ladder match. As always, MITB is loaded with future stars. A fast-paced tag team match will suit fans too squeamish for the brutal ladder match.
Rock vs. John Cena is the biggest WrestleMania main event since Rock vs. Hulk Hogan back in 2002. Chris Jericho vs. CM Punk is a must-see feud regardless of card placement. Triple H vs. Undertaker will mark an official end of hardcore wrestling.
Sit back and enjoy the official theme song!
Pre-show notes: I am assuming Wade Barrett and Rey Mysterio are out for WrestleMania. I believe Shaq will wrestle.

Begin Slideshow

»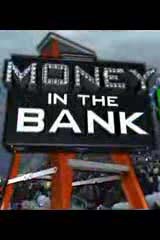 The Money in the Bank ladder match is the perfect way to lead off the night in Miami.
Rumors have swirled that the popular ladder match will return to WrestleMania. I just hope Money in the Bank is restored to its rightful position at WrestleMania.
Alberto Del Rio, Christian, Cody Rhodes, Dolph Ziggler, Kofi Kingston, The Miz, R-Truth, and Santino Morella are the predicted participants in the Money in the Bank ladder match.
Ricardo Rodriguez's employer and Captain Charisma need to reestablish credibility as former world champions. Cody Rhodes and Dolph Ziggler are young guns with promise.
Kofi Kingston is there for spectacular high-flying spots. R-Truth and Santino are there for comedic relief (I apologize to R-Truth for pairing him up with Santino).
Miz is there because he upset Triple H. Therefore expect the Miz to take "awesome" spots.
WWE throws a curve ball by throwing a fastball. In other words, one of the actual favorites wins.
Winner: Cody Rhodes

Estimated Match Time: 20 minutes
That painful 8-Diva tag match at the Royal Rumble was a microcosm to the issues the Divas division are facing. It proved the lack of genuine wrestling talent in the Divas division. It also proved that Beth Phoenix has simply run out of competition.
Who else can challenge Beth Phoenix's title reign?
Enter Kharma.
Kharma can spark interest in the Divas division once again by defeating Beth Phoenix. They can have a match that rejuvenates the Divas division with a great wrestling match.
Winner (and new champion): Kharma
Estimated Match Time: 10 minutes

Shut up and enjoy the promo!
This match is a wild shot at reviving the tag team division. You might call this match filler. I call it untapped potential.
The feud can start when Hunico tries to steal Rosa Mendes from the Colons. Remember, Hunico and Epico had a history as a tag team in FCW and WWE.
The Colons have had an abysmal run as tag team champions. When was the last time they defended the titles on TV? Superstars?
This should be a fast-paced match with some intrigue. A heel vs. heel tag team match would be interesting in a division sorely lacking any fan interest.
Hunico pins Primo thanks to a distraction from Rosa Mendes. The saga continues. Expect this feud to culminate in a ladder match at Extreme Rules.
Winner (and new champions): Hunico and Camacho

Estimated Match Time: 10 minutes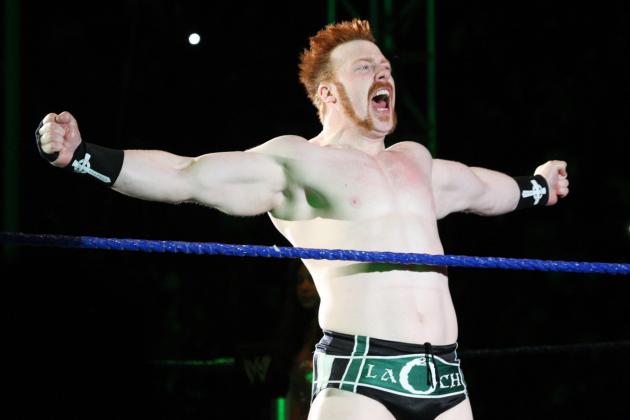 Gallo Images/Getty Images

Sheamus, Randy Orton, and Daniel Bryan have taken three unique paths to the top of the WWE.
Sheamus is Vince McMahon's ideal WWE superstar. Sheamus has the ideal look, size, mic skills, a unique gimmick, and the move set for McMahon's tastes.
It is no surprise he was pushed to the top in such a hurry in light of these skills. Backstage rivals might say this is because he is Triple H's workout buddy.
Daniel Bryan is arguably the best pure wrestler in the world. Bryan has had to scratch and claw his way to the top. Internet fans following him since his Ring of Honor days are now vindicated with Bryan's main-event push.
Randy Orton is a polarizing figure. Orton fans cite his outstanding ring skills and above-average mic skills for his perennial main-event status. Detractors cite his privileged status with WWE brass as the main reason why he is in the main event.
In short, it will be a great feud because of these contradictions. I can definitely see Randy Orton being inserted to this match to boost the star power.
Sheamus will break the Royal Rumble winner drought. The last Royal Rumble winner who won at WrestleMania was the Undertaker in 2007.
Winner (and new champion): Sheamus

Estimated Match Time: 20 minutes
Cody Rhodes wastes no time in cashing in his briefcase. He gets a referee to ring the bell. Sheamus is clearly wounded from a hard-fought battle.
Cody Rhodes is about to achieve his dream of holding the belt his father once had, the World Heavyweight Championship.
He is about to connect on a Cross Rhodes. Only problem is Sheamus reverses it into a small package!
Yes. Cody Rhodes is the first man to fail at cashing in his Money in the Bank briefcase.
Winner (and still champion): Sheamus
Estimated match time: 5 minutes
Estimated comments roasting me for booking Cody Rhodes to be the first one to lose a Money in the Bank cash-in match: 23

We analyze the pre-match thoughts of each of the competitors in alphabetic order. This riveting match must access the minds of these four valiant warriors.
Eve: "I thought I upgraded with John Cena. Now I get Kane? Really?"
Kane: "Are you serious, bro?"
Layla: "My inspirational return finally paid off! I get to be in my second straight meaningless mixed tag team match at WrestleMania!"
Zack Ryder: "I should go to TNA to form a tag team with Kurt Angle called Broskis before Hoeskis. Then again I would job to Robbie E. Never mind."
Kane and Eve win the first battle in the war between Zack Ryder and Eve. Kane dispatches the Woo Woo Woo Kid fairly quickly while Eve and Layla look on.
Winner: Kane and Eve

Estimated Match Time: 3 minutes
Estimated people who got that Kurt Angle reference: 14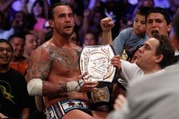 This is must-see TV right here. Punk-Jericho is an oasis in the desert of gruesome John Laurinaitis promos and Michael Cole's appalling commentary.
The mic wars will be a cacophony of majestic noises emanating from the Amazon rain forest, ever so welcoming to my ears!
The match will be an aesthetically-pleasing spectacle with countless twists and turns just like a nice drive down Highway 101 with a Maserati!
Chris Jericho the character is back to take back the Best in the World moniker from CM Punk. Chris Jericho the man came back because Vince McMahon paid him a lot of money.
It just makes sense.
CM Punk has held the title for long enough. Chris Jericho pins CM Punk after an incredible match. Punk losing at Mania does NOT hurt his credibility.
This feud continues!
Winner (and new champion): Chris Jericho
Estimated Match Time: 30 minutes
This match is higher on the card because it determines who becomes the GM for both shows. This is actually a fairly important match.
The future of World Wrestling Entertainment is clouded in mystery!
Teddy Long recruits Shaq to challenge the World's Strongest Man in a winner-take-all showdown. Shaq ends up pinning Mark Henry to win it for Teddy Long!
Winner: Shaq

Estimated Match Time: 5 minutes
Estimated riots after John Laurinaitis is off TV: 0

Triple H vs. Undertaker at WrestleMania in a Hell in a Cell match with Shawn Michaels as guest referee.
Need I say more?
Winner: Undertaker
Estimated Match Time: 30 minutes
I am unashamed to admit that I want Rock to win this match. John Cena does not need to defeat the Rock to cement his legacy. Cena has already accomplished everything there is to accomplish in this business.
Regardless of how John Cena wins this match, fans will riot. With the crowd reaction so negative towards Cena, it is the perfect time for him to turn heel in Miami.
It would be the biggest heel turn in WWE history. If they are ever going to turn Cena heel, now is the time.
But I don't think WWE will ever have the guts to pull this off. He just makes too much money for them off merchandise sales. Notice how the forum stops supporting a John Cena heel turn after being presented with that information.
Instead, WWE will appease the masses (and me) by having the Rock defeat Cena after a Rock Bottom and a People's Elbow (or five).
Winner: Rock
Estimated Match Time: 25 minutes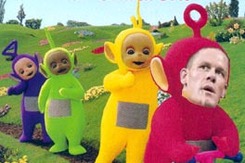 Raw
Chris Jericho and CM Punk continue their feud. John Cena takes a break after his loss to the Rock. Rock rides off into Hollywood amidst much fanfare.
Most importantly, Undertaker officially retires at the end of the night. The fans and wrestlers pay their tribute to the Phenom.
Seriously, Undertaker is in his late 40s and has accumulated several injuries over the years. He has to retire at some point.
Smackdown
Daniel Bryan and Sheamus continue to feud over the World Heavyweight Championship. Randy Orton transitions into a feud with a returning Wade Barrett.
Cody Rhodes looms in the shadows of the main-event scene. Failing to cash in his briefcase will make the concept of Money in the Bank less predictable. He will be a world champion eventually after dropping the Intercontinental Championship to a worthy opponent.
Follow me on twitter and become a fan.
Thanks for reading!